In a world of separations and exclusions, art is union. No matter who you are, how old, how bold, or how cold you are; art is the nexus that brings us all together. And Fernando Carpaneda's "New Portraits" embodies this kind of art perfectly. Populated by common characters, the paintings are a mix of daring sensuality and unique pleasure: challenging taboos, fears and denial.
New York-based sculptor and painter Fernando Carpaneda centres his creative vision around the figure of the human being, a topic that has remained his main the principal theme in his art for decades, surfacing as an erotic portrait of street culture. With a popping mix of bright blues, reds, green and neon pink shades, the models' unclothed bodies in"New Portraits" blend into the purposely busy backgrounds — creating a complementary harmony. Intimate socially forbidden scenes see the featured subjects passionately pleasuring themselves, showcasing the primitive feel of their naked movements. "My "New Portraits" are an extension of what I have always done, but with a different focus," says the artist.
Already drawing at 11 years old, and hosting his first exhibition at 13, Carpaneda's art depicts his evolution as a person through his life experiences and emotions. Being one of the first Brazilian artists to exhibit homoerotic works in his home country, his great connection with the gay and erotic art worlds brought his attention to subjects such as beggars, pop stars, sex workers, punks and outcasts of all kinds, who are for him, we can say, what the ancient Greek poets used to call muses. "They are people with average bodies and people who are not afraid to assume what they are," Carpaneda asserts.
But what makes his work so particular are the materials he uses. The artist believes in the importance of unity and connection, and so he uses both his own and his models' DNA: blending their semen, blood and hair with more traditional art materials. "There is a symbolism between semen and clay," he says. "Both are elements of creation. The man was created from clay, and semen is the beginning of life. I followed this path because I wanted to create works that have a consequential meaning to me and a strong connection with my models, and so, my past experiences are always present." 
With "New Portraits", the artist is projecting his art's focus beyond what one can see. Seeking to provoke debates and questions about equality, each painting is an approach meant to inspire the observer to accept diversity in human sexuality. When describing his concept, he confesses reaching "an audience that appreciates art regardless of being gay, straight, male or female" to be his only wish. "My goal with this exhibition is also to show other sides within the LGBTQ+ culture and society in general, and by that to open the minds of the audience to other possibilities within gay and underground art," he explains. ""New Portraits" is an exhibition that speaks of freedom, of being what you are — without fear of assuming your ideas and ideals. I think that the world will only improve when we are all respected and we all have the same rights and freedom," he continues. "The art aims to promote freedom of expression and knowledge, however, not all have the knowledge and sensitivity to understand or discuss the subject. Our society is made up of people with different realities and lifestyles, and we do not have the right to force people to follow our reality, just as no one has the right to impose [theirs] on us. Human sexuality is complex and it is not up to anyone to judge it".
Fernando Carpaneda's "New Portraits"  exhibition opens Saturday, June 23, at MF Gallery in Brooklyn, New York. The artwork can also be viewed and purchased online here.
words. Irene Chirita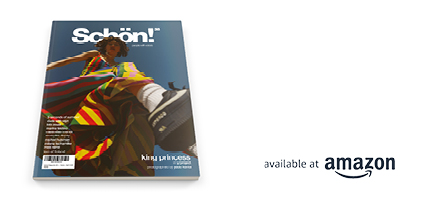 Discover the latest issue of Schön!. 
Now available in print, as an ebook, online and on any mobile device.