In this day and age, carving out a glittering multifaceted career is imperative and Emery Kelly knows it well. Rising to fame in 2013 with his appearance on the third season of Simon Cowell's popular singing contest The X Factor, he has awed audiences worldwide alongside Ricky Garcia and Liam Attridge as Forever in Your Mind. After the success of their debut EP, FIYM, two years ago and their sophomore, Euphoric, this year; Kelly is now ready to surprise his fans further not only musically but theatrically with his appearance in the recently premiered Netflix teen sitcom Alexa & Katie.
A born and bred New Yorker, Kelly has recently traded the East for the Hollywood allure, now pursuing his career in L.A., which he claims "is treating me just fine". Hollywood being the epicentre of entertainment, it's only natural for Kelly's ascent to stardom to be rapidly accelerating within the acting world, especially due to his latest venture, Alexa & Katie, and Netflix's unrivalled international impact. "My first acting gig was on Disney, but this is my first gig being a series regular," Kelly says. "I found out [I got the role] at a BBQ with my friends and screamed with so much joy, my friends thought something was wrong with me. The experience has been surreal and I cherish every moment. I'm so grateful to be apart of something special."   

Alexa & Katie, starring Paris Berelc and Isabel May, has the format of a traditional multi-camera sitcom yet it touches upon more serious topics. Aimed at a teen audience, the show delves into grander social topics like cancer and stigmatization through the perseverance of family and friendship. Kelly plays Lucas Medoza, brother to the protagonist and self-confessed heartthrob. "I love playing as Lucas, it reminds me of myself when I went to high school years ago", Kelly confesses. "Except the part of being a heartthrob, I was a theatre geek".
Kelly plays a pivotal role in the series comedic relief, portraying Lucas with hilarity and compassion. Charismatic and undeniably familial, the series has been receiving positive reviews since its premiere a few weeks ago. "I feel like people will like the friendship between Alexa and Katie," Kelly asserts. "It feels real and has a lot of layers throughout the season. It's amazing to be part of a show that talks about important topics. People need to hear about what's really going on around the world, instead of hiding it from everyone".  

While Kelly's next theatrical project is still tbc, we have all 13 episodes available to rejoice and some tunes all the while. "I was born into music and acting, so I've been doing both all my life," Kelly affirms. Having spent most of his teens in the limelight, now 20, Kelly feels fully developed in body and mind. "It was weird paying bills at 15, but that's what happens when you hop into this industry," he affirms. "The big dogs don't look for kids, they look for hardworking people no matter what age you are".
Hardworking indeed and with "absolutely" no plans of stopping on both fronts, as one-third of the pop boy band, Forever In your Mind, Kelly has performed with the likes of Demi Lovato, Fifth Harmony, and Jesse McCartney. Boasting a more mature sound and soulful pop vocals in songs like 'Rabbit Hole', Kelly is fully aware of his evolution since stepping into the spotlight half a decade ago. "My music has changed a lot throughout the years," he admits. "When I was younger, I was really into pop and rock, but now I'm really into Hip-Hop, soul, R&B, EDM, and rap."

Namechecking an ecclectic mix of Frank Ocean, Bazzi, Lo Nightly, Jake Walker, Kendrick Lamar, Harry Styles, Justin Bieber, Zayn, Daniel Caesar, SZA, Jaden Smith and Tyler, The Creator as his musical influences, Kelly is currently focusing on Forever In Your Mind's sophomore EP, Euphoric, which debuted in the top 10 Pop Albums on iTunes. "I appreciate everyone who has been listening to it and hope it makes you feel euphoric," he says. And, if Euphoric is your jam, you're in for a treat since the band announced their 'Euphoric Tour' this week, which has just gone on sale.
Stream the first season of Netflix's 'Alexa & Katie' now.
For more information about Forever In Your Mind's upcoming tour, click here.
This Schön! online exclusive has been produced by
photography + hair. Mynxii White @ Nissa Maya Artists
fashion. Krissie Torgerson @ Nissa Maya Artists
assistant. Kayla Torgerson
talent. Emery Kelly
words. Sara Delgado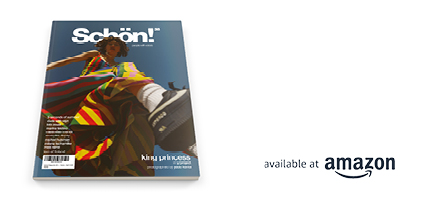 Discover the latest issue of Schön!. 
Now available in print, as an ebook, online and on any mobile device.