Part of a wave of independent artists who used YouTube to rise to prominence during the noughties' Internet boom, Elijah Blake is member of an illustrious club alongside the likes of Justin Bieber. While his sound as a musician may have changed since these humble beginnings, maturing over the years with the man himself, this start was vital in shaping his outlook as an artist. Each song is a direct connection between Blake, who writes all his own music, and his fans, without any interference. Indeed, his soulful brand of R&B, punctuated by rich, expressive melodies, distinguishes itself by its spontaneity and authenticity. 
While his music has garnered comparisons to The Weeknd and Frank Ocean, Blake has a distinctive sound, beautifully showcased on newest release Audiology. Hot on the heels of this record's launch, as Blake launches his brand new video Technicolor, we sat down with the artist to discus music, politics and what it's like being one of the most in-demand songwriters in the business.
When did you realise you wanted to work in the music industry? 
I realised this at a very young age. Maybe six or seven years old even. Growing up watching Aaliyah & Ginuwine videos definitely played a huge part. The way the dancing brought the songs to life and how the production value of '90s music videos took me to an alternate reality is a feeling I'm still trying to emulate in my own artistry.
As someone who started releasing music in the noughties, when things like social networks and iTunes began to take off, what role has the Internet played in your career? 
The internet has been essential to artists like myself. I even kind of got discovered on it. When YouTube first kicked off, I remember the energy and excitement around it all, even though it was only a few of us doing it at the early stage like myself, Dondria, Justin Bieber, Priscilla Renea [and] Tori Kelly. We were all just having fun and the world began to take notice. It was also around that time my dad used that platform to help me put together my first indie project at 15/16 that went on to sell about 60,000 units on iTunes, which really put a lot into perspective for me in terms of the power of the internet for music.
What is your creative process like? Has it changed as you've got older?
Not really. I don't show up to the studio with a huge entourage, I don't ask for all green M&Ms and all that good stuff, I just sing what I feel. Sometimes it stems from a melody or concept that came to me in my sleep, often in the shower too, but I just try my best to let it flow. I don't write things down anymore and I don't know if it's for the better yet but it's working for me now that I try to be as honest as possible in my music.
You're a prolific songwriter, penning your own tracks as well as hits for the likes of Usher and Rihanna. How does writing your material differ from writing for other musicians? 
When I write for others I prefer to try to write "with" them.  Almost like helping them illustrate and articulate their story. I'm much harder on myself with my own music though, I'll argue in my head over melody choices and lyrical approach until I can't find a better option before I even try to lay the idea down.
You won a grammy for your role in creating Usher's song Climax, how did this impact upon you as an individual and as a musician?
That song was my Grammy before it won one. It was the thing that kind of made people say: "OK, this kid is special".  Do I feel like I've written better songs since? Yes. Have I purposely tried to beat it? Yes. Is it ever an easy feat? No. Everything about that record; from the timing of when it released, to the unorthodox format, [to] it being mainly in falsetto, to Usher being the biggest male R&B artist at the time it was released, to the Diplo collaboration…made it what it was. I'm forever grateful to [have been] an integral part of it
You're also something of a serial collaborator, having appeared on tracks by The Game, Rick Ross, MIDI Mafia and Jez Dior. Who would you most like to work with? 
Beyoncé. Beyoncé . Beyoncé … and Drake 
On that subject, as an eminent activist, Beyoncé uses her platform as a musician to educate and inform about social issues. Do you personally see music as a force for positive change? 
Indeed. Always have, always will.
Your recent release, Hanging Tree, was created in collaboration with Sankofa, an organisation which enlists artists and musicians to promote justice, peace and equality.
I wrote and recorded that song a while back and a friend of mine introduced me to the organisation. I was so excited to finally find a home for that song as it didn't fit in the cohesiveness of my last project. [As a side note] that's Donald Lawrence & Co. on the arrangement and background vocals for that song — please check them out. They're so amazing and having them on it with me really sealed the vision I had in my head for it.
Hanging Tree deals with subject matter such as police brutality and systematic racism, do you think that musicians and artists should use their voice to address these issues?
Absolutely. We owe it to our predecessors who put their lives, careers and accolades on the line to do so, and we owe it to our future. Music and politics have always gone hand in hand. Before every major speech or monumental moment there's usually a national anthem to set the tone 
Moving on to your latest project, how do you feel your sound has progressed from your first album Bijoux 22 to your new album Audiology?
Bijoux 22 is always the project to which standards all my projects since then have been compared. It's a gift and a curse because when I did that project I just wanted to get my own music out to the world. I finished it in a week so there was no time to over-think, no time to second guess myself so there's an innocence and fearlessness associated with that project that can never be duplicated. I do feel I might've outdone myself this time on the new album Audiology. Finally!
We know you must have been very busy up till now preparing Audiology, what do you have planned for the future — for the rest of 2017 and in the long term ? 
I wanna do my best to really drive this album home! I'm very proud of this project and love watching it resonate with the people. That's my main focus for now. Then touring is also something I'm really looking forward to.
Audiology is out now and available here.
Words / Megan Wallace
This Schön! online exclusive was produced by
Photography / Eric T. White
Fashion / Samantha-Sungeun Kim
Talent / Elijah Blake
Grooming / Jessi Butterfield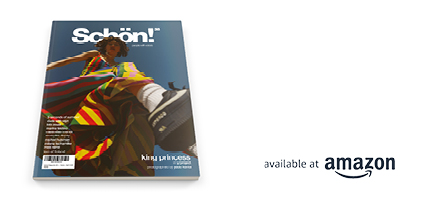 Discover the latest issue of Schön!. 
Now available in print, as an ebook, online and on any mobile device.