There's nothing typical about Jared Lee— in the best way possible. Known by the stage name of Duckwrth and hailing from South Central, California, the young artist has been making ripples for a while with his "funk-wave style" and extensive 90's pop culture references repertoire. Whether rocking a skirt or channelling Michael Jackson's groovy moves, everything Duckwrth touches becomes art. Inspired by Andy Warhol's words, he has —successfully— flipped the meaning of ugliness, created a defined visual identity and defied gender stereotypes through his unapologetic genderbending aesthetic, approach and attitude.
With his characteristic safety pin and black nails, Duckwrth's sound is a refreshing as his persona. We caught up with him to talk about all things funk, sex and nostalgia, political correctness, his Christmas artist wishlist and what his retail dream store would look like. Genuine, lucid and exquisitely transgressive, sit tight and watch him conquer the music sphere. And, before you ask, no — his name has nothing to do with Kendrick. Keep reading to see the premiere of the video for 'SUMMER'S EXIT', from his latest project, an XTRA UUGLY mixtape.
First and foremost, your stage name "DUCKWRTH" derived from your mother's maiden name. Why did you decide to adapt and adopt it for your stage persona?
I actually didn't choose it. As the story goes, my friends found out in college through random events so I kept the name Duckwrth throughout college.
You handle all the visual aspects that accompany your music: type, colours, illustrations, branding, logo… How important is it for you to have creative control of the visual identity of your "brand" and remaining independent?
I think it has something to do with me being a Taurus. I'm stubborn, but I know what I like. I know how I want to present myself. The fact that I can design furthers this artistic control. I see bad design all day long and I cringe when I do. I want people to see my colour choices, font work, characters and merch design, and be stimulated in every way.
You moved to San Franciso — your self-confessed second home — precisely to study Graphic Design but dropped out in the end. What prompted this decision and how did it eventually affect you as an artist?
I dropped out early because, in my soul of souls, I knew I learned enough to start applying it to real life. School is time and dedication and I wanted to switch that attention to making music and designing — a lucrative business. Those first years after school, I was broke as hell! But I eventually made it work.
You were raised in the home of a Pentecostal pastor's daughter and were forbidden from listening to hip-hop as a kid. How did you first venture into music yourself? And how did that affect your approach to music?
Music has always been around me, a family full of musicians would allow that. I adopted a musical preference in middle school. The homie was making bootleg CD's but I started liking Hip Hop mad late. I copped bootlegs of Ludacris' 'Word of Mouf', Busta Rhymes' 'Genesis' and Nas' 'Stillmatic.' I played those CDs until they were beyond scratched and unplayable. A month later, I bought 'The Neptunes Presents Clones' and the sounds that Chad and Pharrell produced on that compilation album warped my mind on the endless possibilities of Hip Hop. I knew from there that if I ever were to make music, I would push to be the most creative, colourful, boundary-pushing artist to do it in America. 
Your new project, an XTRA UUGLY mixtape, continues with the theme of your debut studio album I'M UUGLY. Why did you decide to further explore this aspect and, thus, make it extra?
First off, I'm a tremendous troll, full of dry, sarcastic banter and disgustingly witty remarks. So, making an album called UUGLY, with some of my prettiest music, was right up my alley. With Xtra though, I wanted to actually go harder than part 1, using the same themes of funk, sex and nostalgia; but go bigger with instrumentation, and vulnerable concepts. One concept being the emotional man or the aggressive woman. For so long, both feelings have been gender specific. So, with the song BOY, I wanted to find a radical but colourful way to blur the lines, so I called myself a girl. After making a couple of my family members turn their heads, I explained that I have both male and female energy, and so does every other human on this planet. It's about being comfortable in that space. The man that picks flowers, the woman that skanks in mosh pits.
As we can see with the flipped the meaning of preconceptions of the term ugly, you play a lot with juxtaposition and flipping the tables of socially established taboos. Why is this juxtaposition aspect so important for you?
Juxtapositions are one of the best reflections of the human experience. We all come from different backgrounds, different upbringings and gain our own perspectives on life. Then, we grow up to be contradicting ass adults; but that's the beauty. If we all subscribed to the same structure of living, if our truths were never challenged, our comforts never shaken, how the hell would we grow? Thus, Republicans smoke weed and Democrats shop at Walmart. Criminals help old ladies across the street and Preachers slap Gucci Mane; etc, etc. Juxtapositions create room for an ever-growing human experience.
You reflect this on your musical style as well. It's even more obvious in this mixtape — going from classic gritty guitar riffs to hip-hop, groovy funk and punk. How did you set out to reflect the ethos of the have-it-all generation in your music? What was the creative process behind the mixtape?
For me, UUGLY is all about transparency, so I'd be a liar to only present myself as a rapper in a generic sound of Hip Hop. As I said before, I love juxtapositions. I'm a Black punk that makes Hip Hop, funk-infused music. My subject matters span from boastfulness and sexual confidence to emotional vulnerability. I was raised with classical music, so violin solos will find their way scattered about my project(s). Oh, and when I perform, I'll switch from a Prince inspired pelvic thrust, to a belligerent death metal head banging. In making XTRA, I thought "If I love so many forms of music, why not just let them all out on one project". Thus, XTRA UUGLY.
You question status quo and give social critique with political brashness, but in doing so, you encourage relaxation and going back to easy breezy childhood days. How do you manage to keep the balance between the two?
I don't know how I balance my adult self with my child self. But I do see both going hand in hand. I relate to children because they have a humongous amount of I-don't-give-a-f*ck. They are also super open to the wonders of this world. Michael (Jackson) would say the day you stop believing in magic, is the day you lose your inner child. I thoroughly believe in magic. An adult understanding would call it manifestation, law of attraction, karma, or even a miracle, but they all go hand in hand. So even when I speak on politics with a certain bit of brashness, I still "caramelize the apple" with colourful chord progressions, beautiful guitar riffs, and humorous phrasing too lighten the payload of "we're f*cked" (lol).
Last year, you toured with Anderson .Paak and right now you're hitting the streets with Rich Chigga. How's it been this time around? Do you have any plans to cross the Atlantic some time soon?
Touring with Rich Chigga helped me gain a good view of where Hip Hop is currently. It's crazy as hell, but I love how aware the kids of this generation are. I love that me and the band are carrying the torch of Funk-Punk-Psyche-Rap, thus being a catalyst for the kids to peep the artist that my generation grew up on. Larry June would end that sentence with a "Good Job Duckwrth". Oh, and I'll be crossing the Atlantic all next year. So, get yo booty cheeks right, 'cause you will acquire much booty sweat at my show ☺.
What are some artists that you would love to collaborate with?
I would love to collaborate with Tame Impala, Connan Mockasin, Ty Segall, Steve Lacey, Sza, Justice, Gwen Stefani, Gorillaz & PHARRELL (or N.E.R.D). It would be sick to have Tyler the Creator direct a rad video with me… I REALLY WANT the Duffer Brothers (Stranger Things) to direct a video my song "WAKE UP" because it's a perfect 80's rock anthem ballad and they would go so ham, visually. That's my Christmas artist wish list. Stankyou, music Santa.
Fashion has been a distinctive trait in your career, some dubbing your style as androgynous. You've said that you've had struggled with sexuality before, but have come to embraced both masculinity and femininity. How important is fashion for you right now and how do you see the non-conforming gender aesthetic going on in the future?
Retail dream store of the future: One rack / no specific gender / just garments. It would be to the buyer's discretion as to which gender it belongs to. But I would hope that some people would want to buy it because they love the garments and not be hesitant because they feel sequence is only for women and ugly plaid shirts are only for men.
You have your own fashion/merch line— you've been repping some exclusive XTRA UUGLY designs on tour already. When can we expect a drop there?
By the time this interview drops, there will be an array of UUGLY clothing options to choose from at DUCKWRTH.COM. So, slap 'an XTRA UUGLY Mixtape', tell yah grandma about me, and cop some UUGLY and BOY pieces for the ones you love.
Love U 4ever – Duck.
'An XTRA UUGLY Mixtape' is available to stream here. Make sure to keep up with Duckwrth's antics here.
This Schön! online exclusive was produced by
Photography / Mancy Gant
Talent / Duckwrth
Words / Sara Delgado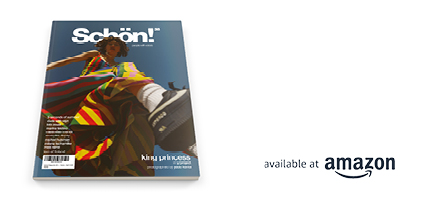 Discover the latest issue of Schön!. 
Now available in print, as an ebook, online and on any mobile device.