While the majority of people may use their boudoirs for guilty Netflix sessions, Avalon has been constructing a mixtape in hers. The young artist has been tucked away, tackling the themes of personal heartbreak, modern sexuality and a hidden love for traditional Catholic symbols — all with the goal of speaking truths and filling voids in listeners' chests. Schön! learns more about her female force and uniquely formed beats.
 Avalon did not grow up wanting to be a musician. "My first love was painting, it's what I grew up wanting to do my whole life," she explains. While this was her initial career choice, her musical canvas was fortunately never blank. Growing up, Avalon would regularly transition between listening to the likes of The Specials and No Doubt with her mother in Orange County, to tunes in Santa Ana with her father. "That's when I first heard Snoop Dogg, Depeche Mode, The Cure, Kraftwerk and all those Cholita oldies, funk and freestyle jams," she recalls. "I feel very blessed to have been brought up in such a diverse community, it made me feel so free".
Ironically, a big part of this liberal upbringing was juxtaposed with strict religion. Avalon was raised amongst the confines of Catholicism, which she describes as "strange and oppressing but, in a way, I still honour and have love for some of the figures within the religion." Fortuitously, this environment led her towards her current spiritual practice. "Nowadays, I feel very connected with Nature and no longer worship any specific Gods or Saints," she admits. "Instead, I worship myself and the present moment and I am much happier." This spiritual connection towards Nature extends into her identification with Paganism, a comparatively relaxed belief system, particularly in regards to one's sexuality — a topical issue Avalon refers to regularly.
The sexuality subject emerges in track Deadbeat Boy. "The song came from a very painful experience I had with the first girl I ever fell in love with," Avalon muses. "She broke my heart and made me feel inadequate… I made the song in like an hour and it felt like a cleanse, both the sound and words are equally as important to me." Such unapologetic honesty forms a maturity within her work, allowing a sense of release and expression for the rising artist.
 It quickly makes sense why her work is constructed within the intimate four walls of her bedroom. "I have almost out of body experiences when I'm writing about these things. I'll get the urge to say something and just grab my notebook and start writing. All of the sudden I'm 5 full pages deep of poems," she illustrates. This personal element continues through to the production of her songs, as she describes the creative process that went into her mixtape Bedroom Tapes, which explores themes such as sexuality, innocence and spirituality. "I worked entirely from my room creating the tape, thus the name," she explains. "It felt very free to know I could create whatever the fuck I want with no consideration for anyone's opinions but my own."  
Avalon connects this DIY approach to the influence of the internet, a modern medium which allows so many to share their creativity with an audience. "I am so blessed to have come about in a time where artists like ABRA, Princess Nokia and Grimes can succeed — a.k.a. strong DIY women and that's all thanks to the internet," she says, adding that her supporters "push me to make unapologetic work." Fortunately, remorseless work is what audiences can expect from her mixtape release and future music. "I would say the mixtape is more on the dark, slower side but I'm already conceptualising my [upcoming] first album where I'm going to explore more funk and freestyle textures," she adds. This vision is her own and Avalon finds it imperative to retain creative control over the acoustics and aesthetics of her work. 
It is energising to witness a female artist unapologetically take the reigns of her image and sound, all with the desire to be genuine and influence others positively. In regards to the future, she is open, postulating "I don't know what label I'm gonna do [my new album] with, don't know what management I'll have, don't know anything…. other than what my vision is and that I will execute it in the most genuine way possible."
 Check out Avalon's latest releases here.
 This Schön! online exclusive was produced by
 photography. Alexandra Herstik
fashion. Hayley Francise
talent. Avalon
photography assistant. Zanya Wells
words. Alana Flood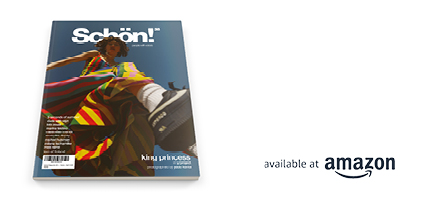 Discover the latest issue of Schön!. 
Now available in print, as an ebook, online and on any mobile device.