It's always been hard to draw conclusions from the entire month of fashion weeks; the big four remain unchalllenged in spite of new fashion weeks across the globe, from Sydney to Tokyo. Yet none of these has succeeded in toppling the key players of New York, London, Milan and Paris. The links between them have in fact become more tenuous in recent years as designers, more than ever before, look to their home markets, local customers and their innate understanding of their own countries clients, customs, culture and demands.  Fashion weeks in many countries, such as Scandinavia and India for example, reflect a strong domestic market whose demands and cultural influences are clearly sustaining successful businesses. Designers do not always see international expansion as the immediate answer to success in today's world. However, in trying to sum up the season, there are links in terms of trends and themes and types of creativity linking across the season, the first of which is real clothes. 
Burberry, Michael Kors, Giorgio Armani and many others balance a difficult job, which is producing real clothes, exactly as shown on the catwalk and selling both in stores and their own boutiques. Season after season, they manage to re invent the staples of a woman's wardrobe from trousers to evening dresses. This task is never as simple as it looks, it rarely makes the front page of the magazines and yet it is the backbone and foundation of the entire fashion industry.
There are now, excitingly, many of the new and younger generation demonstrating, in small shows, installations and exhibitions,a realistic approach to starting out in fashion. Young designers whose challenge is to establish themselves not by fanfares and shouting, but by simply showing really good clothes. Clothes well-constructed, thought through as a collection, relevant to a broader client base and yet never dull or basic. Many designers are also thinking about seamless variations in a collection to encompass, for example, sexy looks alongside modesty, brilliant colour or pattern next to cooler and paler stories or sharp, crisp silhouettes to team with fluid pieces.
Look at Akris, Bottega Veneta and Tomas Maier, look at the brilliant debut of Bouchra Jarrar at Lanvin, see how cleverly Sébastien Meunier at Anne Demeulemeester cast his show and the beauty of the clothes in their classicism, wonder at Max Mara and Margaret Howell whose standards never slip. Watch how Peter Jensen and Lutz Huelle offer brilliant clothes without trickery which evolve each season to delight their customers. The low key collection of Olivier Theyskens revealed his technical skills, not his catwalk tricks, and Stuart Vevers at Coach has dramatically improved sales by simply being a very good designer. Yonhji Yamamoto continues to investigate what can be done with a black jacket and a white shirt and never bores his customers, so there are times in fashion when a whisper can be just as successful as a scream. 
Big shapes, overlong sleeves and volume silhouettes are defiantly a theme amongst a group of designers and in fact some designers took this up to the next level of oversize, or more dramatically fluid and voluminous looks. This fuller softer silhouette was seen at Thom Browne, Rick Owens, Balenciaga, Y/Project, Chloe, Loewe, Céline and Stella McCartney and others, sometimes an entire collection, sometimes only a passage. It will, when delivered, be interesting on the rail, on the customer and on the streets, especially if some of the more exaggerated scales are manufactured.
Volume requires great skill in either understanding the scaling up of the proportions of a garment where for example the collar and body is slim but the armhole and sleeve is oversize, or if there is a great deal of fabric, and how that is controlled, draped and secured requires skilled handling. 
Chitose Abe at Sacai, Virgil Abloh at Off White, Junya Watanabe, Nana Aganovich and Brooke Taylor at Agonovich, the Rodarte sisters at Rodarte, Christelle Kocher at Koche, Tsumori Chisato, Christian Wijnants, Jun Takahashi at Undercover, Miuccia Prada at Prada, Roksanda Ilincic at Roksanda and a good few others view the runway and fashion as an opportunity to express themselves. Every one of these shows is special and for the audience, the fans and the viewer this is the pinnacle of creative fashion. Some of these designers are established and some are newer, the biggest test for the "art" designer is to gather followers, and develop customers to become established. It's more than possible but a fair number have also disappeared across the seasons and the names like Mary Katranzou and now, Del Pozo, set a very high standard to match when setting out to join this particular group. Rei Kawakubo at Comme des Garçons has shown it is possible to be honest to your own vision, wildly creative and at the same time establish a business, and a true customer loyalty to your vision. 
The creatives who embrace decoration and embellishment are very different to this group in the sense that they bridge the more classic real clothes makers and the artistic gallery designers. The task is to be innovative without being as confrontational, experimental or challenging, this is again nothing like as simple to do as it appears when stated as a business plan. Great talent is required to walk that creative tightrope and the proof is in the comparatively limited number of players across the world whom manage this task. Dries van Noten, Valentino, Givenchy and others use their collections to re invent a visual narrative based on recognisable clothes but with colour, pattern and decoration adding to the seasonal story. For many customers it's about the seasonal must have and the addition of pieces from these brands, either to add into to more basic pieces or as " collectors " of the look. Etro and Marni alongside Kenzo or Rahul Mishra for example, present perfect pieces to re interpret within a myriad of different looks and customers across the world. It is this ability to make a statement yet offer options at exactly the same time which separates the successes from the wannabes. Customers of all ages and shapes can invest in these creative brands without being nervous or uncertain since with all these names the product is always beautifully realised to the highest standards. 
Christian Dior, Chanel, Yves Saint Laurent all have a terrifying heritage and history behind them, for the designers at the helm of these house the expectations are of the highest and this season two welcomed debutantes. If the reviews for the collections were a little divisive it was their first season and we must give them time. These houses are like the Beethoven symphonies; masterpieces but a first reading is not definitive. Paris has many such houses;  Vionnet, Nina Ricci, Leonard and more, who are embedded in French culture as much as French fashion. Sometimes, as with Pierre Balmain, it is a case of distancing the new from the old, where Balmain under the creative thrust of Olivier Rosteing is precisely a success because it pays little head to Jolie Madame or the history. There are many names out there, some have been revived and gone again, some are waiting in the wings. The trick is to get it right, both in what is retained and what is discarded and it must have the right team. 
So perhaps we have to conclude that however many fashion weeks there are, however many cities we visit, and however we try to tie it all together, Paris has the final fashion word. 
Words / Tony Glenville
Follow him here.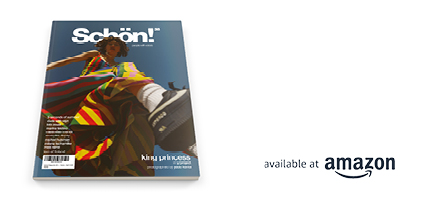 Discover the latest issue of Schön!. 
Now available in print, as an ebook, online and on any mobile device.