Henry Holland's semi-eponymous label, House of Holland, celebrates its 10th birthday this year – fitting, one might venture, for the Victoria & Albert Museum to host Mr Holland for one of the Fashion In Motion series. So eclectic was Holland's retrospective at the V&A that it was almost impossible to place any of the pieces in a particular epoch – instead the audience was presented with a technicolour, slogan-laden, polka dot smorgasbord of phantasmagorical fashion in true HOH style.
Edek Goralski captures the backstage goings on in preparation for a show that exhibits the essence of House of Holland and the dizzying heights of fun in his fashion which have put the HOH brand in its own genre, in only ten years.
Holland has been creating London's 'It Girls' uniform for years under his House. In fact, prior to the launch of his label, he was immensely successful with his slogan T-shirt designs. This look back at his most memorable and iconic pieces showcased the art of treading the fine line between outlandish and surprisingly ready-to-wear fashion.
Of course, there were slogans – HOH is synonymous with slogans like Kenzo is with tiger motifs – the opening look was a 'Flick Yer Bean For Agyness Dean' tee. What else? His work with long-time friend and collaborator Dean is well documented and was surely the catalyst for his designs being worn by all coolest girls in the mid-noughties.
The show stopping purple-tartan-horned model with coordinating evening gown and effervescent veil was surely one of the most photographed pieces in the show; with an undulating movement of iPhone and DSLR's cameras rising and falling behind the model as she sauntered down the runway. This one dress alone certainly handled the social media marketing for the entire show. Also, there was a metallic beret.
Keep up-to-date with V&A events here.
Words / Jordan Gale
Follow him here.
Photography / Edek Goralski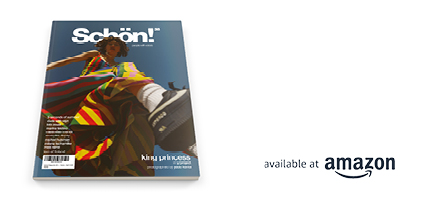 Discover the latest issue of Schön!. 
Now available in print, as an ebook, online and on any mobile device.