"A perfect setting for our fashion offer to the world," stated Spanish Minister of Home Affairs Meritxell Borras of the National Theatre of Catalonia, making an eloquent conclusion to a week of style-high shows at 080 Barcelona Fashion's closing award ceremony. Across the panoply of 33 unique designers, with household names like Custo Barcelona, to emerging labels, such as Daniel Rosa, a variety of design talent was showcased. Running alongside each other in competition for the 080 Award, designers presented original and inspiring collections. Schön! reports from the showcase as photographer David Garcia takes us behind-the-scenes to catch pre-show preparations on camera.
Making a noteworthy return to the catwalk with creative director Albert Villagrasa and CEO Andrea Arquerov, geometric patterns and bright colours layered over translucent tulle skirts and dresses were the core of Antonio Miro's AW 17 Collection. Taking inspiration from wild west, the collection included pleated silver skirts, including high-wasited pink silk trousers paired with chunky, colorful, yet smart knits. The more formal pieces – such as a memorable wool-knit monochrome patterned dress, were paired with easy, carryall fuzzy clutches in pastels. 
Embodying the spirit of its namesake city, Custo Barcelona showed both mens and women's collections – perfectly encapsulating the ideal modern-day rock & roll bohemian couple. With flowy Marianne Faithful-inspired tops with bell sleeves, showcasing deep V-necks with intricate laces and beading and metallic floral-printed micro shorts, Custo exposed the patterns he is renowned for.
Daniel Rosa's pieces presented slick, fashion-forward ensembles for the stylish man and woman's wardrobe. Perfectly on-trend with the high fashion street wear trend, each piece is conscientious of wearability. Military-green utility coats, graphic tops, and chunky wool socks showcase serious attention to detail – every stitch and material carefully chosen. The utility coats morphed shapes into a more high-fashion territory as the looks progressed – with careful fabrics chosen to form their staple sweaters, with raincoats tied around the waist.
A mix of Japanese avant-garde blended with '90s grunge and new wave is the best way to describe Josep Abril's most recent menswear collection. Bi-coloured boxy suit jackets could as easily be slung over the shoulders of a Dr Martens boot wearer as they could a plaid-trouser punk. On the womenswear side, patches of bicoloured button downs mirrored the menswear jackets as well as wider-fit plaids. 
Miquel Suay took a trip to the Milky Way with this collection – an assortment of white quilted tops, iridescent fabrics, and plenty of rocky textures to mirror the planet Mars. With laser sunglasses, Suay's pieces alluded to a sort of alien abduction. Chunky, all white boots and black puffer vests made for moonwalking helped tie the pieces together, while long, large name-sake labels doubled up as large zips. Gold trousers, polo neck, and overcoats were not to be missed – one oversized quilted red coat proved to be especially comforting, a not-so-subtle nod to a NASA uniform of sorts. 
Pablo Erroz's womenswear collection played homage to the working woman's wardrobe – favouring clean, slick lines with shirt dresses, and playing with asymmetrical cuts as well as subtle details in the changes of fabrics in aviator jackets and trench coats. Erroz chose a different direction for menswear, privileging more modern cuts for a working man, and more daring silhouettes for the outerwear, such as a pleather rain coat and '90s rave chain chokers. 
Krizia Robustella injected plenty of colour and Tales from the Crypt attitude to 080 Barcelona with face masks with skeletons, skulls, and baggy velour jogging suits in blacks, pinks, and multicolored fur coats. Graphics on velour dresses saw green zombie-like hands with comical long red fingernails – the spooky monster-theme a constant with each look. The show ended on a tongue in cheek, ominous note with tombstones covered in graffiti reading REST IN SHIT. Enough said. 
The highlight of the event, however, was the production of Dorian Gray, Beauty knows no mercy which opened this year's inaugural gala. With production and costume design by the legendary designer Pierre Cardin. After over 50 years in the business, the cultural legend knows a thing or two combining media into a cross-cultural entity. Indeed, the aim of the musical was to bridge the world of fashion and theatre as a form of cultural expression. The 080 Barcelona Fashion Winter Edition council paid its respects to the long career of the designer.
Aldomartins closed the showcase with his collection Bohemian Rhapsody, inspired by folk and country. Showcasing smooth fabrics such as jersey and all things Lycra, each piece displayed organic textures found in nature; soft, neutral palettes with pink, moss green, and red wild fruit juxtaposed with the grey fog of winter, causing a serious visual impact.
Photography / David Garcia
Words / Estefania Hageman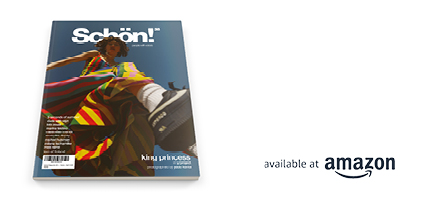 Discover the latest issue of Schön!. 
Now available in print, as an ebook, online and on any mobile device.