Paris Fashion Week SS19 Menswear had a lot resting on its shoulders this season. Literally. If it wasn't oversized candy coloured coats from Thom Browne, it was wide sleeves and extended shoulders from Sean Suen or gender challenging exaggerations from Wooyoungmi. Other trends that surfaced included PVC and a range of camouflage interpretations. Fortunately, there was no blending in for the following brands…
This season, Sankuanz explored uniforms and protective themes. As figures paraded into the industrial space, one couldn't help but liken them to an army of models. Protective military vests were accompanied by chain mail armour and a recurring hood that created a sense of uniformity amongst the men. Again there was an essence of camouflage, this time layered in amongst completely contrasting elements such as purple track pants. A clever collaboration with Puma gave an underlying sports feel to this collection with bright colours and PVC fabrics that propelled any overused military elements into a fresh new space. As models drilled to the drums of the blaring track it seemed a new interpretation of masculinity was being carved out.
A sense of romanticism and it's underlying darkness reigned the Palais de Tokyo's baby pink catwalk at the Ann Demeulemeester show. A pure voice sang of young love and upcoming nuptials, as models glided down the catwalk in layers of intricate lace, subtle sheers and fresh linens. The looks began as a dichotomy of black and white, with a quick softening switch to muted pink and mint. Silhouettes were free-flowing, garments danced around the models, while fabric strips and pleats floated and fell with the movement of their bodies. The styling was whimsical, with a sting of love's turmoil — buttoned down shirts revealed bare chests reminiscent of a heart-breaking Casanova, while raggedy edge straw hats with draped sheer fabric were a nod to a constraining veil. Lace gloves, although delicate, somehow reminded one of entrapment, while black roses hung limply from model's hands. The show was everything love should be: breathtaking, all-consuming, perfectly light then painfully dark. 
The Thom Browne show was a world of gnome gardens and sugar candy highs — it was a runway that had something so sweet about it. The show opened with two male models dressed as schoolboy gnomes pushing lawn mowers and flower wheelbarrows around a picket fenced garden. As models entered they took their time to smell the roses, meandering into the garden until time slowed down. The garments featured extreme, larger-than-life overcoat shoulders, accompanied by wide-legged pants, the odd pleated skirt, boy shorts and fitted knitwear. Layering was king, sleeves had varying lengths, revealing striking new colours from shirts underneath. Motifs were also key: whales, anchors, crabs, dachshunds, checks and stripes played out in different sizes and shades. Organic lines danced across the body in piping and pearls, while the plethora of colour became breathtaking — candy pinks, sky blues, bright oranges, meadow greens and umbrella yellows all came together in a candy fuelled garden setting. Models were styled in sky-high platforms, their chins bearing sprays of colour as if caught in a pollen storm; while their round glasses sat majestically under a flowered straw hat. As the show drew to a close, models strolled through the garden in pairs, arm in arm, hand in hand with their accompanying runway look. It was the perfect way to finish the sugary sweet high. 
Wooyoungmi does Bowie. This show was about the manipulation of gender, inspired by a figure who wielded it the best. As if the tightrope of male versus female wasn't enough, the label also toyed with the dichotomies of vintage versus futuristic, tailoring versus bohemian, strength versus fragility. Shoulders were overly broad, accompanied by exaggerated collars with points so sharp they became cutting edge. Fabrics included a retro mix of glam yellow, light brown, brooding black and metallic blue. These became futuristic when accompanied by a rocking check print in PVC, black leather pants, tight denims and photoluminescence fabric. Although it was the styling that drove this collection home, placing it in a genderless realm of its own. Diamanté chokers were delicate, yet strong on the necks of men, earrings featured the infamous Bowie bolt, as masculine boots were heeled. WYN clasp belts revealed the waif-like figures of models, while slicked down hair was neither male nor female inspired. Every element of this show had a beautiful balance to it, one which the Starman himself would have surely shone to. 
The SS19 PFW Men's collections brought the past to the future with a unique take on renowned trends. This sense of rejuvenation felt like the perfect prequel to the approaching season of sun.
Find out more information about Paris Fashion Week Men's here. Don't miss our backstage report on this season's catwalks.
words. Alana Flood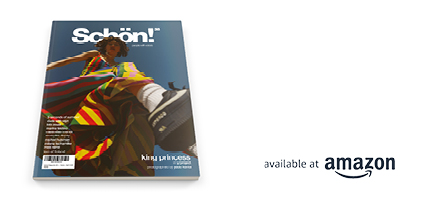 Discover the latest issue of Schön!. 
Now available in print, as an ebook, online and on any mobile device.