Handing on the relay to Haute Couture, Men's Fashion Week came to a close with Yohji Yamamoto's clothing line with Adidas: Y-3. Inspired by aviation, Y-3 explored the magic of flight with sleek sportswear and graphically knitted sweaters. This Autumn/Winter Men's and Women's Collection featured an array gleaming sky-blue jackets and added doses of fur on lapels and coats. Schön! loved Y-3's ultra comfortable trousers with oversized pockets styled with cameo patterns.
Uniting the past and future, the collection highlighted a myriad of fabrics, from classics like wool flannel, cotton twill, and French terry, to contemporary materials like Tyvec and neoprene.The season's silhouette was perfectly fitted and trim; the colour palette was compelled by a Royal Air Force influence: steel blue, dark navy, cool gray. Yamamoto fabricated coveted separates that can be mixed and matched to any silhouette, upholding Y-3's trailblazing contemporary spirit.
Discover Y-3 collections here.
Words / Sheri Chiu
Follow her on twitter.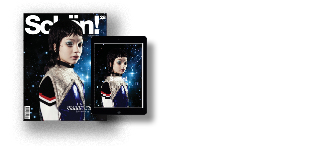 Discover the latest issue of Schön!. 
Now available in print, as an ebook, online and on any mobile device.