Of all fashion shows, what remains most enticing about the runway lies in the discovery of a designer's personal expression. Beyond admiring garments that are aesthetically engaging — to say the least — it is within the unveiling of an artist's vision that resonates with us the most. As we admire an innovative piece or even recognise traces of ourselves in another's creation, there's an almost inexplicable connection that forms. When considering the ever-evolving dialogue surrounding representation within the creative industries, what never ceases to emerge is its influence over societal dynamics — and vice versa. Schön! spoke with the creators of a new London based initiative, 199Z: Diversity Revisited, which aims to address this very notion.
In seeking to elevate the insufficiently-crossed bridge between the fashion industry and academic research, 199Z: Diversity Revisited will be host to an innovative fashion show with LSE SU Fashion Society, among some poignant lectures, to "explore the ideas that surround and are evoked by this term; the understandings we have of it, and what we really aim to achieve with 'diversity'."

Looking to transcend the usual buzzword effect the term 'diversity' may evoke, the events range from exploring creative expression in material culture to interrogating the power struggles over opportunities within professional networks. As co-directors Jerome Paredes Heidemann and Eloise Bond reflect: "this is a project which has been in the works for a year now and the main message has changed throughout the year as we learnt more, grew and gained more knowledge about how people perceived diversity and what it meant it for them. We think the main message we wish to communicate now with this initiative is that we know nothing but we can learn through people's perceptions and by educating ourselves constantly. It is by doing so that we will really be able to push down social boundaries. And to be fearless, always — if you believe in your vision, others will too."

Existing within a milestone period — a moment in time where Generation Z is now more visibly reacting to society and its issues in markedly distinct ways — fashion and art are significantly becoming critical and discursive of their position within society. It is in highlighting how these spheres are fusing in contemporary times that this project extends past traditional fashion shows, films and lectures into a significant intellectual moment.
In urging us to revisit the conversations we have, their initiative manifests a need to address the disconnect between the notion we have of being socially progressive — and realising what that actually means — within the nuances of everyday society. Beyond projecting our own ideas onto another's experiences, for instance, they feel that it's in allowing them to portray their experiences in their own terms that will elevate us. "From the beginning, we have always been outspoken about how we view fashion, as the fusion of art, culture, society and politics," Paredes Heidemann and Bond explain. "We find that fashion has often broken down social boundaries and cultural norms, always pushed people further in their creative thinking. Fashion and art play a discursive role in their position within society, what the social sciences prove in academia, fashion follows through in visual representations. Don't underestimate the power of fashion in shaping your identity."

The LSE Fashion Show 2018, at Saatchi Gallery, will show the work of designers Jake Young Shim, Jamall Osterholm, Louise Poet, Maddie Williams, Memunatu Barrie, Peiyang Zou, Sijia Wu + Ziyu Zhang, Timna Weber and Yujin Pochkin.
'199Z: Diversity Revisited' will be presented at Saatchi Gallery on October 23, from 7 to 9 pm.
words. Amel Meghraoua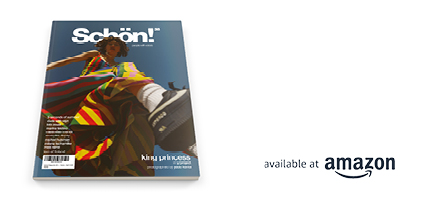 Discover the latest issue of Schön!. 
Now available in print, as an ebook, online and on any mobile device.