As the world spins and and fashion races past us it is great to see the British Art School heritage back in place and firmly upholding the values that made it so great, and a strong global player, in the first place. After sitting through around four hundred collections during Graduate Fashion Week, it was reassuring to see that although technology has its place, the values of craft are being upheld by the next generation.
Knit, weave and print in textiles were out in force as were construction skills and embellishment. The Heritage crafts, all of which come under the heading of "Cottage Industries" are alive and well across the British Isles educational establishments, from Edinburgh to Bournemouth. Time-consuming attention to inventive ways with techniques and methods of production, often     little changed for hundreds of years, were on show time and time again. 
Crochet, stitching, braiding and other often tedious and laborious ways of producing details or finishes were seen in many variations, proving that patience is not a lost virtue. When it came to embellishment, beading, embroidery, both hand and machine, surface treatments, hand painting and almost any way of treating a fabric were to be seen. Inventiveness showed in recycling, up cycling,  in using found materials and in marrying the past with the future.
The winning collection at the gala may have been based around brown paper, but the British love of storing and hoarding could be seen in garments whose characteristic was as much collage and assembly as couture. Wit was much in evidence, with Brexit and Britishness amongst the messages. Who else but a British designer could base a beautiful and exquisitely crafted collection around Margate? There was Arcadian decay and the English nostalgia of Cecil Beaton and country house weekends, flouncy aprons covering ladylike smocks, neat suits ready for Bond Street and sensible raincoats for our showery climate. Bright 1950's postcard colours, or faded Edwardian pot pourri shades, tough earthy tones or fresh natural greens and yellows all reflected Britishness and our roots, heritage and culture.
So the future of fashion is in safe hands with this wonderful display of energy, passion and skills, allied to a refreshing commitment to time consuming crafts. The art school tradition which produced so wonderfully Ossie Clark and Alexander McQueen is alive and well and, certainly for this viewer, kicking.
Congratulations to the class of 2017. 
The awards were given out at the closing graduate fashion week show, where the 25 finalists had their collections on show once more before being placed. The big winner of the week was Halina North from Edinburgh College of Art, who won the highly coveted Christopher Bailey Gold Award and the Hilary Alexander Trailblazer Award with her take on sustainable fashion – a sculptural collection which played with proportion by using dresses made from recycled paper and plastics, and coats moulded from cardboard. 
The talent from the Edinburgh College of Art didn't stop there – Ruth Williams, Maddie Williams, and Irene D'Antonio were also awarded prizes for their collections. Ruth Williams created a collection of knitwear in leather and crochet, whilst Maddie Williams designed an entire collection from woven plastic bags – think timeless wide legged trousers with a more forward-thinking puff jackets stuffed with material. Course leader Mal Burkinshaw was elated with the success of the year: "For us Graduate Fashion Week is so important as we are up in Scotland and there aren't a lot of fashion graduate jobs in Scotland, so it's really important that our students have an International outreach and Graduate Fashion Week provides that opportunity for them to be seen and noticed," he told us backstage. "That's why we take it very seriously, that's why the students talk to the industry all day, that's why they make CVs, that's why they do everything to get themselves out there and that's our goal for them and why Graduate Fashion Week is such an amazing opportunity for them"
In the menswear department, Daniel Rynne from Arts University Bournemouth won the Debenhams Menswear Award, where he sent down cohesive looks of paint-splattered dungarees and artist' workwear, complete with bibs, aprons, and thermals with pockets stuffed with paint brushes. 
Discover more of the Graduate Fashion Week highlights here.
Words / Tony Glenville & Estefania Hageman
Follow him here. 
Follow her here.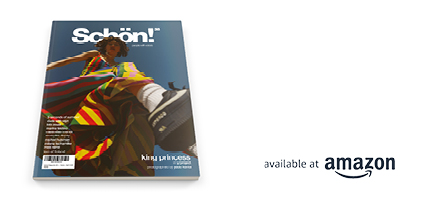 Discover the latest issue of Schön!. 
Now available in print, as an ebook, online and on any mobile device.