Valentines —a day designated to letting those you love know just how appreciated they are— is fast approaching. A sweet interlude to gloomy February, it serves as a reminder of what is truly important in life. Ultimately, love conquers all — regardless of gender, religion, race and logic. Love always prevails. Treating your significant other is part and parcel of the holiday. Everyone knows Valentine's Day is the perfect excuse for some lavish treats and as such, Schön! have comprised this gift guide to ensure your beloved is duly spoilt.
First up are these superb Spectacles by Snap. Inc. If you're hell-bent on making memories with your other half, these have you covered. By recording 10-second videos that save directly to your Snapchat memories, they allow you to capture special moments without the interruption of handheld devices ruining them. But you still have the footage saved for you to share on social media later on! Truly, the best of both worlds.

If glasses aren't your bag, step up your accessories game with these scribble print shoes by Louboutin instead. Part of the Loubitag collection, these are the perfect injection of fun into your wardrobe for all those not afraid to be bold this Valentine's day. A boldy brilliant statement, don't shy away from these playful numbers and get purchasing for your sartorial partner in crime —two's certainly a party!

One thing is for certain; a celebration is in order this and every Valentine's day. A fête where love reigns supreme, these 'Anna G' Alessandro Mendini corkscrews are the perfect tools to crack open those bottles and ensure your exercise in uncorking is as effortless as can be. Get the drinks flowing and be on your merry way…

For all those out there shopping for the fashion-savvy, this TRIO crossbody bag by Bally could be just what you're looking for. The answer to everyone's struggles of needing myriad sizes of bags, it is devised of 3 separate pouches that are linked by a ring that opens up, enabling one to customise the number of pouches required to suit however much stuff they need to carry. The gift that keeps on giving, this bag is sure to impress anyone enticed by versatility and ease.

Prefer to stick to the classic scent? While some may say that men are from Mars and women are from Venus, we all appreciate a good fragrance —reagardless of gender. These BOSS his and hers editions champion masculine and feminine energies —marrying notes of leather with those of the aphrodisiac Maninka fruit native to Africa and combining honeyed peach and freesia with a hint of cocoa respectively. One thing is sure: noses everywhere will be appeased.

But if scent and sensibility are not your cup of tea, be easy on the eyes and the ears. These Beoplay H9i headphones cater to another two of the senses. Whether they're a self-serving gift; an offering to someone in lieu of their tendency to blast video games, Youtube videos or music; or simply a luxurious upgrade for that special person in your life —any recipient is likely to be overjoyed.

Last but not least, till death do you part? If you're in it for the long haul, these elegant yet steely jewellery pieces from Miansai are ideal to lock up your love. You'd be hard-pressed to find anyone deny the charm of these — with an undeniable understated beauty, they combine a sleek screw cuff bracelet designer with timeless diamond adornments. And you know what they say, diamonds are forever…
Words / Hollie Williamson
This Schön! online exclusive was produced by
Photography / Tom Brannigan @ Tonic Reps
Fashion / Clara La Rosa
Set Design / Sophie Iona
Retouch / TMTM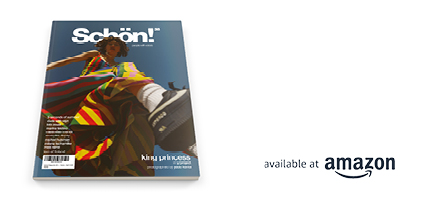 Discover the latest issue of Schön!. 
Now available in print, as an ebook, online and on any mobile device.