In the Italian capital, fashion week comes twice a year: once in January and again in the summer. AltaRoma reminds participants of what made Roman creativity great in the past by facilitating relationships between "historic Italian fashion houses and new, international creative and production realities." With such an important mission to complete, we've come up with our top picks from AltaRoma 2018. Starting with the highly anticipated fashion scouting project in partnership with Vogue Italia:  "Who's On Next".
First off: Angelia Ami delivers the suit jacket, spandex shorts, clear plastic heel combo unflinchingly for SS19. The laissez-faire attitude of undone buttons and wide leg trousers is contrasted with sharp shoulders and stiff collars while the designer's contemporary vintage touch is added to crossbody fanny packs. Bonus points for dipping into the logomania trend without overdoing it.


"Somewhere in Between" was emblazoned on waistbands at Cancellato's SS19 show. No doubt this season's theme was referring to the Milan based knitwear brand's versatility. Skirt and sweater sets, tracksuits, crop tops and oversized cardigans got the Diletta Cancellato treatment: transitioning seamlessly between the gym, the office and after work.
Leo Macina's latest collection for Leo Studio Design is filled with dresses, blouses, skirts and a few hoodies; all set to his own prints and graphic patterns. The designer's pop aesthetic is enhanced by his signature unique cuts and fluid forms; sort of like the Andy Warhol of fashion.
Simona Marziali, responsible for the elegant garments with sporty lines at MRZ, designs with the strong, independent woman in mind. With a Master's in knitwear design, close attention to detail and careful selection of innovative materials, she's more than qualified for the job. Bringing to the table for SS19: suiting options, sleeveless trenches, varsity avec plaid, travel-stamped graphics and a dash of silver.
Maria Turri continued her love affair with seams this season by incorporating raw hems and loose threads to juxtapose her simple, clean, lightweight wares with an element of grunge. Other tropes of hers, including flowing silhouettes, voluminous skirting and geometric lines, were present. Also, in this alternate universe, the LBD actually stands for Long Black Dress.
As one of the most influential creative platforms in the world, "Who's on Next" has helped launch the career of numerous well-known designers. Among them is Miahatami, runner-up in the ready to wear category for "Who's on Next" 2016.
Think of Narguess Hatami as bridging the gap between Middle Eastern and European design. For SS19, she uses the Persian women as her muses, highlighting their role as icons, mothers, workers and lovers. Dresses boast plenty of clean lines that as they fold, drape or split, become increasingly romantic. While latticing and knotting gave the illusion of wrapping the body, sheer colourful scarfs cascade over it. Finally, sequin embroidery, fringing and braided patterns add to the sculpture-like level of intricacy. The result: elegant, sophisticated, confident, sexy and ready to take on the world.  
AltaRoma continues the "Bloom Contest" in collaboration with "Portugal Fashion", showcasing the Spring/Summer 2019 collections of three Portuguese designers. But first, last year's contest winners get to present their Fall/Winter 2019 collections.
Maria Meira took a cue from the arts and crafts movement for AW19, sending models down the runway in clothing fastened with plastic buckles and webbed straps that read: #SUB. Other hardware contributions came in the form of zippers, grommets and rope. Under construction bodices, black asymmetric skirting, a lace crop top that fit in surprisingly well and a life jacket-esque coat paired with lingerie kept things modern, alternative and adaptable all at once.


For AW19, Mara Flora used "The Pillow Book" as the inspiration behind her white and red collection replete with wide legs, bell sleeves and some beautiful smocking work. References to the '90s Hong Kong film lay blatantly in the Chinese calligraphy totes and calendar embedded red suit jacket while underlying themes of vice and virtue and order and chaos took on less literal meanings through structure and shape.  

Oporto-based menswear fashion brand, Nycole, likes to combine classic looks with sporty details. So for SS19, it's only fitting that baseball bad boys reminisced about a simpler time in the '70s. Oversized, overlayed and striped gear recalls baseball's golden age while colour and fabric choice are inspired by one of the most enduring rock legends: Led Zeppelin.
Joana Braga captures the relaxing mood of summers on the French Riviera with her '60s swimwear inspired looks. The ebb and flow of a summer "work week" is transmitted through roomy, overlapping pieces with slipped shoulders and decontextualized crisp blue shirting with white stripes.
Daniela Pereira doles out classic male fashions with a twist and her SS19 collection, named after choreographer "Pina" Bausch, is no exception. With a focus on shapes, colours and fabrics of the modern dance world, Pereira fuses her spirit with the late, great German performer.
AltaRoma is one event to watch on the fashion circuit as it continues to become a hub for emerging and established design talent; do as the Romans do and celebrate.
Find more information about AltaRoma here.
words. Hannah Rose Prendergast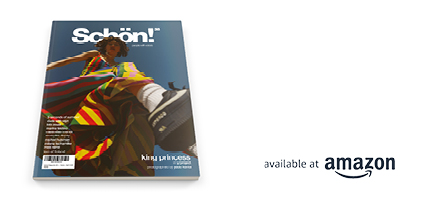 Discover the latest issue of Schön!. 
Now available in print, as an ebook, online and on any mobile device.