In a world simultaneously dominated by superficiality, anger and fear; UAL's London College of Fashion recent graduate, designer Danyi Eleven Yang, goes under the surface of a forgotten but common problem that persists to exist and is yet usually unaddressed: unemployment. How could fashion, such a glamorous industry, can even associate itself with such an issue, you might ask? 
Danyi Eleven Yang had no fear of challenge. Her menswear graduate collection, Vestiges, named after a shantytown in China called YanFen Street which translates into 'Hot Pink Street', is inspired by the Chinese 90's proletarian culture. "When I was young I had a chance to visit Shenyang, China, which is very famous as a heavy industrial city," the designer remembers. "I was deeply shocked by its proletarian culture. In the 1990's, China attached great importance to the development of the heavy industry leading Shenyang to the refulgence. However, when I went there last year, there was nothing but several abandoned factories. To find out the reason, I did the research on what happened in the past 20 years and stumbled upon this documentary, À l'ouest des rails, which talks about the workers in the 1990's Shenyang. The tragedy it described after the workers were fired deeply impressed me."

A unique mixture between cotton and linen, the Vestiges collection follows the colour of pink through various detailed accessories and elaborated garments in order to show the desperation of the unemployed workers — whose wives were forced to become hookers, while their children were still longing for the future. Simultaneously referencing monastery garbs and classic 90's workwear, as well as comparing the 90's Chinese unemployment situation with the British miners' strike during the same period as the inter-community of unemployed workers; the designer creates meaningful and well-thought yet contemporary pieces. "The 90's workwear was my initial silhouette inspiration and the material inspiration of metal and hemp rope comes from [their] working environment," Yang explains. "At the beginning, the highlight of the silhouette vanished because I focused on too many details. [But] thanks to my tutor's advice, I simplified some extra details to make the focal points stand out, just as s Chinese idiom goes 'get rid of the weed and keep the flower of the leek'".

In fact, when looking back at her years in university, she feels to have gotten a perfect growth. "The six colleges [at UAL] focus on different art directions and they share resources. That [made] me not only learn fashion but also learn a lot about other areas of art," the designer explains when contemplating how her creativity has been shaped throughout education.
Living by four 'indispensable things' as she calls them: "first, passion; second, talent; third, persistence; fourth, opportunity," Danyi Eleven Yang is now ready to make it on her own by opening her independent brand: Eleven Dot Eleven (11.11). "[The brand] mainly focuses on the unisex fashion with street culture and worker culture, hoping to appeal to people who like subcultures," she explains.

This editorial has been produced by
designs. Danyi Yang
featuring. Danyi Eleven Yang AW 2019 
photography. Ashley Jang 
fashion. Nixy Ning
models. James Cunningham @ NEVS + Jack Hurrells @ Premier
grooming. Ryn Zhan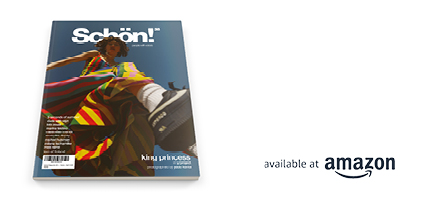 Discover the latest issue of Schön!. 
Now available in print, as an ebook, online and on any mobile device.