We at Schön! celebrate the dynamic energy of metropolises. In one of the most energetic cities in the world, you'll find A/D/O. Founded by MINI, A/D/O is an open workspace in New York City committed to investigating the future of design across programming, installations, research, residencies, and studio spaces, through accessible and experimental formats. Creating a more exciting and efficient urban life happens through collaboration with partners who share the same mindset and values. This is the reason why MINI teamed up with United Visual Artists. "Spirit of the City," designed by United Visual Artists, is located in the courtyard of the A/D/O by MINI workspace. It is a site-specific installation composed of 16, nine-foot, revolving columns that are linked to the constantly changing activity of New York City. 
A/D/O stands for Amalgamated Drawing Office, which is the name of the design team that developed the very first MINI car. This innovative philosophy serves as inspiration for the design space in Greenpoint, Brooklyn: to serve the creative community, locally and globally. A/D/O is an environment where a meaningful flow of ideas happens through an exchange among creative individuals. It unites those in business, graphic design, fashion, architecture, and other cross-discipline mediums that are interrelated in the spirit of creation. Greenpoint was chosen as the A/D/O home base because there are many manufacturers in the area. A/D/O has created a network to utilise the surrounding resources for designers to make their ideas into a reality.
The future of design, according to A/D/O, induces optimistic visions of a world where our built environment could hopefully allow human life to operate in more seamless, well organised, and maybe even poetic ways. "Spirit of the City" was an illustration of such a utopia. An array of rotating mirrored structures, the installation was powered by a selection of data sets that reveals levels of human activity (ie. traffic flow), moving slower than sometimes faster – mimicking the pace of city life. Through the orchestrated rotation of these columns, the light, shadows, and reflections continually transform the space: an actual mirror to New York's shifting landscape. 
Walking through the installation, you will experience your own reflection, the reflection of New York brick walls, the sky, and the electricity between you and the urban landscape. United Visual Artists who created the installation is a London-based art practised founded in 2003 by British artist Matt Clark. Clark explained that the installation was manufactured with liquid mirror plates from Brooklyn. In addition to incorporating local manufacturers, UVA had the mechanics of the installation created in London and shipped to New York for this engaging display. Through "Spirit of the City," the artists stimulate a sense of dizzying entertainment through the columns' rotation and an aura of luxury and positivity in selecting gold as the installation's colour. Similar to the monolith in 2001: A Space Odyssey, these columns act as a marker of a higher form of evolution, a window to a better world. Perhaps UVA also aims to highlight that getting lost in a city is almost a necessity to find yourself in the very end. 
Before the installation was opened to the public, a reception dinner was held at Norman Restaurant at the A/D/O space where deliciously inventive food was served in a modern setting. One of the start-up companies within A/D/O that focuses on agriculture supplied herbs and plants that the kitchen served in some of its dishes. This is a true demonstration of how A/D/O is a collective and inspiring effort of suppliers, designers, and community members. After the dinner, a party was hosted that served signature golden cocktails, reflecting the "Spirit of the City" installation. Music played throughout the night and united guests from all creative walks of life. If A/D/O has the purpose to serve the greater community and create happiness through an uplifting atmosphere fuelled by meticulous urban design, it has done just that. 
 "Spirit of the City" can be viewed at A/D/O by MINI at 29 Norman Avenue, Brooklyn 11222, USA 
from May 18, 2018 – September 2, 2018. 
This has been a paid sponsorship with MINI A/D/O.
words. Sheri Chiu
photos. Dennis Stenild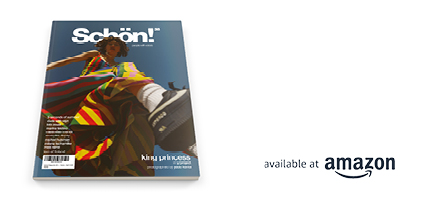 Discover the latest issue of Schön!. 
Now available in print, as an ebook, online and on any mobile device.