After five days and viewing thirty plus collections the brilliance for me this season was the range of stories, moods, thoughts, and ideas behind the collections. They demonstrated very clearly why haute couture survives, why new names are joining the event and above all how even a single theme of the season can have many amazing interpretations.  
The first theme running through many shows was a series of romantic escapes through couture collection narratives; not a single romantic viewpoint but how each designer looked at romance, dreams, memory and how to present that inspiration. For her couture debut at Dior, Maria Grazia Chiuri offered a magical garden for the show which, four hours later, Alexandre de Betak and his team had transformed into a setting for a Bal Masqué. They conjured up unicorns, a moon, venetian stilt walkers and characters from every masked ball ever held, all of whom we joined strolling through a verdant maze. At the show as we had perched on our green velvet cushion with our feet nestling in the mossy walkways enclosed by topiary hedges, we had seen the Christian Dior signatures in a moonlit idyll of beauty. The ball gowns from Valse de Paris, the petals of the legendary Junon, the drama of Les Dames des Bois de Boulogne, and other references showed a masterly understanding of an intensely French aesthetic. The show opened with the sharp rigour of day wear in grain de poudre and spun its web through to the soft swish of tulle. Lame, pale tints, spiders web like embroideries and feather tiaras made the message clear; this was romance and such stuff as dreams are made of.
In direct contrast in viewing romance and dreams, on the final day of shows, Hyun Mi Nielson focussed more on the beauties and complexities of troubled sleep in a collection whose unfurling ruffles and spirals of fabric encompassed both the beauty and fragmentation of a dream world. The feathery raw edges of the cascades and the twisting tendrils of silk shown on girls whose amazing make-up highlighted face, mask, eyes, even ears and fingers. The slow-motion presentation in dark wood panelled salons under crystal chandeliers was mesmerising; the leather pieces with baroque or rococo patterns seemed to contain an echo of the carving on the wall panels; magical.  
Xuan took us through three romantic dream scenes; live models in exquisite ruffles were embedded in crystal boxes against a blanket of real flowers, a delicately draped couture gown was encircled by spring rain and a tableau of girls in white were used as a projection of our waking or sleeping images. The delicacy of the construction of the clothes, even in the more tailored pieces, highlighted the skills of the collection.
Viktor & Rolf called their collection Boulevard of Broken Dreams, and by upcycling the fabrics into a collage of fragments of beauty, turned couture tradition on its head, with a giant technical somersault. The collection, whose beauty, grace, and wistful romanticism seemed to drench the audience with its mood, had a space punctuated by spectacular displays of real flowers. Meandering ribbons of gold outlining fabric, layered ruffs of stiff tulle, bon bon colours both soft and bright, and silhouettes which were slim but unexaggerated; a perfectly balanced collection. As the ball gowns drifted past like dancers from a haunted ballroom or a party seen from outside there was almost a collective sigh from the audience at the spell cast over us.
Alexis Mabille threw colour with wild abandon across a collection whose princess like models were softly veiled. As they circled and twisted against the vast looking glass behind them they were indeed in wonderland. Their flower-like skirts and bands of Chantilly filigree were reminiscent of Pierre Balmain Jolie Madame: yet Mabille has, across the seasons, remained true to a very specific vision: very French, very romantic and above all he is a wonderful colourist, even in seasons others are nervous of playing with anything but the classic shades. His original signature bow is now often abstracted or used is unexpected ways, and he totally understands his strong client base who know that his romantic vision is consistent.
Georges Hobeika collaged pure white petals, tropical blossoms, cherry blossom, and imagined petal-layered pieces in a romantic collection whose white opening passage gradually built to dazzling jonquil yellow, a zinging azure blue and vivid pink. Subtle references to the 1950's provided clean silhouettes to base the craftsmanship of the couture ateliers upon.
Giambattista Villi let fluttering trails of silk mousseline zig zag across the salons where he showed his collection, culminating in ballgowns whose delicacy reminded the viewer of Winterhalter painting the Empress Eugenie and her ladies in waiting. The slight Bill Gibb, demure looks and the folded silk pieces were wonderfully confident in proportion and colour. The use of Rajah or Persian jewels was perfectly restrained. Like Mabille, Valli understands and relishes colour and how to use it.
Directly contrasting in many ways to this romantic theme – in all its variations-  are what one can call the "creatives" or "artist" of couture. Bertrand Guyon at Schiaparelli being the foremost proponent. It is not just the heritage of the house with its founders love of surrealism, the exotic and the extraordinary but in the very heart of the collection is a creative eclecticism which results in dévoré, pleated tie silks, shocking pink mousseline and ceremonial brocades being fashioned into jackets, dresses skirts and ponchos.
Julien Fournié also assembles a plethora of art elements into a statement. This season there was a nod to the sculptural with Madame Grès type drape and columns of jersey, asymmetric crepe folding down the body, and appliqués, embroideries and details in shards and rondels of plastic. The bold graphic prints were both shown as abstract patterns on pieces and veiled by glittering jet embroideries. 
Jean Paul Gaultier always has a creative narrative and the cornfields of France, perhaps of van Gogh or the Mireille of Gounod, ran through this seasons collection. The opening city chic rigour was a superb demonstration of the core and heart of Gaultier: he has always been the upholder of the tech – rigor. If elegance is denial, some of the key pieces in the show were amongst the most elegant possible. Clients clearly adore the day wear of Gaultier as much as couture is often about after six.
Alexandre Vauthier is a story by himself with his sexy, but never vulgar looks, his high-octane presentation, and his brilliant creativity. The swooping and billowing taffeta tops with vast bustles of fabric and huge couture bows are not shown with a ballgown skirt but with killer heels and trousers or miniscule shorts.
Zuhair Murad offered a sweep of silk mousseline in blue, a wedding dress resembling giant petals enfolding the bride and a brilliant pink ball gown whose ruffles in spiralling cascades were joined to a bodice as though gift wrapped with a bow. Whatever inspirations the designer told us were immaterial in the glamour and romance of this assured collection of diverse silhouettes.
Finally, we approach the new classicism where the classic wardrobe, the classic Greco-Roman inspiration of the slender silhouette and the idea of a new modernity drenched in a restrained yet ineffably chic interpretation of couture.
Valentino; how to write a few brief words on what was for, those of us privileged enough to be there, truly a "fashion moment"? In his first solo couture collection at the house Pierpaolo Piccioli presented a vision of loveliness and grace. The shimmering crystalline embroideries veiled in tulle, the dress a column of pleats whose back opened into ombre petals like shades, the delicacy, lightness, and the way as the models moved from salon to salon the rhythm of the show seemed more like a ritual dance. The slither of a brilliant pink satinised dress, the palest sage green: the creative vision was extraordinary.
Things to note – Slim silhouettes and ballgown silhouettes. Sheer layers over colour or sparkle. Massive fabric bow effects. The importance of ivory white, cream and tinted white. 1970's influences – especially Yves Saint Laurent and Bill Gibb. Cool classicism to suit Grace Kelly or Lauren Bacall. A touch of gothic here and there, even for summer.
Words / Tony Glenville
Follow him here.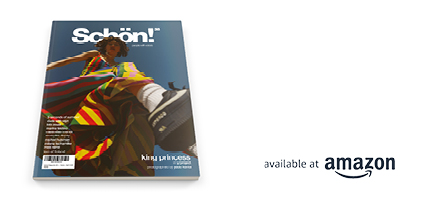 Discover the latest issue of Schön!. 
Now available in print, as an ebook, online and on any mobile device.