Renato Da Pozzo has been and still is a renowned extreme sportsman, not only in Italy but also abroad. Yet his accomplishments have reached further, reaching scientific fields with striking results. Born in the Carnia Region, on the far east-north side of the Italian Alps, Da Pozzo moved to Norway, to a fjord over the arctic circle, where the connection with the land became a fundamental part his own activity. Since then, you can always find on the road around the world accomplishing his adventures. A lone mountaineer and philosopher of the body, for him, the mountains represent the ascension towards a full self-consciousness and the perfect union of body and soul. Da Pozzo continuously refines new techniques of training in free climbing and classical alpinism: from Norway's remote fiords to Tierra Del Fuego and the South American Patagonia, sometimes alongside the legendary Alpin collective "I Ragni" from Lecco, Italy. A steemed mountaineer and extreme sportsman, the man that challenged his own limits, now teaches managers how to potentiate body and mind.
In 1997, at age of 33, Da Pozzo accomplished one of the most important expeditions in his career, crossing almost the entire Lapland region during thaw season. Nowadays, he walks an average of 30km a day with a load equal to 40% of his own body weight and a difference in level of 1200 metres. Even after all, he reduces the sleep to the minimum a human being can bear (three turns of 45 minutes every 24 hours for 11 days). Thanks to this expeditions, he has proved, with the help of a team doctors from Parma Medicine University, how the circadian rhythm affects the body at a psychic and hormonal level, breaking the sleep resistance barrier during a prolonged aerobic effort.
Sleep is to this day a scientific topic of the utmost importance since its characteristics remain mostly unknown. This is precisely why the 2017 Nobel Prize for Medicine was awarded to Jeffrey C. Hall, Michel Rosbash and Michael W. Youn — a team of American scientists that explained the protein variations within the circadian cycles of sleep and wake cycles. This same principle is the foundation of what Da Pozzo had studied and demonstrated on his own skin, in a state of stress and unimaginable physical effort.
In a world where everything has to be measured, Renato Da Pozzo has made a historic undertaking that has made him return to the origins — to the closest contact with the planet earth, with nature. "I am in for the new performance message," he says. "Some activities are measured with the chronometer. Physical performance just for the sake of it, does not mean anything to me, mountaineering and extreme adventure do not have the prerequisite of measurement, of the record ". Just think of what the base of the Mount Everest has become today: an open dump, a citadel connected to the web and. With the help of oxygen, anyone can reach the top. Da Pozzo, on the other hand, is totally for the creative and authentic dimension in alpinism. Da Pozzo does not embody the man of traditional sport, but a new point of view: a new man revolutionary and all-encompassing innovator. His strong image, that of a new and authentic man and extreme sportsman, makes many brands to want him as a testimonial.
Thanks to Da Pozzo's continuous research, both physical and intellectual, he has worked out a method, which he has called Tom Tid (from the Norwegian: "Void of time"). "Dominating fear is like dominating a mass," Da Pozzo explains. "This mass can be the back of a mountain, it takes effort dedication and adaptability, in fact, only adaptation and effort lead men to freedom from fear, and get courage and success back". This is what he transmits to those who rely on him with his coaching method — be it companies, managers, personalities or entrepreneurs. Da Pozzo teaches his clients to rediscover the physicality and the ability to face fear, overcome their limits in times of difficulty and stress, and, ultimately, reach the limit to learn how to feel again and find one's inner self.
Da Pozzo greets his patients in his own houses in Carnia, Norway and Patagonia. During an initial meeting, he senses the subject, assesses whether it's a person with whom he can work and, and, based on the discomfort level, chooses a place to operate. Da Pozzo must assess whether his interlocutor is able to cope with the situation. "I call it elastic capabilityty. With a strong self-defence, I do not get much of a result," he says. The work begins with continuous dialogue and physical challenges. "Constantly adhering to failures, even serious people introject a frightening, weak behavior. To get a result I have to push in the opposite way. I have to rebuild it somewhere else, I have to tear it up and bring it back to an axis of physicality, power and strength that it's been lost. I am not soft with it. I stay with them from early morning to after dinner. 16 hours a day ".
Da Pozzo's work is based on the connection with the body. He takes it to the limit, in the cold, under the effort, or in silence, to return our contact with nature's own rhythm."On the outside, we work on power," he says. "On the inside, in the hut, great sobriety and discipline are breathed. After the maximum contraction of the exterior, the maximum extension of the interior".
It is like facing an archaic process of initiation that modern times have forgot. Renato Da Pozzo is backed by excellent collaborators, such as Vid Baruca, national instructor of the Slovenian Ski Federation. "Skiing is an important discipline," Da Pozzo affirms. "Slipping on the snow teaches you how to slip on problems, also to manage the equipment you need order, the same mental order that helps to dominate the fear".
In fact, Da Pozzo explains, the birth of the problems is always fear."The new frontiers of endorphins are fatigue, sobriety, essentiality. Once there were lysergic acid and opiates, now we are at a higher level and free of side effects. Constant physical activity, discipline and, beside that, the pauses to bring out the components of the relationship. Everyone uses his own tricks, but what matters is talent. I look for that, the essence. The real capacity of a man and not the one suggested by the name on the business card". Getting back to the essence thanks to the Tom Tid method designed by a man who made his life authentic, a new kind of man: Renato Da Pozzo
This Schön! online exclusive has been produced by
photography. Fulvio Maiani
fashion. Pia Johansson
models. Renato and Melizanne
grooming. Bonnie Caria @ Green Apple Italia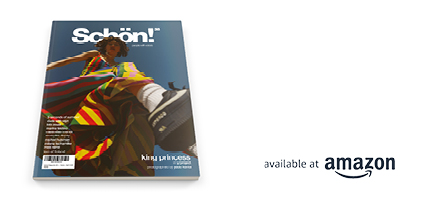 Discover the latest issue of Schön!. 
Now available in print, as an ebook, online and on any mobile device.