Taipei IN Style celebrated its 12th Edition of fashion shows, seminars, and exhibitions to promote established and up-and-coming designers from Taiwan, China, Hong Kong, South Korea, Japan, and more. Organised by the Taiwan Textile Federation, Taipei IN Style has demonstrated it is a force to be reckoned with in the Asian fashion industry as it reaches its 10th year of this event. In addition to the thrilling runway shows and entertaining performances, more than 100 designers are given the opportunity to showcase their designs in an exhibitor's platform to interact with press and buyers at a personal level. For the very first time, we at Schön! uncovered Asian fashion and explored the textile and apparel market in Taipei that took place from November 12 to November 15, 2015.
Taipei Fashion Week kicked off with Isabelle Wen's bohemian chic allude to cowboys and Indians. Hailed as one of Taiwan's leading established designers, Wen has built her fashion empire by designing garments that unite a Western aesthetic to an Eastern sensibility. This season, Wen highlighted paisley gowns styled with luscious fur coats, lace, and tassels. Embroidered black floral shift dresses stood as elegant staples next to one luscious poncho. An edgy world traveler was painted in feathers and sequins. Earthy prints on elegantly ruched silk gowns were our favorites. Wen succeeded in capturing a doe-eyed wanderer in her collection "Return to Forever."
The Korean Pavilion at the exhibitor's showcase accentuated two remarkable brands: Maison de Ines and au revoir, simone. Maison de Ines CEO Kim In Hye focuses on cotton and linen separates with special attention to her signature striped shirt with a bow on the back. With a slogan "Fine clothes give wings" Maison de Ines stresses impeccable details in both the front and back of garments. A mini skirt that converts into shorts, a rope belt, and cute buttons all contribute to a summery story of the sea.
Au revoir, simone Creative Director Wana Sheen illustrates a sophisticated femininity in trench coat staples and soft, free flowing forms in blouses and skirts. Sheen already has three stores in Seoul and prides herself in dressing celebrities. Inspired by the couturiers of Paris such as Vionnet and Madame Grès, the South Korean brand embodies a timeless romanticism.
S,cabonate was founded by Tony Hao and Queena Liu, alumnus of London's Saint Martins College of Art and Design and San Francisco Academy of Art University respectively. This season, the design duo concentrated on mesh, sky blue denim, and rope ladder detailing. Flower prints of fresh hues and injections of sweet pink make these looks perfect for spring.
In Taiwan's emerging designers, kotipesä and C.T. Liu truly stood out from the crowd. Kotipesä emphasizes smart casual comfort for home and outdoors. In production for four years, the brand exudes an easy elegance in rich knitwear and loose fits. We love the full-rimmed plaid skirt and camel coats.
C.T. Liu's newest collection is perhaps the most impressive among the exhibitors we have seen this season at Taipei IN Style. The inexplicably modern twist to checkerboard patterns and layers of transparency provides a real visual treat. There is visible construction in the fray, mesh, and silhouettes of how these looks are pulled together. The C.T. Liu woman is meant to turn heads in her head-to-toe look of luxurious sportswear. We can undoubtedly state that C.T. Liu is very Schön!
In the realm of accessories, Olivia Yao's jewelry and Anni King's bags were winners. After graduating from the School of Jewellery in Birmingham, designer Olivia Yao proceeded to launch her own brand with stores now in Hong Kong and Shanghai. Her elegant jewelry can be worn multiple ways as gemstones can be mixed and matched with the simple release of magnets. Utilizing mother of pearls, African rubies, and other dazzling gems in her work, Yao hones in on a lavish bohemian vibe in long gold chains and "floating" rings. When wearing Yao's jewelry, one is transported to an exotic land of sophistication and adventure.
Handbag designer Joanna Chen grew up in South Africa and worked at Ernst & Young before launching her own brand called Anni King in 2012. The Anni King handbags are made in Taiwan with leather sourced from Europe and Japan. Incorporating pastels of lilac, sweet pink, and baby yellow to mature silhouettes of bags, Anni King ensures that sophistication and a fresh, youthful aesthetic always go hand in hand.
Designed by Hsu Chiu-Yi, NAIF's Spring/Summer 2016 Collection started with a series of white cotton dresses as the blank canvas. Together, Hsu and her husband, artist Wang Jen-Chieh, created the concept: "paint into the soul for synesthesia." Vibrant floral separates were styled with colored tights of navy and deep orange. Ink splattered burgundy in the form of crisp tunics created a sweet quirk in the collection, overall stressing the never-ending link between fashion and art.
The Taiwan Fashion Footwear show presented by PUHU, FKnit, and Momentanée was a lively performance of colorful sneakers and heels. FKnit's knitted shoes exuded comfort and boasted eccentric design for city streets or the gym's treadmill. PUHU also concentrated on vibrant walking shoes for the everyday man and woman, but also incorporated black dress shoes with bright highlights for a dressier occasion. Momentanée closed the footwear segment with a glamorous spectacle of spider web strappy heels and crystal studded stilettos for the most special of events.
Eleven designers from the Hong Kong Trade Development Council showcased their unique creations in the "Fashion Hong Kong" segment of Taipei IN Style. Standout designers included Chow Tan Tan whose sharp and elegantly clean silhouettes proudly represented Hong Kong's sophistication and the brand Dare to Dream, whose fun and beach-loving vibe put everyone in a party mood. We were also entranced by Mondovi Lingerie Couture and its racy, lacy underthings that beckoned drama with theatrical capes.
ZIHAN was the only brand representing the fashion of Hangzhou this year. ZIHAN showcased sweetly feminine summer dresses of navy cotton that juxtaposed an urban, sporty cool for the woman who is unafraid to play with stripes and patterns. With its "slow life" philosophy, and with the support from Hangzhou Textile and Clothing Center, ZIHAN harnessed a blend of fresh colors in casual silhouettes to express the tenderness of spring and early summer.
The year marks the 25th anniversary of TRAVELER. To celebrate their development and success in Taiwan, their designs incorporate local elements that showcase Taiwan's beautiful scenery and multicultural history. Dynamic, double-sided waterproof sportswear and trench coats were tailored to the chicest city slicker. Ink splashes, flying fish, flowers and forests in lace, and aboriginal geometric prints all speak to the beauty of Taiwan.
AROMA created free-flowing silhouettes, tapping into urban safari inspirations of foliage patterns. Bubblegum trousers and camouflage prints were seen, as well as wide legged jumpers and hibiscus patterns.
Our coverage of Taipei IN Style ended with TOTEM presented by the Taiwan Indigenous Survival and Development Association's "Fireworks" Collection. Aiming to keep traditional Taiwanese design alive by taking geometric patterns of brightly colored threads and transforming them into modern-day silhouettes, the association prides itself in reminding viewers of Taiwan's rich history. Details such as silver medallions, feathers, seashells, and multicolored yarn balls enhanced the richness of each look's unique character.
The 12th Edition of Taipei IN Style provided a solid platform for established and emerging Asian designers to present their finest collections. Our eyes have been opened to the rising talents of the apparel and accessories market in Taiwan, and we are more than excited to follow the designers who will break out into the international scene.
For more information visit taipeiinstyle.com
Words / Sheri Chiu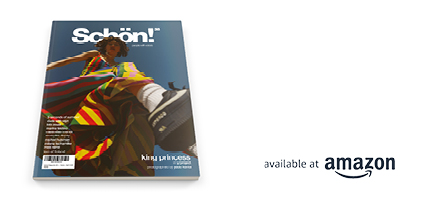 Discover the latest issue of Schön!. 
Now available in print, as an ebook, online and on any mobile device.