For Spring/Summer 2016, Swarovski makes a splash in an aquatic inspired assortment of crystal jewelry. We dive into "Sea of Sparkle," a range of pieces that allow women to customize the length of their bijoux by either adding or removing a detachable supplement of jewels. This way, the wearer has two different types of accessories in her hands. Rose gold hints to the warm beach sand, while open rings create the illusion of floating gems on the finger. The 3D technology in creating lattice jewelry resemble coral reefs, and statement pieces of marine blue and violet appear to be jellyfish bobbing in the ocean. Nathalie Colin, Swarovski's Creative Director, explains, "The sea is a wholly organic and endless source of beauty and the perfect inspiration for our spring/summer jewelry collection. As well as celebrating the beauty of nature, each piece offers a sophisticated, feminine elegance that is perfect for almost any occasion."
This season marks the first time Swarovski has created stardust earrings, expanding on their trademark bracelets and necklaces. Starfish and seahorses aside, Swarovski also presents a Valentine's Day and Mother's Day collection for the classic, fashionable, and modern woman. What's more, a sports collaboration, Spring Activity Tracking Jewelry, is in the making where a crystal bracelet tracks how many steps are taken in addition to heartbeats that can be monitored with a smartphone app.
Last but not least, Atelier Swarovski highlights a fine relationship with two artists: Fredikson Stallard and Jean Paul Gaultier. Stallard has created cage accessories where the crystals appear to levitate. This collection, titled "Armory," marks Fredrikson Stallard's second time collaborating with Atelier Swarovski. Gaultier goes outside the box and breaks the crystal to uncover a matte finish against a shiny one. His design mirrors chocolate gold, and deliciously so. Titled "Reverse," Gaultier's collection features specially created Kaputt crystal cuts. 
Whether one chooses to swim among the turquoise and aquamarine crystals of Swarovski's "Sea of Sparkle" or explore Atelier Swarovski's uniquely bold designs for the modern woman, there is always something for everyone in Swarovski's intricate collections. 
Words / Sheri Chiu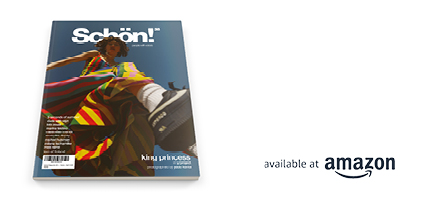 Discover the latest issue of Schön!. 
Now available in print, as an ebook, online and on any mobile device.