For most, fast fashion represents convenience. Trends that used to come in four seasons now change almost daily, making the concept of any 'new trend' obsolete. The clothing you once cherished has lost its value as it rivals the cost of your Starbucks latte. With the 'saving up' aspect a non-issue because of cheaply made clothing, we can buy so much more. Suddenly, the relationship we have with our wardrobe is impersonal and fraught with unworn items and price tags still intact from years ago and the impact is far greater than an overloaded closet: there are human, environmental and social impacts we need to consider. That's where the State of Fashion comes in; an initiative that "supports and activates the worldwide search for a fairer, cleaner and more sustainable fashion industry" by connecting designers, companies, governments, educational institutions, and consumers in fashion and textile.  The quarterly event is the first of its kind dedicated to sustainable and fair fashion at the international level. Its first edition, searching for the new luxury, will take place from June 1 to July 22, 2018, in Arnhem, Netherlands.
The 3000 square meter exhibition will be comprised of "over 50 designers, artists, thinkers and change-agents presenting their view on new luxury". This includes collaborations with Stella McCartney, Vivienne Westwood, Victor & Rolf, Iris Van Harpen, Bruno Pieters, G-Star RAW, Zegna, H&M, and many more. LCF's School of Design & Technology Dean and curator José Teunissen, believes that "the future fashion will transform into a system where the focus is much more on the product itself and the story behind it. The [fast fashion] system will definitely slow down because consumers are fed up with it. […] Nowadays to focus on the new (every week something different and many different trends at the same time) doesn't feel relevant anymore."
With increased media attention and public awareness, brands are becoming more serious about implementing long-term sustainable strategies. Although this may take some time, José says that "it will definitely become a practice within five years".  Simply being an informed consumer; knowing what your buying, how to care for it, and where to properly dispose of it, will make a huge difference. Other proposed solutions include the use of blockchain technology, providing us with the who, what, where and how our clothing is made. And online shopping switching from a push market to one that's made to measure, where production is based on consumer interest and feedback.
As tempting as 'the look for less' is, it's a dangerous sell, in more ways than one. Anyone scrolling through Instagram is quickly inundated with baddies dressed in boohoo. To compete, we buy another two-piece set, further divorcing ourselves from the meaningful relationship we have with what we put on our body. Raising the industry standard starts with us placing importance not just on style but sustainability.
'State of Fashion 2018: searching for the new luxury' will take place from June 1st to July 22nd, 2018. Tickets can be reserved via stateoffashion.org. The full programme and participants can now be found here.
words. Hannah Rose Prendergast
Imagery courtesy of State of Fashion.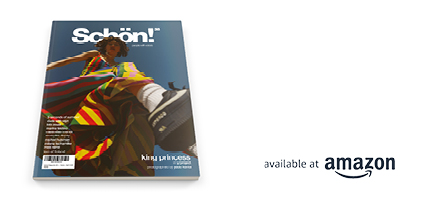 Discover the latest issue of Schön!. 
Now available in print, as an ebook, online and on any mobile device.