Fashion isn't always about being the loudest, or the biggest… Survival and, most importantly, success can be found with integrity and a powerful commitment to remain true to a creative vision. One such name is A.F. Vandevorst who, this spring, have celebrated twenty years and forty seasons in their own way. In 2018, An Vandevorst and Filip Arickx have looked back, not for nostalgia, but to move the clothes, techniques and concepts they are known for further. In January, for the second consecutive season, they presented at Haute Couture in Paris and, in chronological order, they showed a look inspired by every collection they have presented since the married couple founded the label.
These special looks, in turn, have led to a limited edition number of pieces available to clients. At the same time, they launched a book, ENDE NEU at Galerie Yvon Lambert in Paris, that traces their collections and creative forces in a powerful visual statement. ENDE NEU preserves their philosophy and aesthetic from then until now. Tonight, they have a special space and book signing The Anatomy of Luxury in Selfridges, London's most exciting and innovative department store. If Selfridges select them to partner with, you know they're indisputably amongst the best and hottest of the moment. At The Anatomy of Luxury, the creative duo will be showing archive pieces, the newest capsule collections and an exclusive installation specially tailored to the space.

During the years they have shown, they have done so once in London — with a show not only memorable for the sensational clothes but also for the cameramen shadowing the show, whose visuals were transmitted onto screens placed on the catwalk affording closeups of fabric, construction and detailing.
They have had massed bikers in a Paris courtyard and for the show finale placed the models as pillion passengers and they have all the time quietly continued to create beautiful clothes featuring brilliant construction techniques, alongside drama and silhouette — all of which combine into a seasonal statement which demonstrates a respect for the heritage of fashion, modern glamour and utter creative integrity. Congratulations, A.F. Vandevorst. 
Get a look at ENDE NEU below:
words. Tony Glenville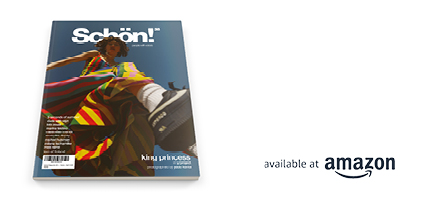 Discover the latest issue of Schön!. 
Now available in print, as an ebook, online and on any mobile device.