Inspired by The Runaways, director and executive producer Lenne Chai creates an oneiric vision for this Schön! exclusive film. Portrayed by model Hailey Rodee, we enter a musical fantasy featuring the character's dream team —herself. Fashion by FAKEDCANDID, hair by Christian Maranion and makeup by Andrea Claire take us back to the 70s, albeit with modern brands such as Moschino, Astrid Andersen, Exhibit and H&M.
This Schön! online exclusive was produced by
Director and Executive Producer / Lenne Chai
Director of Photography / Adrian Tan
Styling / FAKEDCANDID
Model / Hailey Rodee @ Basic Models
Hair / Christian Maranion
Make Up and Nails / Andrea Claire  @ Judy Inc, using Dermalogica, MAC Cosmetics, BH Cosmetics, Becca Cosmetics, Pat McGrath, Lit Cosmetics, MAKE UP FOR EVER, Butter London and ESSIE Polish
Make Up Assistant / Zoel Tee
Gaffer / Alistair Chang
Producer / Yee Zhiyun
Grip / William Eng, Jake Yeo
Camera Assistant / Calvin Phua
Production Assistant / Serene Tan
Location Sound / Adin Kindermann
Art Department / Sharmain Lim, Nathanael Ng
Equipment / Cinegear (S) Pte Ltd
Music / "Harbinger" by Knightingale
Performed by / Vanessa Fernandez, Mars Bamadhaj
Location / Hawaii Cabaret & Nite Club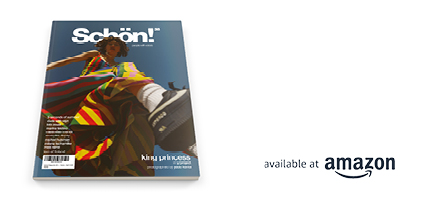 Discover the latest issue of Schön!. 
Now available in print, as an ebook, online and on any mobile device.