For an aspiring musician, growing up in a remote part of the world occupied more by fir trees than bustling neighbourhoods, you might imagine moments of musical inspiration are few and far in-between. Canadian born Goldilox disproves this theory with abandon, her music stirs and has the lyrical density of any Harlem-born rapper or Camden songstress. Premiering her first ever video, Morning, Schön! sits down with the prodigiously precocious talent. 
Hailing from Cape Breton Island – just East of Nova Scotia, Canada – Goldilox has wanted to sing as early as she can remember. "I have proof of my earliest musical vision in my pre-school agenda" she recalls. Struggling with severe ADHD throughout school, music was her outlet: "Singing and playing the piano got me through the hard times and allowed me to express my feelings," she ponders wistfully, speaking from a considerably more positive place in her life.
"I moved to LA from Canada because I got my first record deal after being discovered on YouTube singing and rapping over a Missy Elliot instrumental". Quick to dispel any notion that she left Cape Breton for any other reason than pursuing her musical vocation, and has since been working on her debut EP Skin, now in France.
Morning, the first track lifted from Skin, is a bass-driven, sultry sound with ethereal vocals, beautifully apt instrumentals and yearning lyrics, with a particularly enchanting piano interlude towards the end of the track. Morning is just one instalment from Skin which explores the deepest depths of human emotion across the spectrum, from romance to heartbreak. 
"Once I decided that there was going to be a video for Morning it was all I could think about" she states, as she realised the video was every bit as important as the music for her first visual output: "I truly enjoy creating on any level." Speaking on her involvement and inspirations for the video which was shot in Paris. The idea for the video was to reflect the feeling of the song, those of honesty and rawness, reflected in the "moody and cinematic" locations all around Paris, which, for her, "is the epitome of artistic inspiration. I am so grateful that I moved here, Paris and Europe in general has really rescued me."
In regards to styling, the aesthetic was achieved on a shoe string budget, "everything was either borrowed from my beautiful friends, vintage purchases or clothes I owned already", defiantly adding "styling shouldn't depend on your budget, it should depend your imagination". It's no doubt that Goldilox's intrinsic link to fashion most certainly helped in the creation of this video with such a small budget, having frequented the likes of Diesel Black Gold and Luisa Via Roma during fashion week, this girl knows a thing or two about what looks good.
Whilst the surface appearance of her creations is evidently very important to Goldilox, it is her music's ability to stir something a little deeper that she is really intent on getting across. On her personal problems "I continue to overcome obstacles through music and I hope that I can help others too" and on the naysayers… "Showing you my pain will be my greatest strength. So in the words of LL Cool J: Don't call it a comeback, I've been here for years."
Discover Morning on SKIN EP through Insanity Records/Sony Music here.
Words / Jordan Gale
Follow him here.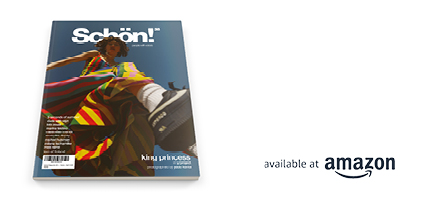 Discover the latest issue of Schön!. 
Now available in print, as an ebook, online and on any mobile device.