If you've ever gone into a relationship with the feeling that things wouldn't last but, for whatever reason, you still gave it a shot, 'Oh No No' will strike a chord with you. Singer-songwriter Dana Williams debuts the video to her latest single exclusively with Schön! We catch up with the Los Angeles native chronicling the highs, lows, and in-betweens of modern dating life: from your first break up ever to that spark you feel with someone new and the situation you find yourself in when your relationship is over before it even starts. Forever channelling the First Lady of Song, Williams teaches us that falling in love can be just as beautiful as falling out of love.
'Preach' was an "ironic ode to the 'mansplaining' from a failed relationship". What in particular inspired you to write 'Oh No No'?
I usually write from personal experience. 'Oh No No' is about going into a relationship knowing that it will never work out.
Most of your visuals are soft and dreamlike. Could you tell us a little bit about the process behind the heavenly-inspired video for 'Oh No No'? 
I like to make sure my video shoots are easy and spontaneous. I was driving through L.A. and saw some beautiful walls and buildings, so I went back with my friend, Rhedd Morton Jankel, to shoot. We were shooting against another wall and halfway through shooting, I noticed the wall across from us was glowing in the sun and so we decided to shoot the rest of the video in front of this off-white wall that you see in 'Oh No No'. My music is really mellow, so I try to keep the concepts dreamy and calm, so as to match the character of the music.  

Not as mellow, the uniting theme in your work is love and loss. How important is it for you to write your own songs? Do you find songwriting somewhat cathartic?  
My music is a very personal reflection of who I am as an artist and so it is really important for me to deliver my own message to my audience. Writing is definitely cathartic for me. It helps me process what I am experiencing and allows me to articulate it. I have always been better at writing out my feelings than talking about them. 
Do you ever experience writer's block? If so, what incites creativity for you?
Yes! I experience writer's block all the time. It can be terribly stressful. I sometimes get too much inside my head and tend to overthink things. I am working on not being so hard on myself. But, I feel most creative and inspired when I am in a comfortable environment. I often write alone in my room.
Creating an emotional connection with listeners is something you do beautifully. Do you find it challenging to be so open in sharing your personal experience?
I do keep a lot of things to myself, but this year I have been working on expanding my lyrical content in a more personal way so that eventually my audience will get to know more about me as a person and not just about my experiences with heartbreak. 
In addition to writing your own songs, you've also gained notoriety for your covers. How do you decide which songs to cover? What is the biggest joy of covering someone else's work?
I spend a lot of time driving around listening to the radio, so if there is a song I really enjoy singing along to, then I'll cover it. I really do love reinterpreting other people's music and flipping them into my familiar soul/folk genre. 
How does your family's musical background continue to inspire your work? 
It is nice to be able to look up to my Dad [late guitarist, David Williams]. He worked so hard to accomplish what he did and it definitely inspires me to keep going. 
How do you bring musical influences like Ella Fitzgerald and Billie Holiday into the present? What is it that you find timeless about their music?
I grew up listening to Ella Fitzgerald and Billie Holiday. They both have such different styles and I feel that I have been influenced by both. The honesty in the way that they tell their stories is what I find timeless. 
Having collaborated with some big names in music including Freddie Gibbs, Boogie, and Rejjie Snow, what do you think it is about your sound that lends itself so beautifully to rap?
My voice is a bit soulful and I think the juxtaposition of my voice on rap records is quite complimentary.
Having already had so much commercial success in your career, what do you personally consider to be your biggest accomplishment?
I think my biggest accomplishment is honestly just the fact that people have been listening to my music. I hadn't put music out in over a year until July 2017 and I didn't expect anyone to notice. I am just so happy to know that people can relate to what I do. 
How do you feel you have grown as a musician since you first started?
I have become more comfortable with myself and more confident as a musician and performer.
What's next for you in 2018? Can we expect an album or EP soon?
I don't have plans to release a full album at the moment, but I have been writing a lot. I plan to continue to release a song just about every month. I have been having a lot of fun releasing singles.
Keep up to date with Dana here. Stream or buy 'Oh No No' here.
This Schön! online exclusive has been produced by
feature image. Davy Greenberg
rest of photography. Emari Traffie
talent. Dana Williams
words. Hannah Rose Prendergast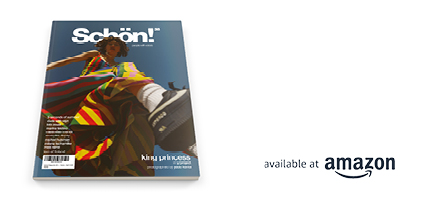 Discover the latest issue of Schön!. 
Now available in print, as an ebook, online and on any mobile device.