Sophia Lillis grew up watching classic European cinema which, she says, her parents "kind of drilled into my head and I learnt to like it!" She caught the acting bug at seven after appearing in a production for her step-father's film class and was soon enrolled at the famous Lee Strasberg Institute, where she honed her craft for several years. It was in 2017 though, in her first big studio production, that Lillis really caught the critics' attention as Beverly Marsh in the adaptation of Stephen King's horror It.
You did a few shorts and indie films before It. How did they prepare you for that?
I had experience of what set is like. Not everything is organised like they claim. Actually, it's disorganised. Everything changes at the last second and if they can't do something, they have to quickly think of another way to get that shot. Everything is so time-based and so mixed up and you just have to learn how to deal with that situation. When I was on set for It, it was a studio film, and everything was bigger, but it still had the same feel.
You're often described as a rising or breakout star. Does that put pressure on you?
I don't really pay much attention to it. I just think I got into this film and it was nice and hopefully, it will lead to more films that I would enjoy doing.
Next up for you is Sharp Objects in which you portray a younger version of the character also played by Amy Adams. Did you get to work with her at all?
Besides transition scenes from younger to older, older to younger, no I didn't really see her around.
The story deals with Munchausen Syndrome. Did you know much about that before and how did you prepare for the role?
Yes, the mother has that. I read the book after I got the part. It tells the whole story, so I knew what my character was dealing with when she was my age. It is a bit scary to think about. It was a hard experience for my character to deal with this mother who doesn't really feel, who doesn't really love her.
That's a bit of a recurring theme in your roles.
Yes, it seems to be. I always have really depressing roles and not good relationships with my parents, but I don't think that's true in real life!
Discover the full editorial and interview in the brand new issue of Schön!
'Sharp Objects' airs on HBO this Summer.
This Schön! 34 editorial was produced by
photography. Elizaveta Porodina @ Sonja Heintschel
fashion. Simon Elmalem
talent. Sophia Lillis
casting. Anissa Payne
hair. Mustafa Yanaz using Isle of Roses
make up. Anastasia Durasova @ The Wall Group using CHANEL
set design. Tom Wyman
lighting. Josef Beyer
photography assistant. Hadassi
fashion assistant. Karolina Frechowicz
location. Pier59 Studios
interview. Huma Humayun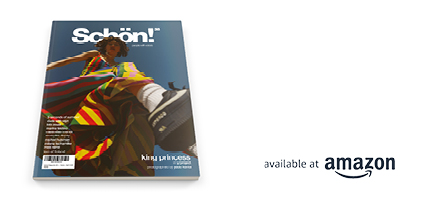 Get Schön! 34 | Sophia Lillis by Elizaveta Porodina
in print
as e-book download 
or on your mobile & tablet