Although recent releases of Wonder Woman and Black Panther, along with Cloak and Dagger, are giving more young people around the world likenesses to relate to, the fact remains that there are few female and African-American superheroes — let alone those who work in tandem. "I am very grateful to be a part of a show doing something foreign in the television world," Olivia Holt tells us. "I'd like to say we're changing the game and making it more common."
Cloak and Dagger first appeared as characters in Peter Parker, The Spectacular Spider-Man in 1982 and shortly thereafter became lead protagonists of an on-going self-titled series. Cloak aka Tyrone (Joseph) and Dagger aka Tandy (Holt) are two runaways who discover each other as they begin to develop supernatural powers: Cloak envelopes others in darkness and teleports; Dagger emits light blades from her hands which can either harm or heal. Holt emphasises that their pairing goes deeper by illuminating sensitive social matters. She explains: "The characters [in comic form] are obviously on a very different scale than what Aubrey and I look like but what we're doing with the series is making it more authentic and a little more relatable. These two characters are going through very current topics in a young female's life and a young black male's life right now."
According to the original '80s comic, Tyrone leaves home after his best friend is shot and killed by the police for a crime he did not commit. He blames himself for having a speech disorder that prevents him from calling for help. In contrast, Tandy runs away from her unloving supermodel mother. "The two of them go on this journey learning what it's like to cope with having powers and trying not to live in fear — to live with hope," Holt says with conviction, as if she is aware of the show's potential to resonate with people. Her goal is "to transform simple conversations into memorable and tender moments".
Cloak and Dagger's superpowers work better when they are together. Fittingly, so too do the abilities of the actors that portray them. "Working with Aubrey from the very beginning was like magic," says Holt. "You don't often get to work with people who you feel an instant connection with. A lot of our scenes end up passionately angry or just emotional. There are times that we end up laughing and falling into each other's arms afterwards — grateful that it's over with — because that just drains you! We always leave feeling relieved that we get to work with each other."
Discover the full editorial and interview in the latest issue of Schön!
'Cloak and Dagger' premieres tomorrow, June 7, on Freeform in the US. Watch a sneak peek here.
This Schön! 34 editorial was produced by
photography. Elias Tahan
fashion. Brett Alan Nelson @ TheOnly.Agency
talent. Olivia Holt 
casting. Anissa Payne
hair. Marissa Marino @ Cloutier Remix using Neutrogena
make up. Kelsey Deenihan @ The Wall Group using Avon + Neutrogena
words. Mike Furey
photography assistant. Owen DeValk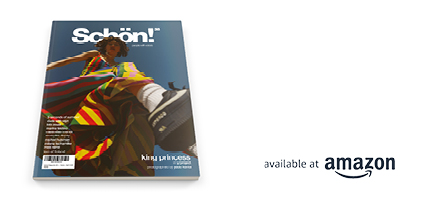 Get Schön! 34 | Sophia Lillis by Elizaveta Porodina
in print
as e-book download 
or on your mobile & tablet