The Latvian capital, Riga, has a beguiling cultural and political history. With the Baltic republic celebrating its Centennial this year, it seems only fitting to look back to further understand Riga's current fashion climate. Interestingly, Latvia's bond with fashion dates back to the Soviet Era. During this time, Riga was considered the capital of Western fashion within the USSR. In 2004, now independent of the Soviet Union, the city took reign over its unique fashion culture, when female powerhouse Elena Strahova founded the city's first Fashion Week. Now in its 28th Season, Riga Fashion Week is still growing and providing inspiration to the surrounding Baltic States of Lithuania and Estonia. This year is a precious moment in history for Latvia and as a result, Riga is currently brimming with culture and vitality. Schön! was fortunate enough to witness this during the AW18 shows and felt that the following labels best represented the strength of this region…
The Talented show opened to the sweet sounds of nature and a woman who spoke in verse of love and war. As both female and male models entered the runway, a regimented military inspiration emerged, juxtaposed with the sporadic emotionality of the heart. Cargo pants of camouflage khaki sat alongside shirting fabrics with subtle love-hearts outlined by frills, as pastel pinks and bright watermelons reigned. Perfectly coloured cottons provided a background to odd yet intriguing little details, such as misplaced coloured buttons or military inspired patches; while masks featuring love heart outlines framed the faces of models. Perhaps the designer summed up these aspects of the collection best – #lovelettersfromthefront.
The Anna K collection showcased a bold opening look.  It featured a transparent plastic overcoat revealing sportswear undergarments, which in turn were printed with the words 'Cryptogram' and 'Mining Farm.' This quickly set the tone for the remainder of the collection —  it was femininity/sportswear/internet entrepreneur. Colours were limited to pink, red and neutrals; with textures including plastic, tweed and cotton. Words were slung across the majority of garments, calling to arms the new way of selling clothes online. These words spoke of fashion coin (a version of bitcoin), which is currently being developed within the region. Such sentiments were echoed within the styling, as hair was sleeked back in a business manner and phrases such as "fashion coin" and "love is crypto" were printed across models' cheeks. One couldn't help but feel the brand asking how fashion will rise to meet the ever-evolving world of the internet and economics.
There was an air of refinement and precision in Natalija Jansone's collection. Looks were minimal and explored a feeling of masculine tailoring and utilitarianism. The colours of this collection had a richness unmatched by any other designs of the week.  These ranged from deep navies to moody emerald greens, set amongst the odd spike of caramel brown or a checked pattern. Styling was simple and succinct; hair was parted and pulled back to the sides, with a light crimp and a wayward strand to add texture. Heavy boots were worn, all of which had subtle tone variances to suit their accompanying look, small stockings peeked out above these, an ironic reminder of the fairer sex. While the looks mainly hid the female form, there was an apparent and intriguing air of elegance to the masculine-reminiscent tailoring. That's what really made this collection sing. 
The BOLD concept store provided the perfect backdrop for the Keta Gutmane presentation, which revolved around the art of dressing. Models entered the shop floor from a myriad of directions and were styled by "Team Gutmane" assistants before completing their formal runway walk. The collection itself encompassed bright reds, purples, and blues; all scattered amongst brooding blacks.  Textures were smooth, shiny and silky and all sat with ease on the body. However, it was the styling of this collection that truly succeeded— hoods closed around faces, garments hung from models by just their necklines or shoulders, whiles specs added graphic shapes to the face. Collage and deconstruction were being playfully explored and this presentation was the perfect way to celebrate this idea.
Undeniably, what places Riga Fashion Week in its own league is its spirit. There is a sense of pride surrounding this event, underlined by a desire to share the tale of this city and its uniquely forged relationship with fashion. Those who are part of this week don't claim Riga as a competitor to the likes of Paris or Milan. Instead, they focus on creating an industry in their own way, utilising their own resources. It's refreshing to witness this approach first hand within design, generally and within a Fashion Week, particularly.
To find out more about Riga Fashion Week, click here.
words. Alana Flood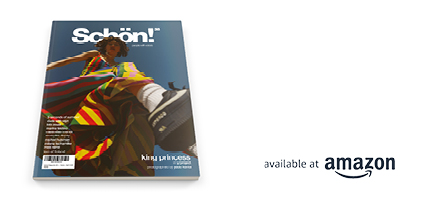 Discover the latest issue of Schön!. 
Now available in print, as an ebook, online and on any mobile device.