The ninth and final day of Paris Ready-to-Wear Fashion Week Spring/Summer 2016 concluded on a poetic note, embracing the cashmere creations of Allude and the soft draping of Moon Young Hee's inky reverie. We also explored the whimsical fairy-tale in YDE and Nomadic beauty of Tsolo Munkh's designs.
Woven butter crème cashmere creations and spun out skirts mirrored fossils of organic fibres at Allude. Set to the sounds of chirping birds, deconstructed knitted silhouettes inherited beauty from their imperfections — like snowflakes, no two looks were the same. Mismatched sleeves met asymmetrical crinkled bodices while voluminous panels draped like sashes around layered dresses.  Accents of denim and linen gently peek-a-booed through collared vests and protruded rectangular bottoms with oversized pockets. Creative Director Andrea Karg's decadently damaged forms left a raw, pleated, petrified impression. 
 Danish label YDE experimented with feathers, tulle and beading for a tribal ballet of feminine forms. A romantic, layered, organza chemise and a billowing blouson emitted a fanciful fairy-tale quality amongst the jungle jacquards and safari-like sienna stained cocktail frocks.  Playing with ferocious prints and detailing, Creative Director Ole Yde focused on protracted cheetah print dresses and plume-accented bottoms. As the collection galloped towards its finale like a heated giraffe, tropical markings faded into ebony embroidered outer coats and easy-to-wear leather shifts. 
Mongolian designer Tsolo Munkh returned to Paris this season with a fresh and more feminine perspective on Nomadic beauty. While black leather manipulations were still undoubtedly seen throughout the collection, this time Munkh incorporated coloured prints on organza that were reminiscent of the steppe or twilight sky. Organic silhouettes of silk tulle styled with perforated leather collar pieces revealed the strength behind the designer's elegantly modern woman. Munkh's immense detailing provided insight into the handcraftsmanship that is involved in every single piece – an honest and poetic myriad of garments that should be experienced with the five senses.
Moon Young Hee closed Paris Fashion Week with a structural black and white performance for the graceful city slicker. Embroidered knit tops balanced the soft draping of sheer numbers, all for a relaxed, modern cool. The Korean-born, Paris-based designer focused on pure lines and sharp cuts in pinstriped blazers and trousers. Asymmetrical dresses and voluminous skirts spoke a tale of form and precision. Hee sculpted delicate, inky creatures that brandished smoke-like formations near their hearts. It was indeed a spiritual conclusion to an overall exciting week that reinvented the legendary trends of the past for a more charming future.
Words / Sheri Chiu and Chloe Rash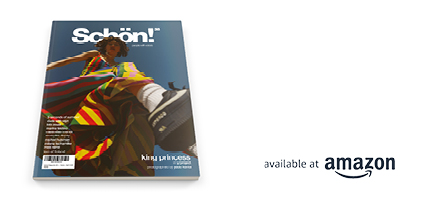 Discover the latest issue of Schön!. 
Now available in print, as an ebook, online and on any mobile device.