The eighth day of Paris Ready-to-Wear Fashion Week Spring/Summer 2016 unearthed countless imaginative inspirations. From Agnès B.'s delicious Parisian girl to Paul & Joe's babe on holiday, this day paid tribute to the history of fashion. We explored the visions of David Laport, Valentin Yudashkin, Junko Shimada, and Shiatzy Chen.
A Parisian's paradise: minimal jersey dresses in pale pastels literally loafed, as model's held baguettes and coffee on the runway at Agnès B. Ensembles blushed like the salmon pinched cheeks of fresh-faced French girls as the veteran designer cross-bred spry painted hoodies with more sophisticated cotton wrap dresses. A wardrobe built for a femme who mixes work with pleasure, the veteran French designer, showed charcoal streamline overcoats and tailored skirt suits before revealing her final looks: chalky romantic storybook frocks, paired with floral headpieces exuding an haute hippie spirit. 
David Laport went head over heels for honeycomb and checkered mesh in a textural collection for Spring/Summer 2016. The Dutch designer unravelled a surprising spectacle of geometric designs. When black meets white, unconventional materials such as latex and leather intertwined. Laport experimented with matte and shine, his artistic creations a delight for the senses. A singular base was formed around the body as the starting point. The checkered and octagon mesh served as structural decoration. The Laport woman is one who dares to play; she is bold and desires to wow all.
Splashes of layered crinoline ignited a fiery tornado of festival frocks with a sporty edge at Valentin Yudashkin. Jaunty jackets were stitched and piped with hot-pink detailing and cherry accents. The Russian designer altered between arousing layered cadmium activewear with crisp zippers and decadent sequined gowns: some sparkled like constellations while others, poured like peplum wine, stained in smouldering shades of vermilion. Elongated silhouettes were printed with lava-lamp like blobs to further illuminate Yudashkin's incandescent finesse. 
As models stood on turntables and slowly rotated, we too shifted in Junko Shimada's blast from the past. We travelled back in time and to the beach in Shimada's portrayal of the sunny and joyful woman. There were a series of delicate, transparent white summer dresses. Models sported coloured wigs, a touch of pop that added to the vibrant patterns on cotton and mousseline by artist Hugo Cesto. Bicolour mesh and sweatshirts are reminiscent of the candour of Californian hippies. Blue and red striped tunics were paired with oversized beach hats for a '60s swinging cool.
An alluring whimsical exhibit of Viennese embroideries accented with ebony, lavender, and silvery lace, emanated a youthful glow at Shiatzy Chen. Floral pinafores were imbued with a kaleidoscope of colour while pastel cocktail dresses were decorated in lilacs and embellished with bubble-gum petals. A matching rosette wide-legged pantsuit swirled with caterpillar ornamentation; bearing a three-dimensional texture which later landed on inky bodices covered in metallic appliqué. The Taiwanese designer, Wang Chen Tsai-Hsia, travelled through time, brilliantly sculpting mod A-line silhouettes and reimagining them for the millennial mover-and-shaker. 
Paul & Joe honed in on palm leave prints and cosy silhouettes for the girl on holiday. Designer Sophie Albou injected a Californian dream in our minds as toucan prints and silky pink numbers rolled onto the runway. Athletic jumpsuits and tropical floral printed shirts emitted a hyper casual vibe; the collection was a celebration of sultry retro in jewel encrusted jean shorts and white mesh dresses with ruffles. Surf's up in sweet bathing suits and pinstripe shift dresses. Albou added bursts of orange for long summer days. Whether it's the Bahamas, Cuba, or any sweltering holiday destination, Paul & Joe proved that its adaptable looks are meant to be in your suitcase and on you wherever you go.
Words / Sheri Chiu and Chloe Rash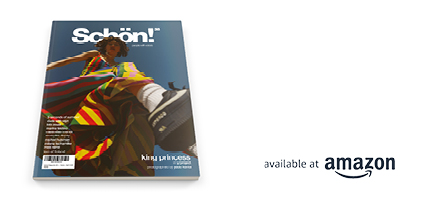 Discover the latest issue of Schön!. 
Now available in print, as an ebook, online and on any mobile device.