The seventh day of Paris Ready-to-Wear Fashion Week Spring/Summer 2016 flaunted marvellous attention to clean tailoring. From Véronique Branquinho's organza pleated dresses to Leonard Paris' origami bustier-bodices, this day was all about precision. We also feasted our eyes on the collections of Martin Grant, Benext Showspace's designers, and Irakli Nasidzé.
Patchwork prints with a rainbow of colour cascaded like vibrant waterfalls on luxuriously draped garments at Leonard Paris. Creative Director Yiqing Yin played with lush patterns of the historic French fashion house like a reverberating bass; echoing the magic of the past, while simultaneously introducing a revitalized, modern oeuvre. Sweeping graphic jumpsuits and origami bustier-bodices were inspired by the energetic works of artist David Hockney and street graffiti tags. Yin amalgamated the demarcations of fashion and art, exhibiting a collection of low-cut sheaths fortified by their confetti-like playfulness. 
 Blindfolded models emerged in frothy, fringed creations in an ode to the ethereal Garden of Eden at Véronique Branquinho. An apple joined us at our seat to watch the forbidden fruits of Branquinho's labour dazzle on the runway in crimson and pastel. Dreamy organza pleated dresses opened the show like otherworldly nymphs; sending us into a tranquil stupor of astonishing admiration. As the collection shot forward like a piercing archer's arrow, cascading frocks and pinafores took on a darker, more romantic aesthetic; heightened by ornate macramé detailing with a bohemian folkloric edge. 
Martin Grant presented a collection of impeccable tailored garments and free-flowing silhouettes of navy and hay. The Australian-born designer stressed immaculate construction in his collection of denim trench coats, bustiers, and leather skirts. Oversized shapes lined the scene in straw trousers with delicate fraying at the ends. Exaggerated chemise sleeves juxtaposed cinched waists, while off-shoulder dresses exuded elegance. Grant demonstrated crisp tailoring in outerwear and full skirts with stripes. These clean lines made for a breezy lightness – just what every woman needs for summer.
Benext was a designers' showcase that presented the visionary work of people primarily from Georgia in Europe. Designer Janashia was inspired by Tilda Swinton's hauntingly refined character from "Only Lovers Left Alive," as portrayed in elegant robes and a muted minimalism reminiscent of the 30s. On the other hand, AVTANDIL toyed with his own illustrations to form exciting prints in outwear to outstand the stormiest weather. Then we had Flow The Label who skilfully considered the intelligent woman in a series of oversized garments that breathed Scandinavian meets farmer chic. Benext also highlighted jewellery designer Mario Salvucci whose "Incredible Creatures" designs stem from organic models such as spiders, octopi, manta rays, and other animals. All his pieces are hammered and handmade to sparkly organisms we can wear around our fingers or in our hair. As Schön! heads to Georgia for its next fashion week, we truly cannot wait to see the fresh crop of talent that will expose their collections.
A festive dinner was held at the prestigious Lapérouse to celebrate the new collection of IRAKLI. Co-hosted by Catherine Baba, the event gave guests the chance to experience designer Irakli Nasidzé's polished garments up close and personal in three individual rooms, and to the live music of Serbian musicians. Decorated with painterly brushstrokes and goldfish swimming in bowls, the salons permeated an intimate air – romanticizing the pure designs of Nasidzé. Kimono-like robes were fabricated with shimming threads, while one dress draped around the body like an iceberg coloured glove. Working primarily on intuition, Nasidzé demonstrated his love for delicate lines and unadulterated minimalism.
Words / Sheri Chiu and Chloe Rash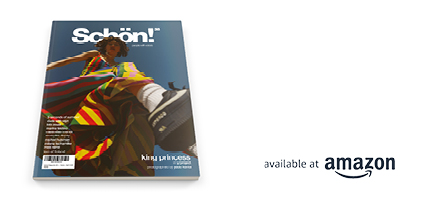 Discover the latest issue of Schön!. 
Now available in print, as an ebook, online and on any mobile device.