The fifth day of Paris Ready-to-Wear Fashion Week Spring/Summer 2016 concentrated on free-flowing silhouettes and exceptional floral and geometric prints for the contemporary woman. From Vivienne Westwood Gold Label's theatrical Venetian performance to Elie Saab's precious bohemian show, the day highlighted some of the strongest designs we've seen yet. We also laid eyes on the newest collections of Veronique Leroy, Diogo Miranda, and Rahul Mishra.
Véronique Leroy experimented with lace and laser cutting for a beautiful blend of fabric and tailoring to push the limits of conventional technique. Mismatched statement pieces such as an asymmetrical mesh and lace skirt were unveiled with a lush, checkered, square-shaped bomber. Navy eyelet straight leg trousers emanated modernity and an olive overcoat covered a buttoned slit chemise tightened by a thick mustard belt. It was a chic display of daring ensembles proving that Leroy is unafraid to take risks — a refreshing attitude in this day and age — when so many of her contemporaries choose to play it safe. 
Barbie meets Parisian chic in Diogo Miranda's architecturally modern collection of hot pink and peach silk. Stimulated by the work of Mexican architect Luis Barragan's pure lines, Miranda fashioned long and fluid silhouettes. Cinched waists were ultra feminine, "emotional architecture" according to Miranda. The colour palette consisted of blush and neutral tones of nude and mahogany. The Portuguese designer skilfully layered oversized coats on shirts, and skirts on dresses for a dynamic visual effect. We loved the oversized chemise paired with a wrap skirt. Clean, architectural cuts in wide legged trousers and cap sleeves divulged a sophisticated flair, an approach that was widely enjoyed by audience members.
It girls du moment Gigi Hadid and Kendall Jenner swaggered down the catwalk for the spectacular bohemian Hip Hopera of diaphanous lace that was Elie Saab. A fortified rhapsody of ravishing ebony chiffon gowns was tied with attenuated ribbons. Imagine for the young woman who doesn't need a prince to rescue her from the castle tower, sporty shift dresses with linear strips were painted with a palette of luscious jewel tones for a modern monarch, while silk crepe bomber jackets and short shorts exuded a girlish laissez-faire attitude.
At the Vivienne Westwood Gold Label's runway show, large disco balls reflected light onto walls as a projection of Venice's canals was cast on the backdrop. William Shakespeare said "All the world's a stage, and all the men and women merely players," a fitting quote to describe Westwood's theatrical display. Drawing inspiration from Venice's prestige in art and culture around the 12th Century and bringing attention to Venice's environmental issues due to climate change, Westwood transported us to a carnival. Art-splattered, broad shoulder blazers and drawstring trousers spoke of a Venetian play. Hair and makeup varied from model to model – each unique personas in Westwood's narrative. Earth tones of camel and taupe in casual draped forms juxtaposed shimmering gold statement pieces. Westwood's characters were elegant puppets of mix-match textiles in a whimsically inventive performance.
Architectural evening dresses with organza draping were motivated by a poem from Hafiz using the earth's greatest treasures to define selfless devotion at Rahul Mishra. The Indian designer's declaration to unconditional love was manifested in the detailing: bulging hoop-shaped sleeves were dusted with embroidered doves in an iridescent ice-blue and solar panelling garnished asymmetrical minis. Mishra focused on the fourth dimension in his collection: time. Starting from a single point, geometric forms and flowers became larger and more impressive, creating a pattern of explosive design. Geometric bodices earthed with slivers of canary reigned for a trompe-l'œil effect and textured sleeves circled like a full moon. 
Words / Sheri Chiu and Chloe Rash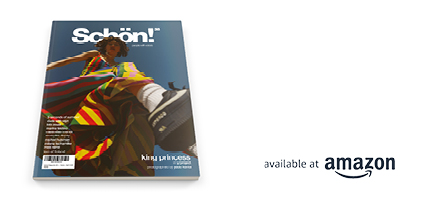 Discover the latest issue of Schön!. 
Now available in print, as an ebook, online and on any mobile device.