The fourth day of Paris Ready-to-Wear Fashion Week Spring/Summer 2016 revealed a myriad of innovative inspirations from Issey Miyake's botanically energized silhouettes to Chalayan's water soluble garments that gave way to Swarovski encrusted gowns. The day was also ripe with clean construction and architectural lines. We stepped into the minds of Y/Project, Andrew GN, Vassilly, Lutz Huelle, Luis Buchinho, and Yohji Yamamoto.
Hussein Chalayan started his show with crisply constructed mahogany and olive pieces echoing Cuba's newly open doors to the United States. Military inspired dresses of cotton poplin and a 1940s illustrated print of "Plonk" depicted different settings in Cuba. This paved the way for multicoloured fragmented dresses and pleated tops that exuded an easy elegance. Chalayan then showered two models with water. Their water-soluble garments melted away to reveal evening palm tree dresses embroidered with Swarovski crystals.
It was all about that bass and botanical energized silhouettes at Issey Miyake. Neon straw-like confections and oversized rotund purses decorated with fringe — danced to the beat of their own drum. A live music performance by Ei Wada and Masatsugu Hattori of Open Reel Ensemble provided some percussion to accentuate the rhythmic pitted edges of voluminous weaved tops and matching skirts. Designer Yoshiyuki Miyamae experimented with technique; a process called "Bake Stretch" sculpted pleats into beetle contoured dresses blending vigorous taps of colour to stimulate the spirit of tropical lushness.  
There was an ode to '70s flair and juxstaposing textiles in Y/Project's modern take on a vintage sensibility. Belgian designer Glenn Martens systematically broke long silhouettes with striped tops and incorporated wide legged trousers for homage to the flower power days. Technical pants were designed to show snippets of skin and were adjustable to two lengths. Martens presented textures galore in cross latticework on tops, ruffled shirts, and pinstriped pants. A standout piece was the trench coat, refined and functional in every sense.
An unfortunate declaration proceeded Andrew GN's ready-to-wear show; it was announced that the designer was recovering from heart surgery and would not join his collection at the end of the runway. This prelude was quickly brightened when GN's whimsical, flowing floral forms crescendo-ed down the catwalk. The Singapore-born designer dabbled with flecks of tangerine and played with fluctuating dress length and sleeve shape. Indulging in everlasting woolgathering, beaded iridescent eveningwear was imprinted with butterflies and tropical tunics blossomed into a beautiful state of reverie. 
The Korean designer at Vassilly showcased his Classicisme collection for the very first time during Paris Fashion Week, a body of work that accentuated a romantically modern approach to white cocktail dresses. Bare backs and unexpected zippers lined long and fluid gowns. Black floral motifs winded around the core, while graphic cuts highlighted waistlines. We loved how Vassilly utilised mesh in a feminine way to craft a dress with green geometric strips – athletic, but still fresh and modern. 
A playful, glamorous collection full of sparkle and splendour, German designer, Lutz Huelle reinvented the girl next door. Floral specs paired with artfully draped blousons in muted tones were followed by shimmering silver pailleté mini-skirts matched with frayed denim over-the-knee boots. Modernized flapper silhouettes swathed in heavy layers of fringe and were tailored like structured men's blazers. Envisioned for la jeunesse, models sported oversized boyfriend shirts wrapped in silken candy-like wrappers to extenuate the sweetness of femininity.
Luis Buchinho took us back to the '80s by starting with the femme fetale in Duran Duran's music video The Chauffeur sporting tall drivers' hats and black mesh pants with vertical slits. The Portuguese fashion designer presented graphic prints of album covers and masculine silhouettes of leather and silk taffeta. Lace tops added a pinch of racy and sequined garments contributed excitement. Oversized silhouettes ushered a free-flowing aura; fine leather finishing and graphic lines made for a diverse yet very coherent collection, pinpointing at the nostalgia that inspired Buchinho to become a designer in the first place.
Yohji Yamamoto dabbed his brush in a pot of ink and illustrated a modern Victorian woman, straight out of a storybook and onto the streets of any city dweller. The Japanese master brought us deconstructed corsets and charcoal bandage dresses with voluminous tied hips. Asymmetry was common in draped garments hanging off one shoulder – a cool and carefree comfort. Models not only wore bustles to expand the fullness of the back of dresses, but also had whimsical tubes flowing from underneath. Graffiti prints enveloped the body, making Yamamoto's woman a twisted princess from a deconstructed fairytale. The final model took the runway in a crimson gown, holding a GoPro camera that recorded all before her. What is to become of this mysterious footage? Only time will tell in Yamamoto's timeless universe.
Words / Sheri Chiu and Chloe Rash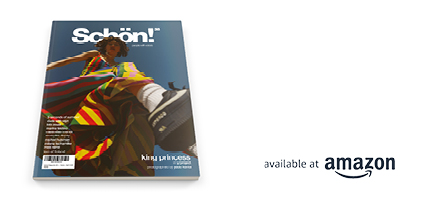 Discover the latest issue of Schön!. 
Now available in print, as an ebook, online and on any mobile device.