The third day of Paris Women's Ready-to-Wear Spring/Summer 2016 shows delved into the contrasting cosmos from dazzling Manish Arora and eccentric Tsumori Chisato to the seductively gothic Ann Demeulemeester and AF Vandevorst. These designers have crafted ensembles to suit distinct characters – the sweet and the devilish in every modern woman.
Manish Arora's ultimate goal is to make people happy with his vibrant designs. The launch of his new collection only proves that he continues to spread the joy. This season, Arora delivered a sashaying gypsy goddess in full orange and red skirts paired with electric pink and purple headscarves. All was bright, shimmering, and fun as Arora introduced menswear, or were they just men wearing women's clothes? In any case Arora's attempt at androgyny did not go far as the metallic fringes and three tiered ruffles were mostly for the glamorous disco party diva. Multicoloured flowers injected a playful element to the overall wild and memorable performance.
It was a titillating gothic display of leather, mesh, and silver spikes at Ann Demeulemeester; a sadomasochistic spectacle of layered and textured dark decadence. Inky mesh dominated dominatrix silhouettes while low waisted liquorice leather clung to sylphlike legs. Blackened harnesses clenched sheer bodices and slinky transparent dresses moved like melted coal. Geometric patterns in olive and silver awakened the effeminate spirit further heightening a tremendously sexy collection that succeeded in leaving something to the imagination. 
Tsumori Chisato hit the beach in a whimsical aquatic collection filled with seafaring elements. Adventure was in the air as the Japanese designer created long silhouettes with keyhole cuts reminiscent of bubbles in water. Peering through the diving mask, Chisato's looks had an air of animator Hayao Miyazaki freshness and timeless quirk. A print of a diver approaching a human face was implemented through part of the collection, along with mesh skirts and a sea anemone dress. Chisato worked elements such as seashells and ropes into ethereal white gowns – a true testament to the elegant beach bum.
The engines of motorcycles roared as models dispersed onto the runway à la James Dean. A.F Vandervost's mutineer metier was a powwow of inky pleats and reimagined military style jackets meticulously embroidered with spindly chain and spiky silver hardware. For the sultry bohemian biker, the design duo imagined a crocheted cat suit that engulfed a model's body from head-to-toe. The gothic collection was not one that we would ordinarily expect for Spring/Summer but we must expect the unexpected, for the Belgian label's innovation continues to drive above the speed limit. 
Words / Sheri Chiu and Chloe Rash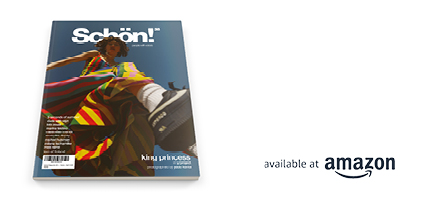 Discover the latest issue of Schön!. 
Now available in print, as an ebook, online and on any mobile device.