The second day of Paris Ready-to-Wear Fashion Week suggested that we may be in for a neutral tone spring and summer next year. The two designers that did not shy away from jubilant colours and fresh forms was comeback kid Courrèges and Alexis Mabille. We also stepped into the unique universes of Guy Laroche, Yang Li, Pinel & Pinel, Bernard Chandran, Sharon Wauchob, Aganovich, Uniqlo by Carine Roitfeld, Wanda Nylon, and Vionnet.
"It's been a while" was written on the invitations for the returning Courrèges runway show. Creative design duo Sebastien Meyer and Arnaud Vaillant showcased 15 different designs in 15 different colors of puckered leathers, delicious suedes, and iridescent sequins. The collection opened in a series of graphic jackets followed by athletically cute mini skirts. Was Courrèges a comeback? That's for sure. A revival of the brand? We'll just have to wait and see.
At Guy Laroche, it started with wolves howling, clearly "Trouble in Paradise," then a vision of deconstructed tops paired with military chic trousers. A tropical aesthetic juxtaposed an air of dystopia involving origami pleats and chunky biker chains. Broad silhouettes were scattered with sensual details of cutouts that revealed bare skin. Laroche's newest collection was a redefinition of urban cool.
Sublime shapes and fluid forms were paired with androgynous trenches in earthy hues at Yang Li; a showcase that solidified the young designer's status as someone to watch, nay, someone to beat. A former intern of Raf Simons, Li has come into his own, he has an eye for less-is-more and knows how to cut for the female form. His romantic collection included translucent floral gowns and rounded jackets that exuded a slightly retro, slightly gothic feel. 
For 15 years Pinel & Pinel have been designing large show trunks to transport goods. They started creating handbags two seasons ago, but this current season highlights adorable bite-sized versions of the brand's famous travel cases in sweet shades of sky blue and luscious red. Other bags of lamb and crocodile leather exude a luxuriously casual ease, while the handbags in the distressed denim collection is for the mischievous in every woman.
Malaysian designer Bernard Chandran's Spring/Summer 2016 Collection accentuated the active intellectual in feminine fabrics paired with sporty lines. Hues of fawn, peach, and light blue are intertwined with gleaming metallics with the common razorback and front around the neckline. Chandran clearly reflected on the lightness of organza and chiffon in the sweltering months of summer.
There was a sweet perfume to Sharon Wauchob's collection, as if her gossamer garments were lily of the valley. Maybe it was the literary essence of the show that struck us – rumpled –  patterned shirts –  appearing like crinkled pages of first edition novels.  Or perhaps it was Wauchob's fragile lace overlays that spun like Charlotte's Web and her spidery fringe embroidery, which exquisitely crawled on panelled outer garments.
Through a cloud of fog, models marched, clad in deconstructed violet bodices with accentuated lapels lined with zebra print at Aganovich. The gynandromorphic collection oozed urban sensuality, offering asymmetrical cut blazers, layered dresses and structured underpinnings in muted copper and mauve.  Looks were exaggerated with animal skin lining and accessorized with triangular ties, to murmur cosmopolitan conceptualism and stone aged sensibility (think Fred Flintstone meets Sharon Stone). Do we believe that Aganovich is only getting better with time? Yes we yabadaba-doo.  
Uniqlo's newest collaboration is with none other than fashion publishing legend Carine Roitfeld. Founder and Editor-in-Chief of CR Fashion Book, Roitfeld jazzed up the dangerously sleek woman in polka dot chemises, leopard, and lace. Smart casual elements such as pencil skirts were paired with sexy, distressed pantyhose for a more sophisticated aura that directly reflects Roitfeld's sense of fashion.
Designer Johanna Senyk threw a raging party of athletic silhouettes and glistening outerwear fit for the modern woman in the Wanda Nylon runway show. Set in the construction rubble of a building in renovation at Montmarte, Nylon's spectacle was the epitome of street cool. Athletic cutout pieces were reminiscent of Hilary Swank from Million Dollar Baby, while technical rainwear were shades of dazzling dinosaur green. Clean design mixed with experimental fabrics is a clear sign that Senyk should be dressing rock stars and celebrities.
A bold taste of tropical temptation, Alexis Mabille's punch coloured skirts and sweeping cocktail dresses ignited his watermelon influenced spectacular. The Sandia Smash, a fruity, playful beverage planted the seed of Mabille's visually explosive and toothsome collection. Both sporty and elegant, the French designer's full-bodied silhouettes showed juicy jumpsuits for the exotic adventurer and high-waisted fuchsia trousers tied with a signature bow. Rainbow lace frocks and a zesty crop top inspired us to pack our bags (and our martini shaker) for the nearest beach. 
Vionnet married finesse and savoir-faire with fairytale nymphs draped in seamless gowns of silk and lace. Shades of flesh and pale blue were blended with copper and gold crafted in fluid silks. More than just romantic and pretty, Vionnet managed to sculpt a modern princess in asymmetrical tops with pleats and long silhouettes accentuating inner geometries on the body. Bandage-like formations protected the core, while diaphanous silk satin was free to float like vapor around the Vionnet goddess.
Words / Sheri Chiu and Chloe Rash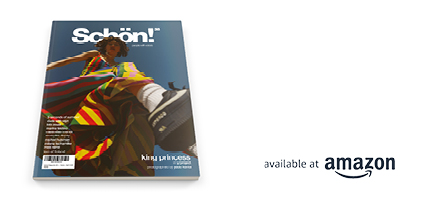 Discover the latest issue of Schön!. 
Now available in print, as an ebook, online and on any mobile device.