The first day of Paris Ready-To-Wear Fashion Week Spring/Summer 2016 illustrated an array of luxurious sportswear in khaki and cargo, elevated with strokes of oversized silhouettes. The true standout of the day was Anrealage: a cosmic selection of cubic designs that highlighted photosensitive fabric. Schön! also viewed the collections of AALTO, Nehera, Pascal Millet, Each x Other, Anthony Vaccarello, and Anne Sofie Madsen.
It was a Midsummer's daydream for Finish designer, Tuomas Merikosk, who debuted his spirited women's wear line AALTO in Paris for the first time.  A large ligneous stereo system blasted pop ballads while a scorching collection of minimal, oversized garments, coloured in bonfire hues fired down the runway like burning Nordic flames. Injected with a soft bohemian edge, Merikosk — who has previously worked in menswear at Louis Vuitton, innovated the feminine wardrobe with subtle masculine elements; pairing androgynous pinstriped suits and virile denim trousers with jewel-like patterns and knitted sweaters with angular cut sleeves. A celebration of an endless summer and a promising design career. 
Man and woman collided, at Czechoslovakian brand NEHERA's Spring/Summer 2016 show – a functional exhibit of wrapped fabrics and textures, which permeated elusive tranquillity. Models wearing oversized specs, sported judo jackets augmented by refined topstitching. Cropped blousons and asymmetrical underpinnings were styled with boxy trousers in khaki and midnight blue like that of muted lanterns. Cocooned unisex uniforms were crafted out of ivory leather for an innovative display of sartorial savvy. 
An oceanic assemblage of patterned Boho frocks and embroidered fringed shawls were amplified by a seafaring backdrop at Pascal Millet. The French designer's spring offering was a wave of voluminous tangerine tinged dresses with a distinctly 70s feel. Snakeskin trousers, belts, and collars exuded just the right amount of rock 'n roll. A floral canary jumpsuit with an asymmetrical bodice oozed sprightly sophistication and long striped skirts were paired with matching cropped boleros designed for the veteran groupie: an infectious old soul forever young at heart. 
Statement tees plastered with varying poetic profanities inspired by Robert Montgomery and Jefferson Hack proved that designers Jenny Mannerheim and Ilan Delouis understand the language of contemporary collaboration and the semantics of style. Each x Other's collection was marked with cargo detailing, easy-to-wear bombers and buoyant mini-dresses. Deconstructed tailoring infiltrated the seams and rounded sleeves were fastened with thick black ribbon.
A cosmic foray into the future, Anrealage offered a reflective collection of remarkable cubic creations.  Japanese designer Kunihiko Morinaga encouraged his guests to snap photos of photosensitive fabrics using their mobile flash to uncover majestic patterns unseen by the naked eye. The interactive show was a true testament to the times — and despite the visual legerdemain, Morinaga's playful dresses and voluminous outerwear portrayed visionary panelling and unparalleled conceptual construction. Perhaps it was the sake, but Anrealage's novel approach left us intoxicated; a spherical showcase of not only the future of fashion but the future of man. 
Anthony Vaccarello's collection channelled sophisticated military vibes intertwined with the ruggedness of the street. High-slit skirts flowed, while short skirts detailed a complex level of craftsmanship. Vaccarello introduced a dash of pop art into the mix in the form of a pixelated female face. As the collection progressed into the dressier blacks, the designer utilised creative methods of fastening the fabric through a golden ring, making architectural cuts of the body.
Danish designer Anne Sofie Madsen's fragmented creations merged layered organza with diaphanous floral embroideries to symbolize the delicacy of l'existence humaine. The Anne Sofie Madsen woman is vulnerable, but she does not hide behind her clothes – she is a union of both quietude and fortitude. Whereby effeminate strength is illuminated in softly layered trenches, draped denim gauchos and white miniskirts crafted out of metallic circles and adorned in hyperbolized rose petals.
Words / Chloe Rash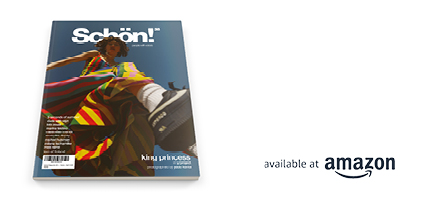 Discover the latest issue of Schön!. 
Now available in print, as an ebook, online and on any mobile device.