Paris Women's Ready-To-Wear Autumn/Winter 2016 Fashion Week wrapped up with some of the most tantalizing collections. The eighth and ninth days exposed a panorama of electrifying patterns and visions. From Kenzo's reinterpretation of archive prints to Paskal's playful polka dots, these final days were exhilarating to say the least. We also visited the worlds of agnès b., Junko Shimada, Shiatzy Chen, Off-White, Tsolo Munkh, and YDE.
A vibrant palette ranging from soft pastels to vibrant gem tones, accelerated into dusted metallics, injecting life into sporty silhouettes with a space-age allure at agnès b.  At 74, the veteran French designer still understands, if not personifies youth, as exemplified in her bohemian blousons, exuberant confetti printed dresses, and velveteen bodysuits. Streamline forms exuded street chic savoir faire: a chiffon tunic and matching trousers were topped with a navy cap for an off-duty model look (perfect for a Jenner or Hadid sister). 
Bagpipes sounded as a conceptual Scottish soliloquy unfolded at Junko Shimada. The Japanese designer created hyperbolized highland dress: emerald balmoral bonnets spun out like fluffy clown hair and accessorized knitted polychromatic pom-pom sweater dresses. Outer coats were fashioned with bouclé jersey fabrics and a transparent rain topper (with a matching umbrella) was marked with obscure black circles and sat on top a black and white collared dress. Chen's woollen-hooped sweaters manifested Scottish blackface sheep and soaring chapeaus mirrored the bearskin caps of the Queen's guards for a tongue-in-cheek, unorthodox spectacle. 
From a crimson web comprised of wooden panels that resembled deconstructed ladders, dangled arachnid embellishments against sable Victorian lace bodices, tied at the neck with oversized velveteen bows at Shiatzy Chen. The Taiwanese fashion house unveiled bold kimono style dresses in silk, blossoming with floral broderie and cinched at the waist with thick corset belts in black leather. Fur pelts ornamented canary patterned mini dresses and danced around the sleeves and base of a venomous ox hide suit, dyed in scarlet. Chen's decadent web offered both refined eveningwear and every day sporty silhouettes. The Asian creator collocated ruffled crème bottoms against contemporary bomber jackets with harlequin stitching. 
Kenzo stirred a concoction of brilliantly vivid prints from its archives and channelled them in a Sailor Moon spirit. Creative Directors Carol Lim and Humberto Leon fashioned oversized blouses and coats that featured intricate rope detailing and tassel finishes. Large dresses were refined with delicate pleating and an origami smocking effect among the chest. Structured, light wool dresses with sequin-embroidered flowers were suddenly swept away with the introduction of wild purple prints and cornflower zebra prints. Lim and Leon's Kenzo woman is definitely one who wants to be seen and heard through the mix-matching patterns of plaid, iris and dandelions, and stripes. To complete the prominently spirited look, hand painted half-heel shoes and tiger striped boots were an added bonus to this delectable show. 
Virgil Abloh is not just a DJ and the Creative Director of Kanye West, but also the kingpin behind fashion label Off-White. The show opened with the famous words from the film Pretty Woman, when the saleswoman tells Julia Roberts, "You're obviously in the wrong place." For his Autumn/Winter collection, Abloh elevated streetwear in form fitted turtlenecks and fire engine red wide-legged trousers. Pops of silver and coffee suede of palm leave prints met earthy château patterns for an urban vision of jet-set life. Long coats were styled to reveal one shoulder and a jean jacket was reversed to go against the grain. Abloh teamed up with Levi's Made & Crafted to release an enticing selection of denim, which made its debut in today's show. Abloh painted an image of the pretty woman – an independent force who may not need fashion, but fashion certainly needs her. 
The mirrors and wooden floors of Les Salon Hoche circled with black polka dots to match and reflect layered point d'ésprit organza patterns that peaked under plaid overalls and robe coats at Paskal's first Parisian catwalk show.  Designer Julie Paskal imagined crisp, conceptual blouses and sprightly pinafore frocks in monochromatic crepe, laser cut with diminutive floret markings, for a nostalgic nod to young Ukrainian woman selling flowers on the streets of her hometown, Kiev.  The ultra-wearable oeuvre was enormously innovative; Paskal triumphantly juxtaposed deep purple tartan with circular daubed fabric and artfully maintained her signature minimalistic edge — even ballerina flats beaming with dotted tulle oozed understated playfulness.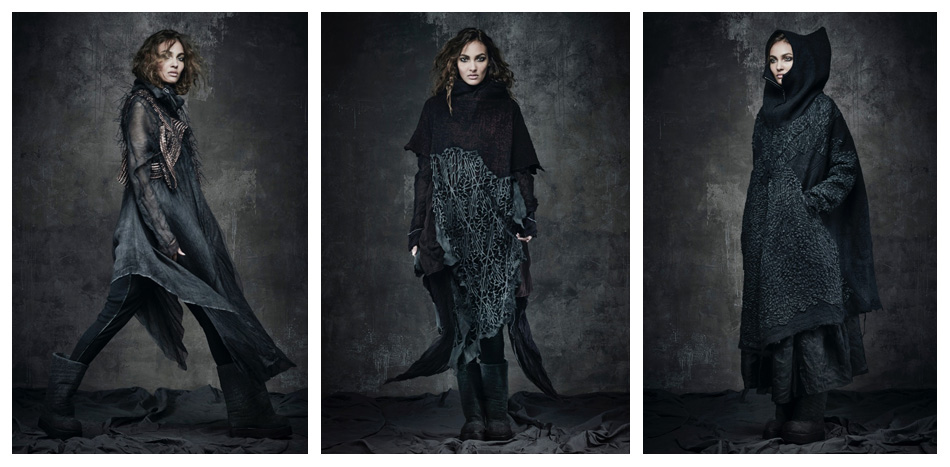 Mongolian designer Tsolo Munkh focused on intricate leather latticework in dresses and coats for Autumn/Winter 2016. In a series of mystically elegant dark teal and black looks, Munkh has proven yet again her masterful take on layering silk tunics with wool collared outerwear and slim leather leggings. This season, the Munkh woman is the blend of cool nomad and street-chic New York. A dash of regal was thrown into the mix with transparent dresses en soie and a sophisticated beaded wool piece wrapped to form a kimono. We were mesmerized by the enchanting silhouettes Munkh has been able to create time and time again. 
Our Paris Fashion Week ended with YDE's journey to Shanghai in embellished silk gowns and precious furs. Drawing inspiration from the pearl, Creative Director Ole Yde created an elegant array of chic cocktail dresses made from organza. Tweed with chiffon was sculpted into high collared pieces and the traditional Chinese qipao was embroidered with embellishments. Yde focused on pearl shades such as cream, silver, rose tones with accents of gold, and black. Lush materials like Mongolian shearling were intertwined into the collection as coats. The YDE woman was portrayed as sophisticated as she tied her chemise at the neck with a bow, or effortlessly modern by wearing glossy embellished flowers at the neckline.
Words / Sheri Chiu & Chloe Rash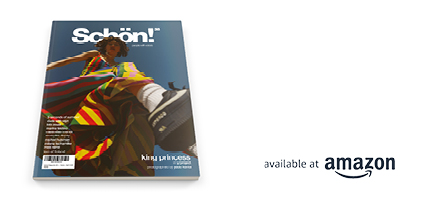 Discover the latest issue of Schön!. 
Now available in print, as an ebook, online and on any mobile device.