The sixth and seventh days of Paris Women's Ready-To-Wear Autumn/Winter 2016 Fashion Week proved that the French capital is perhaps the perfect place to present one-of-a-kind visions. From John Galliano's military infused collection to Dorhout Mees' feathered fairy-tale, these days truly demonstrated that fashion has no boundaries. We also visited the worlds of Valentin Yudashkin, Marimekko, Roland Mouret, Masha Ma, Veronique Branquinho, Martin Grant, and NatarGeorgiou. 
White branches painted onto black walls illuminated a lush, forestry collection of sumptuous sable embellished evening wear inspired by the magnificent splendour of The Ural Mountains at Valentin Yudashkin. Jewel tone mini dresses were decorated with velveteen bows and long sheer sleeves, while fox fur jackets and stoles draped across silk "pyjamas" to blend comfort with sumptuous woodland silhouettes. The Russian designer's mastery of the effeminate form came alive in his terrain spanning tundra of artfully tailored outer coats with earthen lapels. In an ode to folklore, Yudashkin's whimsical gowns were garnished with jagged alpine appliqué and malachite feather accents for a mythical representation of Siberia and femininity.
Sprightly silhouettes saw oversized camouflage outerwear, bold prints and bubble gum accents at the exuberant Marimekko presentation. Imbued with surrealist Japanese undertones, Anna Teurnell, introduced patterns created by textile guru Katsuji Wakisaka on floral trenches and long sleeved dresses. The wearable, jocular collection created for real women, was full of stripes and playful proportions like a cushioned carmine and charcoal ski jacket and sculptural tangerine jumpsuit. The varicoloured confections oozed a 1970s hippie vibe — bright shades of canary and sherbet were painted on a pair of cropped trousers worn with a black poncho. The Finnish line, notorious for their effusive fabrics, are changing the direction of casual wear with Teurnell at the helm. 
A melange of ethereal and sporty silhouettes saw romantic slip dresses in creme, black, powdered pink, and soft shades of sapphire at John Galliano. Ready-to-wear at its finest, Creative Director Bill Gaytten trifled with organza and guipure lace, to create frothy feminine street wear married with embroidered silk and leather high tops. Layered looks offered angular cut military jackets paired with diaphanous, protracted skirts, woven with floral transparencies and patchwork. The collection oscillated between outerwear and chiffon sheaths — jacquard coats with velvet cuffs trickled ebony fringe and cropped wool sweaters enhanced with button detailing cocooned eyelet blousons. 
Roland Mouret combined dark Victoriana and decadent Art Rock through mesmerizing honeycomb lace patterns in his Autumn/Winter show. The French fashion designer created an architectural collection in which graphic puzzle piece forms hugged the curves of the body. Inspired by the impressive visual style of Kate Bush and Stevie Nicks, this collection is an expression of Mouret's savoir-faire method to the unknown. Garments highlighted dashed line patterns that juxtaposed laser cut sleeves on sheer mesh. Mouret focused on structural textures, married with abstract leaf prints. Strong, vertical lines sculpted the body and hexagonal lace embroidery in rich navy, black, and white brought Victoriana into the 21st Century. Everything came together with a common gold zipper on the back, the sparkle in an overall geometrically fantastic collection.
Rebellious and edgy, Masha Ma drew inspiration from the underground techno scene to fashion sharp, black ensembles. Eccentric minimalism, the DNA of the brand, was seen throughout leather garments with the delicate placement of slim, silver chains. The Chinese designer created a strong, independent woman in dresses of wool cashmere and sporty denim parka. Zipper detailing and oversized outerwear added to an architectural spirit with an industrial edge. Ma concluded the show with a glittery golden finale, hinting that rebellion can be oh-so-sweet.
A feathered fairy-tale of strangely delightful creatures wearing architectural gowns was narrated at Dorhout Mees' first runway show in Paris. Held at La Maison de l'Architecture, the spectacle unfolded with a short film of black-eyed models awakening in grass and walking through a labyrinth. Their winged eyelashes injected a touch of animalistic futurism, in addition to clothing prints inspired by flocks of birds bearing resemblance animal skin. The Dutch designer Esther Louise Dorhout Mees spent eight months designing her couture-like collection. "I developed different material techniques; I wove a lot of the knitwear myself," Mees explained. "It was a delicate balance between the handwork that I like to do and the wearability and femininity, which is very important to me." The shine of the vinyl juxtaposed the roughness of the wool, as did the encasing, structured gowns and flowing dresses. Mees' has demonstrated her unique eye for heightened construction; we are curious to see where she soars next.
Crimped hair peaked from organza specked confections wrapped with velveteen ribbons at Veronique Branquinho. The Elizabethan oeuvre showed spun-out hooded gowns with ruff collars and sequin embellishments to magnify dark romanticism. Branquinho's dramaturgical animal printed designs and ethereal fluid skirts were shaded like 16th century apparitions — hauntingly striking —  and so refined, that gothic detailing was almost invisible to the eye. An eerie dream cast with somnambulist shadows: the Belgian designer's fine-drawn touch was particularly illuminated in silk accented bodices, transparent tulle overlays and diaphanous blousons.  
Martin Grant's new collection was divided into three parts for the different moments of every woman's day: morning, evening, and late night. Black and white wool and tweed outerwear featured graphic lines for the trendiest daywear. A particular fitted plaid skirt caught our eye. As the sophisticated Grant woman transitioned into the later hours of the day, her wardrobe slowly transformed into button-up gowns of deep emerald and coffee.
Trademark knit met sheer organza in NatarGeorgiou's presentation inspired by flowers. Greek Creative Directors Demos Natar and Andreas Georgiou each had their own brand before coming together to create an eccentrically romantic vision that encapsulates NatarGeorgiou. The strong velvets and seductive cuts were the contrasts that defined the collection. The crocheted lace was amplified with soft ruffles lined with glossy thread. This marked NatarGeorgiou's fifth season – a collection inspired by the colours of Bombay such as orange and blue. The unlikely union of velvet and fringe was crafted for the daring woman who is unafraid to mix and match improbable fabrics for a whimsical look.
Words / Sheri Chiu & Chloe Rash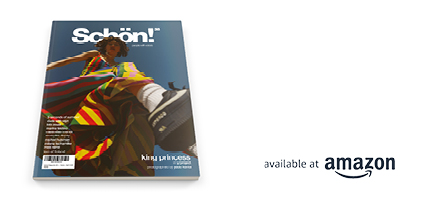 Discover the latest issue of Schön!. 
Now available in print, as an ebook, online and on any mobile device.