The fifth day of Paris Women's Ready-To-Wear Autumn/Winter 2016 Fashion Week was an alluring display of dark possibilities. From Elie Saab's rebel chic vision to Vivienne Westwood's ceremonial punk spectacle, the day was designed for the woman of the future.
Andreas Kronthaler presented his Sexercise collection, the first official Andreas Kronthaler for Vivienne Westwood collection, which toyed with gender bending girls in priestly attire and men in golden lamé dresses. The elegant draping of toga dresses was complemented with long silhouettes and exaggerated sleeves. The Austrian-born designer Kronthaler kept true to Westwood's signature embellished, broad shoulder blazer while playing with magenta fringe and leopard boots. Whimsical and fun, the collection featured floral embroidery and patterns galore, but on comfortable fabrics such as cotton sweaters and cardigans. Kronthaler incorporated theatrical details such as bishop hats and bondage wrapped legs with voluminous forms for a divinely elaborate spectacle. 
Navy and cream, signature coats with rounded collars, and delectable laser cut fabrics formed the leitmotif of the Diogo Miranda show during Paris fashion week. Lush, silk pieces were fastened at the waist with a black cord, and skirts in the shape of subtle tulip leaves revealed a sliver of legs. Miranda's new collection was for the classically feminine woman who is unafraid to occasionally play with unexpected forms. 
A live performance by Danish singer Karen Marie Ørste, aka MØ, accompanied a mind blowing bohemian rhapsody, an electro pop parade of ebony and rouge lace dresses, fluctuating in length and see-sawing in neckline at Elie Saab. Kendall Jenner, who closed the show, personified Saab's rebel chic vision in a gothic gown belted at the waist, embroidered with braided leather and lined with sheer organza. Black fur caplets and gossamer polka dot dresses with openwork underlays emanated a fresh, youthful spirit. The Lebanese creator used inky fringe to ornament revealing sheaths for the spell-casting enchantress with a penchant for magic and velvet passementerie.
A barefooted Brigitte Bardot, John Travolta, and Barbara Streisand have all danced the red-lit floors of the iconic Maxim's de Paris; hence, it was the ideal venue to showcase Veronique Leroy's 70s inspired sheaths in flaxen, lavender tones and metallic accents. Prints of old convertibles on jumpsuits and trousers, were paired with white go-go boots to evoke a nostalgic fury of Parisian disco fever, heightened by chunky aureate earrings slanted like abstract cylinders. Temperatures rose at the sight of Texan crepe blousons fastened with loose neckties, while mesh bodysuits and golden short shorts were imagined for a club-hopping cowgirl. The chef-d'œuvre: an elongated shearling coat with golden trim (think Kate Hudson as Penny Lane in Almost Famous) epitomized bohemian glam. 
Rahul Mishra narrated a tale of Indian textiles and intricate porcelain motifs on wool and silk blends. The Indian designer mentioned the desperate humanitarian crisis we are facing and the importance of love and freedom in today's world. For Mishra, love is translated in human hands – the handcraft of India and its timeless traditions. Mishra incorporated this in his collection through the Indian technique of tie-dying fabric called Bandhini. Dotted and floral prints of navy and white featured 3D laser cut sleeves. Asymmetrical pieces of Merino wool with impeccable beaded detailing highlighted Mishra's comprehension of female proportions. Diaphanous organza gowns and silk panelled skirts flattered the body in every way. Mishra utilised earthy tones in addition to white and black to construct an urban chic collection for the modern day woman. We fell in love with Mishra's skilful technique and fresh twist on femininity.
Words / Sheri Chiu & Chloe Rash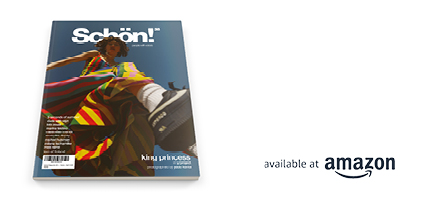 Discover the latest issue of Schön!. 
Now available in print, as an ebook, online and on any mobile device.