The fourth day of Paris Women's Ready-To-Wear Autumn/Winter 2016 Fashion Week was brimming with exceptional inventiveness. From Issey Miyake's psychedelic, origami stretch pleats to Luis Buchinho's jigsaw puzzle forms, the day was an intense display of creativity. We also visited the worlds of Chalayan, Julien David, Etam, Andrew GN, Lutz Huelle, Yohji Yamamoto and Olympia Le Tan.
Ei Wada & Haruka Yoshida narrated Issey Miyake with a live DJ set, where they converted light into sound, to match energetic cylinder volumes for a phantasmagoric show rich in cut, colour, and illusion. Our irides rotated like curious globes — spinning — spinning — spinning, at the sight of Yoshiyuki Miyamae polychromatic baked stretch pleats that created a trompe l'oeil effect. The abstract postmodern metier was a revelatory breath of fresh air: three-dimensional fabrics with helical markings unravelled like strands of origami DNA onto asymmetrical dresses and cylindrical tops. High collared necks creased and bent into thick triangular forms, which matched pointed, puffy bottoms. 
Crisply tailored dress shirts met futuristic silver garments drizzled with kaleidoscope manga prints at the Julien David runway show. The Paris-born, Tokyo-based designer contemplated strict, white button-ups with denim skirts and jackets – minimalist, pure, and almost too easy. Loose leather in the form of box silhouettes allowed viewers to concentrate on the pristine construction of the garments. Then, like a drop of ink diffusing in water, a series of colourful, prismatic printed blazers made their way onto the runway. David's influence from Japan was crystal as his collection breathed a crisp and modern air.
Opaline shadows were cast behind futuristic epicene silhouettes embellished with Swarovski crystals and body chains printed with German libretto at Chalayan.  Creative Director Chalayan took us down the autobahn, driving at supersonic speed. The collection began on a minimal note; a stampede of black conceptual blazers and charcoal skewed suits, later accelerated into dazzling transparent sheaths marked by roadmaps. Oversized jacquard coats with spherical necks showed red crystal numbers to reflect a speedometer and metallic azure jumpsuits marked with motorcar mottos shone like candy bar wrappers in ignition.
French lingerie label Etam honed in on a youthful bohemian spirit of floral and butterfly prints. Black lace bodysuits and papillon kimonos radiated elegance, while feminine pink and white blossomy motifs spoke of Japanese tales. Derived from silk and cotton, the core collection presented bas and panties of 18 different colours and 9 styles. Sporty, comfortable, and sexy are a few words to describe these under-things of delicate, razorback bras and sweatpants with lace on the sides – a union of seduction and athleticism.
Honouring an empire of decadence and militia regality, Andrew GN fashioned a Tsar inspired show that channelled masculine energy in ultra feminine forms, using a photo of Nicholas II's daughters in Imperial Army outfits dating back to the 20th century.  Olive outerwear trimmed with fox fur did not emanate early 1900's infantry garb — instead — GN reworked elements of the past to create flawlessly cut jackets with black piping, pom pom cargo trousers, and cable knit sweater dresses. Masterful capes ornamented with leafy sable beadwork and fur collars took the collection to new heights. A black and red mantle with ruffle detailing, circled with rounded floral trimming to resemble an Empress-like lady bug.  Ebony and carmine organza dresses dominated the later part of GN's warrior runway that was pervaded with a lush Eurasian divinity. 
Luis Buchinho embraced the round lines of jigsaw puzzle shapes and reconfigured pieces to form fresh silhouettes. The Portuguese fashion designer fastened leather and suede jackets with silver buttons and explored the graphic forms of construction through artful 3D puzzles. Picasso cutout patterns of clean, yet scribbly lines decorated sleek tops for the edgy woman. Wool, jersey, and leather of navy, white, and black pinstripes fashioned in tailored trousers juxtaposed shimmering sequins in skirts – the cross of femininity and masculinity as a complex puzzle.
Lutz Huelle's chic ready-to-wear rebellion was not a rejection of taste or ideology. There were no frayed seams or tattered trenches reflecting political unrest; there were no embroideries with anarchist symbolism. Huelle's rebellion came from his desire to create for the young woman in revolt, a free-spirited feminine soul that moves to her own fluctuating beat. The result: asymmetrical padded bomber jackets, with fine zipper detailing and polychromatic pleated sheaths that oozed bad-girl behaviour. Cherry pigmented accents accentuated Huelle's fiery yet subdued frocks and late '80s inspired denim outerwear. Triangular, oversized earrings (sometimes only one earring) accessorized Heulle's sparkling, streamline silhouettes that shone like Venetian coins with a modern-day edge. 
Yohji Yamamoto created an ode to inky, long silhouettes with masterful layering and accordion pleated sleeves for cool elegance. Models calmly floated down the runway with black lips, with a thin line extended at the corners of the mouth. A slim, artful line was drawn over eyebrows as well, with beauty direction led by Pat McGrath. Hair was drawn back into a tight, sleek ponytail with a long black mesh embracing the face, directed by Eugene Souleiman. An overall classically pure collection, Yamamoto's take on next season remained true to the DNA of his line of predominately black constructions. Narrow, plunging sharp V-necks were matched with dagger jacket lapels in loose silhouettes that adorned the female form from head to toe. Asymmetrical layers and hints of white were dispersed throughout the looks for the simply sleek masculine woman. Yamamoto injected hints of ash grey and exaggerated shirtsleeves for an effortless street cool.
Inside the well decorated walls of Paris's Galerie Perrotin — a mise en abyme of patterned smock dresses in painterly prints and arty book clutches were on display at Olympia Le Tan's voguish vernissage. Le Tan's signature sacs were decorated with the names of artists who have left an imprint on our cultural footprint and inspired fashion in their wake. Andy Warhol and David Hockney were both present; their names outlined with bold block letters on schoolgirl satchels. Renderings of paint can tubes were illustrated by Le Tan's father, Pierre – they splashed on powder pink lapels and eclectic blousons with multi-coloured sleeves. A sequinned spotted cocktail dress nodded to Yayoi Kusama (the princess of polka-dots) and was worn with mix-matched socks in playful hues. 
Words / Sheri Chiu & Chloe Rash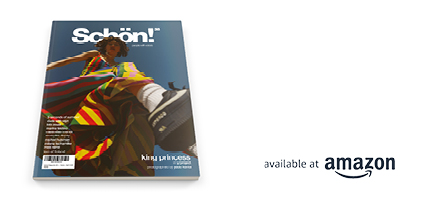 Discover the latest issue of Schön!. 
Now available in print, as an ebook, online and on any mobile device.