The third day of Paris Women's Ready-To-Wear Autumn/Winter 2016 Fashion Week featured broad strokes of vibrant colours translated in numerous ways. From Manish Arora's tribal wax-printed fabrics to Barbara Bui's firecracker and emerald leather showcase, the day was an exciting demonstration of unique inspiration. We also visited the worlds of Ann Demeulemeester, Alexis Mabille, and Pascal Millet.
Manish Arora's surreal harlequin confections were made out of tribal wax-printed fabrics and emanated a Peruvian sensibility sealed with a Western twist. The phantasmagorical parade was inspired by "Twin Peaks on Haribo" and featured some special guests: Ellen Von Unwerth, Chantal Thomass and Debra Shaw all walked in Arora's hypnagogic homage. A prêt-à-porter pilgrimage full of eclectic energy  — Arora's effervescent designs made us feel alive and filled us with the desire to live on an unearthly ranch clothed in colourful seams. Cowboy boots were paired with bell shaped dresses and hot pink neoprene ruffles, while denim accents amplified Arora's bohemian grunge aesthetic. Vari-coloured pompoms, indigenous feathers, and a purple Pomerian took a cue from the David Lynch playbook — so much so, that we thought we heard the dog whisper Silencio. 
Leather layers partnered with fluid androgynous cuts at Ann Demeulemeester for an inky invasion of understated artistry. Creative Director Sébastien Meunier unveiled tuxedo jackets that varied in length and breadth, for a gothic, polished collection that stayed true to the Belgian fashion house's beginnings. Meunier manipulated delicate fabrics to create limber silhouettes that radiated ease and comfort. The collection was not bogged down by its ultra minimalist aesthetic: instead, Meunier focused on the details: slinky trousers resembled black canvases splashed with flecks of white and metallic, while military outerwear bore triangular lapels, draped pocketing, and crushed velvet embellishments. 
Alexis Mabille married pinstripes and tassels, salmon silks and charcoal jersey for a refreshing feminine twist. The French designer incorporated long fringes that swayed against camouflage prints and tribal striped garments. Floral chemises and salmon pink tops juxtaposed transparent raincoats. Many contrary elements such as large gold buttons and ruffled collars were melded together to emanate a playful Venetian vibe. Mabille explained that "life is a catwalk," indeed one that features the various colourful highs and mysterious lows that come with any walks of life. 
Barbara Bui opted for firecracker jacquard prints and rocking English plaid in her seductively cool show for Paris Fashion Week. Bui clearly aimed to create conversation pieces of luxurious leather jackets with pops of emerald fur.  Bright colours of heart-throbbing red and sunshine yellow were matched with fringe and deep V-neck tops. Bui demonstrated that for the Autumn/Winter 2016 season, the louder, the better, as shown in one statement piece: a red-hot coat with charcoal squares and stripes.
A gleaming stage set the tone for an iridescent showcase of sexy feathered frocks dusted in sequins at Pascal Millet. The French designer imagined luxurious Holly Golightly-esque outfits that transition from day to night. Surely some looks were more dramatic than others: a scoop neck dress with a drop waist unwound like an ebony plume waterfall while a long negligee stained in cherry red oozed va-va-voom. For the demure peer of the realm, Millet offered navy layered capes with white polka dots and midnight blue overcoats with twinkling embroidery perfect for stargazing on the Seine. 
Words / Sheri Chiu & Chloe Rash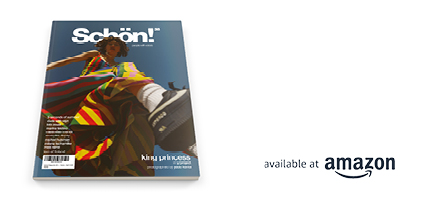 Discover the latest issue of Schön!. 
Now available in print, as an ebook, online and on any mobile device.