The second day of Paris Women's Ready-To-Wear Autumn/Winter 2016 Fashion Week focused on elegant, inky silhouettes. From Aganovich's deep Baroque romanticism to Vionnet's harmonious Aphrodite splendour linked to classical music, the day unfolded like a charming poem. We also visited the worlds of Anne Sofie Madsen, Yang Li, Guy Laroche, Ih Nom Uh Nit, and H&M Studio. 
Anne Sofie Madsen's celestial prêt-à-porter summoned deconstructed layers and earthy accents, in an attempt to awaken the spirit of Elvis Presley's stillborn twin brother. Her show, entitled Heaven or Las Vegas?, was a paradoxical homage to sin and virtue. Nude tones permeated the collection, perhaps as a haunting reminder of infant flesh; but there was nothing infantile about Madsen's leg bearing tartan trench or mahogany bomber jacket fastened with burly cord. Taking no short cuts to nirvana, Madsen's eclectic display leisurely unfolded  — every denim detail, fur cuff and silvery netted bodice, did not go unnoticed — but it was the designer's manipulation of heterogeneous fabrics where she came into her own. 
Cutout shoulders and padded bomber jackets with diagonal piping and sturdy silver zippers unravelled in shades of magenta and charcoal at the Yang Li show. An expert at street chic, Li continued to prove his aptitude for effeminate grunge with androgynous oomph. The Beijing born designer's work reminded us of ductile hot air balloons, imbued with fresh, modern nuances, and finished with a 90s twist. Playing with form, Li's deconstructed geometric display opened with invigorated checkered panelled suits and fur collars in muddy tones. Oversized boyfriend blazers topped elongated sheath dresses and sizeable silk panelled trousers were matched with cropped cut-and-sew jigsaw jackets. Experimenting with a melting pot of fabrics and textures, varying volumes and lengths, Li's bulbous cocoon outwear was lined with leather and fraying wool. 
With a new American Creative Director at the helm of a veteran French maison, one would expect a complete divergence from Guy Laroche's usual à la française approach — but instead, designer Adam Andrascik stayed true to Laroche's roots. In a sophisticated display of 22 looks, the North American designer focused his energy on fine Parisian tailoring. Andrascik strayed away from layering to create a magnificent monochromatic display of streamline silhouettes augmented with peplum detailing. Feminine lapels were embroidered with oceanic floral markings and flaxen threads delineated swirled foliage on little black dresses. Sculptural shoulders magnified cropped jackets paired with ruched satchel skirts in crème and charcoal. Andrascik's understanding of French minimalism is apparent — hence, it will be interesting to see, how, and, if, he decides to employ a more Western aesthetic down the road.
Ih Nom Uh Nit debuted its first women's collection of Japanese cotton basics and luxurious fur coats. Designer Chaz A. Jordan presented clean staples that were distressed in one way or another. Jeans were torn, while soft hoodie sweaters exuded the street cool of a city slicker. Fabricated with imported cotton, garments featured exaggerated long sleeves for a comfortable, chic vibe. Jordan collaborated with 90-year-old furrier Terzakou to hand make fur coats valued at 25,000 Euros. Earthy hues of sand and concrete dominated this collection – a story of refined streetwear where Manhattan crosses with the Bronx. We're curious to see how Ih Nom Uh Nit will evolve with Jordan in the lead.
Brooke Taylor and Nana Aganovich, the design duo that form the brains of Aganovich, exhibited a variety of shell-encasing coats in elongated black silhouettes. Theatrical, popping collars were fierce enough to intimidate Beethoven in this modern take on Baroque romanticism. Dresses were sculpted in such a way to highlight voluminous layers and rich forms while interwoven necklines revealed slivers of skin. A variety of luscious textiles were utilized to highlight black in all its glory. Ruched sleeves and skilfully fastened jackets embraced the female form as gothic masterpieces. Aganovich went above and beyond in wowing us with its acute attention to detail and elegant form.
The majestic sound of the organ serenaded draped pastel confections, which radiated Aphrodite splendour at Vionnet. Creative Director, Goga Ashkenazi, a classical music enthusiast, tuned her ethereal collection like a piano.  First, the Kazakh-Russian designer removed external panels — to create fluid, multi-fabric gowns — then by observing the mid-treble, Ashkenazi, used three strings (or rather collaged tricolour silk and chiffon) to compose her frothy evening wear score. Although spun out dresses dominated the oeuvre, Ashkenazi, created edgier looks like: a straight-checkered blazer with silk lapels, paired with sequinned, black houndstooth leggings. A phenomenal geometric charcoal dress pelted with grape and silver fur detailing oozed an Art Deco feel, synonymous with the fashion house's beginnings. It only seems fair that if Ashkenazi's predecessor, Madeleine Vionnet, was the architect of couture, that Goga Ashkenazi is the pianist of prêt-à-porter. 
The H&M Studio runway was nothing short of star-studded, featuring transgender Andreja Peijic, 70s model Pat Cleveland, her daughter Anna Cleveland, "fiercely real" Ashley Graham, and other top girls such as Amber Valletta, Devon Windsor, Freja Beha Erichsen, Natasha Poly, and Taylor Hill. A bare, wintery tree was the centrepiece of the runway that ushered in a spirited folktale of bohemian dresses and free-flowing forms. Round bowler hats were styled with long headbands for a modern yet ethereal gypsy. The collection dabbled with pinstriped suits and oversized blazers for a take on masculine femininity, but really left us enthralled when it concentrated on the mystic, tribal narration. Spirited marine paisley patterns met jean jackets, while metallic fringe swayed on black ensembles finished with Western boots and python prints.
Words / Sheri Chiu & Chloe Rash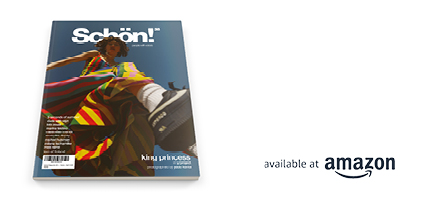 Discover the latest issue of Schön!. 
Now available in print, as an ebook, online and on any mobile device.