The fashion capital of Europe has been breeding new talents that have taken centre stage during the first day of Paris Fashion Week. Eccentric, dynamic, and vibrant are a few words to describe today's Women's Ready-To-Wear Autumn/Winter 2016 Collections. From Jacquemus' symphony of mix-matched textiles to Anrealage's sculptural, encrypted dresses, this day was bursting with creativity. We also visited the worlds of Liselore Frowijn, Nehera, Each x Other, Koché, and Y/Project.
Prismatic patterns playfully paraded down the runway, as a kaleidoscope of Niki de Saint Phalle inspired capes and reinvigorated patchwork dresses evinced feminine strength at Liselore Frowijn. Using a multifaceted palette of materials, the young Dutch designer revealed effervescent safari silhouettes that worked with paradoxical forms. Toying with texture and motif, Frowijn imagined a voluminous collection enhanced by malleable cylinder shaped accessories. The theme of the show Let's hear it for the Lions was a reflection of Frowijn's roaring aesthetic; handcrafted graphic prints majestically prowled against corduroy cotton and variegated bomber jackets; while a sculpted top was manipulated out of faux crimson fur to embody a fierce lioness mane.  
Creative Director Samuel Drira of Nehera defined and blurred elegant forms through asymmetry and wrapping for dynamic effects. Titled Faded Forms, this new collection honed in on elevated comfort in tones of beige and camel suede. Pure and soft lines were exemplified in round and loose volumes. Drira transported us through a quiet adventure that was nothing short of powerful.
The Future is an Invisible Playground: Each x Other's retro-chic interpretation of the cool kid on the block. Fashion designer Ilan Delouis and Artistic Director Jenny Mannerheim are the brains behind the brand. The duo presented a deconstructed polka dot suit and garments with arm ringlets. Several strict silhouettes of mustard yellow transformed into a black ode of masculine chic ensembles. Each x Other proved that love is indeed a verb, one we use for this new collection.
Society has grown numb to the constant clamour of the 21st century — the maniacal murmurs, the incessant whispers of a city, the cries of reckless cars. So how does noise take on meaning again? With Anrealage. Creative Director Kunihiko Morinaga, the mainframe of the Japanese fashion house, rarely disappoints; his mastery of technological textiles surpasses his contemporaries, consistently reimagining ready-to-wear with a futurist vision. His latest digital declaration was awakened in visual cryptography, an encryption technique that employs coding to hide information in images. Using mesh screens, Morinaga revealed trompe l'oeil pixel patterns on sculpted charcoal dresses — with inelastic buckles and smoky jacquards —printed on top rounded outer coats. 
A symphony of mix-matched textiles reconstructed in exaggerated proportions was seen in Jacquemus's artful Autumn/Winter show. The sudden switch of music highlighted the harmony of unexpected combinations. Wide-shouldered blazers were equally matched with heightened shoulder straps in dresses. Garments were pieced together with bows and ruffles shimmied their way down shirts for a masterpiece of distortion. Designer Simon Porte Jacquemus once again delivered a delightfully whimsical and very editorial collection. 
Christelle Kocher the designer of French ready-to-wear label Koché held a block party — or so it seemed. An invigorating jaunt of unisex fluid forms oozed modernity as they swaggered down an urban passageway in Paris's too-cool-for-school 10th arrondissement. Borrowing Thai fabric stores and Pakistani restaurants as a cultural backdrop, Kocher's grungy, varicoloured-layered hoodies, baggy denim sweats (all worn with a laissez-faire expression) exuded global street savoir-faire. Kocher injected her roadway runway with couture-like feminine twists, showing golden sequins and feathers alongside exquisitely draped, sporty dresses. There was a spirited energy running through the veins of the collection, like a Cedric Klapisch film, Koché's love letter to street wear was an urban gentrified demonstration manifested in mesh underpinnings, velvet detailing, and colourful collaged prints. 
For Y/Project's first womenswear show, mirrored romantic Victorian blousons bursting at the sleeves in dewy shades of rose and powdered blue were seen. After mastering the Y chromosome Flemish creator, Glenn Martens, took a shot at refining the X. His baroque offering saw whimsical, sophisticated creations carved like triangular harps plucked at the neck with billowing silk strings. Martens' supreme vision was awakened in the contrasting details of his undulating garments: a pair of gunmetal plaid trousers sat on top a striped asymmetrical buttoned turtleneck and silver zippers caressed layered bodices bearing slight transparencies. As one of the designer's shortlisted for this year's LVMH prize, Martens certainly set the bar higher than his venue's pinnacle. 
Words / Sheri Chiu & Chloe Rash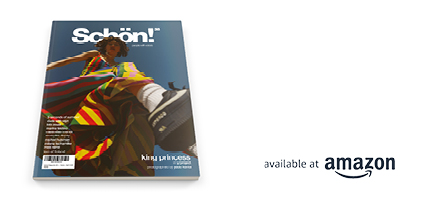 Discover the latest issue of Schön!. 
Now available in print, as an ebook, online and on any mobile device.