The seventh day of Paris Women's Ready-To-Wear Autumn/Winter 2015 Fashion Week was all about refinement in the details. From Leonard Paris' novel "elephant skin" texture, to Esteban Cortazar's neoprene undulations, this day zoomed in on the intricacies of design. We also visited the universes of Lutz Huelle and Wunderkind.
Starting the latest Leonard show with a clean slate, artistic director Yiqing Yin kept her opening looks at this season's showcase immaculate, sending out pristine white ensembles. Cleansing guests' palettes before giving them a signature taste of Leonard, Yin pushed her exploration of prints to the next level both texturally and technically to create coats textured with an elephant print effect. As the collection soared, looks revealed a youthful side to the Leonard woman with a more relaxed spirit delicately woven into the unfailing elegance of each look.
'Tis the season of gold and metallic accents as demonstrated by Lutz Huelle's minimal métier where shimmering detail faintly whispered against porous leather vests and glossy, well-shaped bodices. Conceptual outwear birthed high necklines and exuded a retro austerity – asymmetrical wrinkled aluminium skirts were reminiscent of early Courrèges – while monochromatic cable knit sweaters oozed just the right amount of cosy. Infrequent bursts of colour added to the palette's warmth and sheepskin bombers made for a wearable, ultra-wintery collection; ready to be modelled… après-ski. 
Schön! presents | WUNDERKIND Autumn Winter 2015/16 © PREMICES FILMS from Schön! Magazine on Vimeo.
For the modern-day Veruschka, Wolfgang Joop, of the German fashion house Wunderkind, imagined a wondrous collection patterned with panache and leopard print, in an ode to the laissez-faire of the femme fatale.  An impressive mix of fabrics and textures, Joop's daring oeuvre managed to make lemon lashed zippers and quilted corsets look strikingly first-rate. Cannabis leaf motives, along with baroque tapestries, ornamented limber dresses and lush turtle necks with matching trousers, while a cat suit prowled down the runway with an evangelical thump.
Turning the temperature up for the Autumn/Wiinter season, Esteban Cortazar sought "to warm the blood [and], to warm the flesh" with his latest collection. Set under a backdrop of black, Cortazar showcased a woman confident in her own body and empowered by her own sexuality, with knotted skeletal fringe motifs elongating and accentuating the silhouette. Tones of hot-coal reds and earthen sand were used to cut through the crispness of black and add colour to the brooding undertone of the show, that combined the Latin and Parisian worlds that intertwine through Cortazar's designs so well.
Words / Chloe Rash and Natalie Roar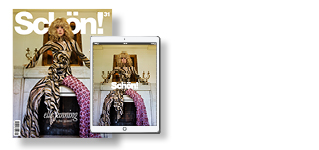 Discover the latest issue of Schön!. 
Now available in print, as an ebook, online and on any mobile device.