Despite the snow, rain and below zero temperature, Paris shined bright during its Fashion Week. Designers juxtaposed traditional classics with glamourous luxury, leaving every showgoer charmed and satisfied. Here, we select Schön!'s favourite shows and highlights from the most fashionable week of the French capital.
After Jacquemus' opening show, it was time for LVMH prize winner Marine Serre. A hunger for innovation, speed of the fashion race and high appetite of the public pushed the young talented designer to be extra creative in her Paris debut collection, entitled 'Manic Soul Machine.'  Not scared of the public watching (which included Vogue's Suzy Menkes), the designer showcased a mix of futuristically urbanistic comfort and innovative functionality that made for a huge success. Composed of slim leggings, branded skin-tight lycra tops, intricate denim combinations, protective balaclavas and the signature motif of the brand, the crescent moon; this collection was all about urban, modern and stylish "FUTUREWEAR" –the word Serre ubiquitously emblazoned her clothes with.
What you see depends on who you are, where you are and what you actually want to see. Anrealage's show made its guests think about subjectivity, not only in fashion but the world in general. In a game of light and shadows, officially named 'Entitled Prism', the show embodied emerging Japanese designer Kunihiko Morinagapure's pure innovation. In a staged creative performance, groups of three models emerged into a triangle-shaped space surrounded by spotlights, then rotated from corner to corner with pauses for photography. No one saw the same picture. Some may have been lucky enough to see transparent plastic trenchcoats and dresses with inserts refracting light at different angles; others may have seen black jumpsuits with rainbow capes and ample multicoloured sweaters.
Faithful to Issey Miyake's heritage and impeccable brand DNA, Yoshiyuki Miyamae took to the dreary winter conditions and nature for inspiration. "Waiting for spring to blossom", the catwalk was firstly filled with white knit and pleated ensembles, paving the way for ample colourful pieces in oranges, blues and reds as well as intricate floral headpieces to close a magnificent performance of tradition and technology. Miyamae managed to carry Miyake's legacy forward whilst taking a closer look at environmental and digital trends of the 21 century; the collection presenting plenty of innovative fabrics shaped into cocoons that swaddled the models'.
Felipe Oliveira Baptista stayed true to himself: mixing conservatism and innovation. With a predominantly military colour palette, the '80s was a key inspiration to his new Lacoste collection, which was dedicated to the social and environmental challenges currently facing the planet. Nature, protection, and danger: Lacoste questioned the idea of humanity and made the fashion elite attending the show think about our planet; the iconic Lacoste crocodile being replaced with the silhouettes of 10 endangered species –the vaquita, the Javan rhino, the kakapo parrot, and the Anegada ground iguana among them. The use of denim, military colours, knitwear dresses, high leather boots and patterns of fallen leaves were highly appreciated by the public.
While Clare Waight Keller awed the public with faux fur long coats during her second ready-to-wear runway for Céline, Olivier Rousteing surprised with futuristic metallic silver dresses for Balmain and Maria Grazia Chiuri continued her feminist fashion movement in Christian Dior, Munich-based duo Talbot Runhof created a heaven for glitter-lovers and embroidery fans. The designers presented looks in existing juicy colours –starting with lilac and dark violet and finishing with crimson, malachite and lime green. The message was clear: everything – every colour, fabric, flower, pattern, lace and fur inserts or embroidery – has distinct significance. Black cashmere capes with jacquard bombers and guipure sequin midi skirts with crimson voluminous dresses made the collection one to be remembered.  
Rahul Mishra put all his creativity into this A/W 2018 show: from detailed embroideries and sequined midi dresses to handcrafted brocade and powerful plaid suit. Naming the collection 'Rhizome', inspired by Mishra's own interpretation of Carl Jung's book 'Memories, Dreams, Reflections', Mishra took inspiration from his childhood – particularly from the time he spent with his mother helping her pick outfits in the wardrobe The key pieces of the collection were organza dresses, oversized suits made of warm wool, pleated shirts as well as long coats. Being a minimalist is a boring concept for Mishra, fashion for him is a beautiful madness.    
Every respected designer should at least once in their career get inspiration from a movie star, and this season Andrew GN was the one. Choosing French actress Catherine Deneuve as a source of inspiration, the designer looked back at cult classics like 1967's Belle de Jour and 1983's The Hunger to come up with a timeless bourgeois wearable look of his own 21st-century woman. In order to show the couture-like craftsmanship of his brand, the designer used golden embroideries of fern fronds, transparent chiffon sculpted ruffles, peacock feathers, pearl outlines and layers of velvet. The use of colour, different fabrics, and various creative details as well as motives and inspirations made the public commend the collection. 
Ask your guests to come to The American Cathedral at the Champs-Élysées, turn on some classical music and let your models have a fun dance to Cher's Believe at the end of the runway show – Lutz Huelle had a clear plan in mind to create a worthwhile show. The general concept and the emotional atmosphere was reminiscent of Margiela, his former mentor, and Yang Li. Although we did not see much of Martin Margiela in his designs, the influence of Belgian genius was felt through the room in a collection that proved to be both exceptional and wearable. Very parka-oriented and coat-inspired, Huelle played with asymmetric hemlines in zipped jackets, cinched waists in bombers and additional panels of wool, lurex jacquard and metallic wadding in coats. in a show that earned accolades and applause. 
Koché also surprised the luxurious Parisian fashion public with an exclusive venue –the central Casino of Paris. The stage was ready, red lights were off, the show was about to start. Compared to the previous season, Christelle Kocher presented a more serious and grown-up collection –entirely eliminating logos and colours, save for some violet and gold pieces. Like many designers, Kocher combined women's and men's together on one runway, creating a compelling collection where complex shapes and meticulous details reigned supreme.
Paris was still shaking from the bitterly cold when Valentin Yudashkin showed a Moscow Winter collection at the luxurious golden saloon of the Intercontinental hotel. Being a Russian designer, tsarina-inspired embroidered dresses, ice-queen evening gowns, and snowy white coats with feathers just couldn't be avoided. The 54-year-old designer approached Haute Couture motifs in his A/W 2018 collection, saying 'no' to simplified ready-to-wear in favour of bourgeois designs. Though some attentive attendees found several Céline-like outfits composed of oversized white coats and jackets with wide shoulders and emphasized waists, in general, the collection was all about exclusive fine details which unconsciously put every look presented in the category of couture. The Russian elite sitting front row had the pleasure to appreciate jewelled sunbursts made of pearls instead of basic buttons, sculpted ruffles on the midi coats with feathers made collars, embroidered glittering silver dresses with twisted taffeta skirts and sleeveless cashmere tops boasting the highest of necks.    
Concentrating on a couture approach as well were Ralph & Russo, who this season avoided the favoured runway show to ask the press and its top clients to come drink champagne and talk about the latest collection at their showroom. Describing their woman as a glamour-loving business lady, the talented duo of Tamara Ralph and Michael Russo paid assiduous attention to details in their luxe outfits: from dresses with sparkling beads, double-breasted coats with high waistlines, and trench-a-like midi dresses to skirts with trains, grey woolen business suits with removable arms and sensuous skirts with thigh split zips.
Swiss design duo Ottolinger took over a quiet alley in the 4th arrondissement of Paris, displaying models in various store windows. The 2018 LVMH semi-finalists took to their native country traditions for inspiration, presenting a carefully deconstructed (and reconstructed) modern-day selection of burnt cable knits, heavily reworked denim, faux fur and ruffles. Longsleeved dresses and corduroy suits were peculiar to the brand's A/W 2018 collection, perfectly mirroring the brand's irreverent DNA.
On the other hand, Slovak brand NEHERA concentrated on their signature linear silhouettes made of natural materials. Experimenting with shapes, proportions, and volumes, the brand kept its stable simplicity and wearable comfort presenting layers of chunky knits, geometrically quilted down jackets and double-breasted coats in the latest collection.  
This PFW did not disappoint –quite the contrary. Karl Lagerfeld turned the Grand Palais into a forest, Vivienne Westwood made her models enjoy a crazy demonic dance right on the runway and Demna Gvasalia put a huge graffiti stone in the middle of his Balenciaga venue. After all, Paris is nothing without delightfully exaggerated madness.
Find out more information about Paris Fashion Week here. All images courtesy of the brands. 
Words / Isale Noiré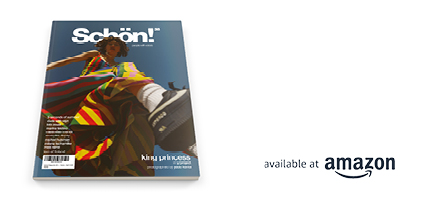 Discover the latest issue of Schön!. 
Now available in print, as an ebook, online and on any mobile device.