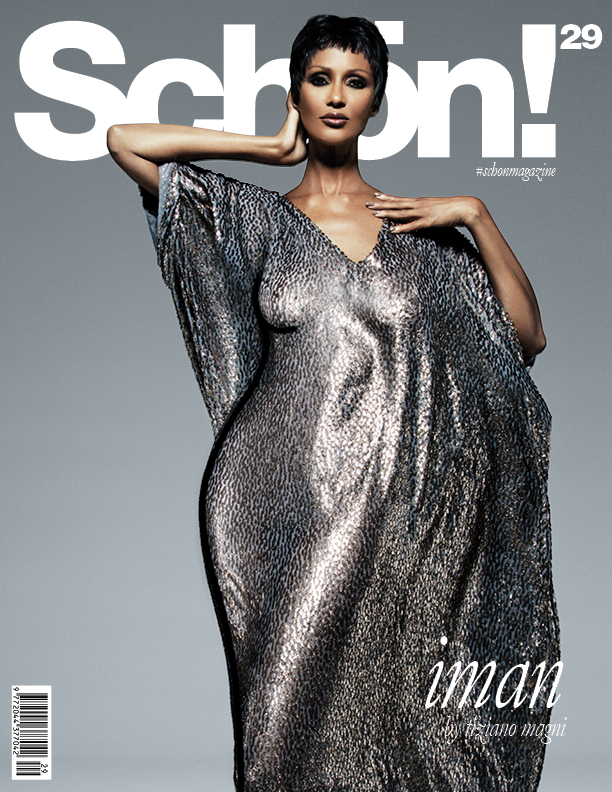 #icons #schonmagazine
What is an icon? For our 29th issue, we have made it our mission to find out, travelling from London to Los Angeles, and from New York to Nice, to bring you a selection of people who have already reached iconic status, as well as those well on their way to doing so.
How does a model transform from the girl of the moment, to a face we can never forget? To discover the answer, look to our cover star Iman. Schön! has the privilege to present her in a photo shoot by Tiziano Magni and to find out more about the extraordinary things she has done, and is still doing.
A long list of world class photographers have helped us capture all that is iconic about fashion, from the cult couture of Thierry Mugler, to the timeless style of Sergio Rossi. When it comes to fashion icons, they don't come much more enduring than front row fixture James Goldstein, or the unique Iris Apfel, who is still going strong aged 94. 
 If music's more your thing, read on for interviews with Seth Troxler, Mr Hudson, Susanne Bartsch, Amanda Lear and Natalie Imbruglia.
Whether it's through an image, a sound, a performance, or simply by just 'being', these are the people who have shaped and will continue to shape our cultural landscape, past, present and future. Turn our pages for a taste of the truly timeless…
Discover Schön! 29 in glossy print, as an e-download, on mobile or online here.
This Schön! 29 Cover has been produced by
Model / Iman @ One Management
Photography / Tiziano Magni @ Print & Contact
Styling / Jenke Ahmed Tailly
Production / Navia Vision
Hair / Max Pinnell
Make Up / Porsche Cooper using IMAN Cosmetics @ imancosmetics.com
Nails / Casey Herman @ Kate Ryan Inc. using Tom Ford Beauty
Retouch / View Imaging
Digital Tech / Karin Gfeller
Photography Assistants / Olivia Owen & Dylan Kaplowitz
Styling Assistants / Cornelius Lafayette Danzey Jr & Al'eena M. Booker
Production Assistant / Danielle Giardina
Hair Assistant / Adlena Dignam
Location / ROOT Studios