Of all things one should never discuss, it's politics and religion, but that's where we found ourselves at a crossroads.  The second day of New York Fashion Week saw the snow melt and political statements soar, as Jeremy Scott unveiled a collection heavily imbued in the destruction of our modern world through the construction of his own gleaming, playful confections. 
Dan Liu's fall folk tale revealed wearable monochromatic and pastel  minidresses accessorized with vivid floret scarves. The Chinese-Japanese Canadian designer is an amalgamate of diverse roots and planted them in a lotus flower ebony sheath and leaflet masks that posed as autumnal headbands.  
The concept of Concept Korea is collaborative fiction. Made up of three fashion labels, GREEDILOUS, KIMMY.J, and YOHANIX, the collective played out like a multi-perspective graphic novel and told the story of three very different designers who share the same objective: imparting South Korean culture and design for an American market. The first collection from designer Younhee Park sourced a 1930s Salvador Dali painting The Persistence of Memory, and showed buoyant, feminine fur coats that emitted futuristic modernity. Designer Heejin Kim unveiled an urbanized tribe of unisex streetwear; neon highlighted bombers were matched with netted undergarments and denim was accentuated with grape fur. In the final collection, Yohan Kim invented a "heroine street" collection of silken amethystine and olive coats that were finished with couture-style detailing. 
With a penchant for designing tops that flirt with a woman's décolleté, French-Japanese designer Sylvie Millstein – ,the tour-de-force behind the label HELLESSY – offered a collection full of open-shouldered blossom blouses and cropped trousers motivated by Robert Mapplethorpe's amorous flower portraits. A show that elegantly teetered between urbane and urban, edgy effeminate forms were juxtaposed with more masculine looks that paraded angular draped striped shirts and wide-legged pinstriped trousers. 
Carly Cushnie and Michelle Ochs have worked for their ready-to-wear crowns. This season, the NYC-based label, CUSHNIE ET OCHS launched modern pastel asymmetrical forms and conceptual corsets partnered with ruffled bottom trousers. French model Cindy Bruna opened the show in a figure-hugging white long-sleeved dress with a cutout bodice, a nod to the brand's earlier silhouettes. Final looks showed slinky dresses furnished with pailletés. A masterful collection of contained sex-appeal, Cushnie and Ochs continues to do what they do best, deliver flattering forms for a woman comfortable in her own skin. 
RTACalifornia label RtA (Road to Awe) displayed silvery tones which permeated layered street wear and trickled through the seams of raccoon fur coats and taut trousers thats evinced urban flare. The trio behind the brand,  David Rimokh, Eli and Evelyn, created a collection controlled by a woman's quest for mystique. 
 Some of us are frightened to know our future, but the future of fashion — on the other hand —  is much less scary than that of our own. Nicole Miller's Fall/Winter 2017 collect assured us that a resurgence of sprightly silhouettes was in the cards. Darkened gypsy queens wore constellations and mythical motifs on bomber jackets. Embellished velvet dresses inspired by tarot cards— were gilded with golden sequins, leering eyes and floral jacquard. Plaid mini-skirts and cargo trousers added an extra dimension of grunge. 
Religious iconography shined in technicolours for an opulent adventure, powered by '80s and '90s pop culture and millennial supermodels at Jeremy Scott. The king of kitsch (Scott) ironically sought influence in the king of Rock & Roll. Gigi Hadid sported an Elvis-esque white Las Vegas jumpsuit bedazzled with polychromatic stones and Anna Cleveland beamed in a flaxen threaded eagle cape and liquid gold fringed skirt.  Scott's expressive declaration of freedom and fun, exploded on graphic tees that read "sex is cute" and glittering "as seen on TV" tanks reaffirmed the powerful temptation of idol worship.
Words / Chloe Montana Rash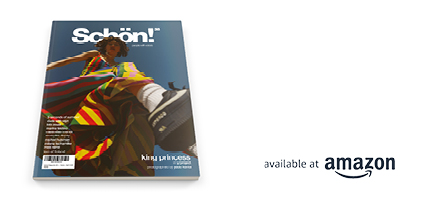 Discover the latest issue of Schön!. 
Now available in print, as an ebook, online and on any mobile device.