Using break dancers, Chinese designer, Calvin Luo literally broke down gender identity and explored a neutral epicene line in his androgynous — minimally dismantled — plaid sculptural outerwear. Both sexes were dressed in greyish skirts and fishnets; while hoodies in tangerine and olive had "ASEXUAL" written on rectangular draw strings. Luo, the youngest designer to show at New York Fashion Week, further surpassed gender-specific frontiers, by plying a jade checkered fabric with a black basic cloth to create a blazer split in two.
Models surrounded by splintered car parts emerged in black panelled skirts, sheeny emerald bomber jackets, lacerated tops, and layered torsos wired as mechanical masterpieces at Christopher Esber's Fall/Winter 2017 presentation. Detailed designs revealed a mixture of masculine and feminine codes: a khaki trench and gunmetal trousers smouldered testosterone like an exhaust pipe. Steering wheel stitching propelled the seams of a navy overcoat with circular cutouts in the forearms and spun-out pants to match.
Johnson Hartig of Los Angeles cult label Libertine is like an absurdist ringmaster, guiding the audience through a wildly energized big top where anything goes. Kaleidoscope patchwork, silvery webbing, leopard print, and emoji emblazoned jackets dominated the Libertine runway. An expressive carnival of sensational patterns, Romanian gypsies and the lyricism of Robert Burns propelled the varicoloured spectacle: womenswear showed tie dye peacoats against rainbow fringe, floral tights, and footwear. Cubist rose covered pantsuits were designed for both men and women, as was the glittering runway experience. 
Reminiscent of femme fatales of the 1940s, designer Cho Cho Cheng presented his CHOCHENG Autumn/Winter 2017 collection, a theatrical projection of pillbox suits with sculptural shoulders and wide brimmed chapeaus. Mused by the melodrama of the silver screen, seductive silhouettes were tautly shaped; dresses and coats with attenuated waists were painted in crimson, houndstooth, and tweed. Evoking antiheroine film noir resplendence, a jet-black plush suit was accentuated at the neck like an exaggerated ruff.  
Badgley Mischka channelled the Golden Era of Hollywood with lush satiny gowns in flaxen, carmine, and silver. If spotlights could shine any brighter they would be a gleaming personification of design team Mark Badgley and James Mischka's Fall/Winter 2017 fringed and floral shoulder bearing evening dresses. A galaxy of formalwear flaunted beaded bodices that glinted like dewy starbursts melted with peplum chiffon. Seemingly endless sequinned robes sparkled like flecks of 24 karat honeycomb. Two divergently cut pantsuits appeared from the plethora of gowns, the first: a sophisticated lace blouson joined with high-waisted black trousers; the second: a diaphanous bohemian unstructured suit. 
An emotive spectacle that left the crowd teary-eyed, Naeem Khan's first looks stunned: exquisite beaded pyjama style suits felt spry and modern — luxurious and sporty. The master dressmaker ratified his brilliant craft, conducting a garden of dendritic dresses and matching over-the-knee boots. A tricoloured sequinned "track suit" with an analogous long-sleeved v-neck dress flickered like 16 candles in a John Hughes film. Later, the Indian-American designer unveiled ravishing peacock-feathered gowns with coal-black paillettenecklines. Ending on an emotional note, Maya Angelou's voice posthumously narrated her poem Human Family, repeating the poignant phrase "we are more alike than unalike." 
It was all about urban flirtations at Alice & Olivia, the spirited presentation unmasked kitsch varicoloured coats and botanic gowns motivated by the rich effervescence of India's Mughal Empire and the seductive wiles of Renaissance Florence. Creative Director, Stacey Bendet's poetic display, unraveled like The Birth of Venus, as if emerging from the sea, embroidered contemporary saris in hues of seaweed, ruby, and blue-violet came alive on land (or rather in the carpeted confines of NYC's Highline Stages). Beaded leather skirts varying in length were blanketed with Botticelli-esque "Primavera" prints. Enchanted elements continued to find themselves on quirky velour heart jackets and a belly skimming silken top with twin shorts. 
Dennis Basso's amorous overseas journey showed a neutral palette of sable spun, lynx outerwear, embroidered silks, and diaphanous dresses with mink accented necks, for jet-setters and ladies who lunch exclusively on the Upper East Side. An lingering sheath with a light caramel mesh underpinning rotated charm like a spinning globe, emblazoned with golden sequins to outline a map of the world's most chichi destinations. Opulent georgette gowns unravelled like postcards stamped with poetry and inky appliqué in the shape of clocks. Time briefly stopped — and then travelled backward — taking us to the Roaring Twenties— Basso exhibited a luscious fox fur cape draped over a canary floret frock. 
Anniesa Hasibuan is a trailblazer, an activist whose passion comes alive in her elegant stitching and toothsome beading —  hence, it was no surprise that the Muslim-Indonesian designer chose to cast models who are immigrants in her fashion fulmination. Anyone who has ever left home to explore something bigger, a foreign place, or a nonnative culture finds themselves enraptured in the allure of a new world. The beauty of the unknown and the beauty of Muslim women, with rhapsodic voices, and magnetic souls, was captured in dramatic gowns gilded in bronze, with dramatic skirts and sleeves shaped like tufted roses coupled with grey hijabs.
Italian designer Chiara Boni's LBD empire is driven by self-governing women with a venturesome psyche and an innate desire to travel the world, sans budget. Those who fancy five-star amenities will gravitate towards Boni's latest La Petite Robe collection that boasts the label's iconic jersey jet-black dresses reawakened with effete ruffles. Hotel bellmen carrying shopping bags accompanied models clad in sinuous, womanly, asymmetrical silhouettes. Exposed zippers adorned taut fitting blazers with peplum bottoms and faux leather pencil skirts delivered a much welcomed masculine edge. 
Using a backdrop of an oversized bow and a brick wall, Cynthia Rowley's Fall/Winter 2017 presentation was a vigorous vignette of contrasts: feminine and tomboyish, ethereal yet wearable, West Coast versus East Coast. A layered efflorescent pioneer skirt and pinafore were accessorized with cocoa-coloured cowgirl boots; while a symmetrical sweatshirt captioned  CALIYORK used colour blocking as a divide. Intermingling bohemian California with New York City cool, a sporty black and white sweater partnered with metallic tweed trousers and long-sleeved, high-slit maxi dresses were garnished with electric blue trim and geometric purple patterning. 
Words / Chloe Montana Rash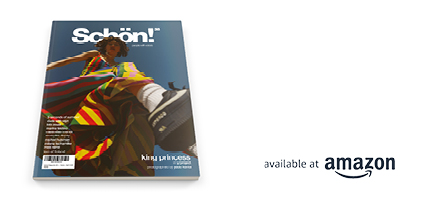 Discover the latest issue of Schön!. 
Now available in print, as an ebook, online and on any mobile device.