On the final day of New York Fashion Week, we saw a departure from all things political and discovered the gravity of escapism through opulent designs rooted in mythical grandeur. Day 7 brought about a catharsis — designers like Anna Sui, and Georgina Chapman and Keren Craig of Marchesa, did not dwell on the new Presidential elect. Instead, we accompanied the seasoned innovators on imaginative, nostalgic voyages that made reality seem very far away.  Frothy gowns with exquisite ornamentations and surrealist silhouettes injected with jazzy fringe made us believe, for a fleeting moment or two, that maybe, just maybe, there's hope for this world yet. 
Metallic, deep-magenta, and sapphire, procured from the ubiquitous neon signs of Hong Kong, fortified sequinned dresses lit like skyscraper-studded skylines at Vivienne Tam's urban ode to Chinese nightlife. Tucked and pleated silhouettes tackled various volumes and textures,  seesawing between crushed velvet tops under sartorial suits and divinely draped, lose line patterned frocks. Jacquard bomber jackets, vegan leather leggings, and asymmetrical skirts with a surrealist dragon pattern emanated the hustle and bustle of a big city conquered by millennial movers and shakers.
Using the Manhattan skyline as his backdrop, the Creative Director of Brooks Brothers, Zac Posen, took the longtime American label to new heights, literally, as models on the 21st floor of The Chelsea Arts Tower stood on platforms wearing streamline grey check suits sewed with a mannish sharpness. Posen imparted his veteran knowledge of tailoring on a cropped sapphire jacket patterned with maroon diamond impressions and an over the knee pleated skirt. Extending a myriad of suiting in Brooks's trademark tartan, along with camel blazers, and floral, thin dresses, Posen offered a more subdued palette than his usual aesthetic, but nevertheless presented an elegant-preppy collection that appeals to sophisticated working women. 
In a supermodel trifecta, Gigi, Bella, and Kendall walked the Anna Sui runway in Bohemian, openwork frocks percolating 1930s Parisian flare mused by Surrealist designer Elsa Schiaparelli and Hollywood Countess Dorothy di Frasso. Set to the sounds of France's glossy café society, Sui's brazen, psychedelic, savvy salute to Paris and uninhibited Surrealist soirée-goers of the past, paraded trompe-l'œil knits in lush jewel tones. Brunette fur coats mirrored cobblestone pathways strolled by well-oiled debutantes in Montmartre, whilst exquisite velveteen robes and embellished outerwear were heightened with pops of absinthe-coloured fringes and Victorian lace sleeves. 
In a poetic nod to Imperial China: herbaceous pastel gowns with traces of ruby and ashen floret appliqué exuded fairytale beauty for an opulent story of lavishly worked fabrics and harlequin tassels at Marchesa. British creators Georgina Chapman and Keren Craig built their collection like the palace of the Great Khaan — some gowns, more than others, were imagined like the castle's enigmatic silver fountain; argentate beading flooded the sleeves of a sheer organza protracted dress and blossoming silver spheroids, dripped like holy water on a magnificent fringed frock with a perfectly placed velveteen bow. Final looks were dark and dramatic —  delineating the décolleté — tied with ribbons — and Marchesa's signature romanticism. 
Words / Chloe Montana Rash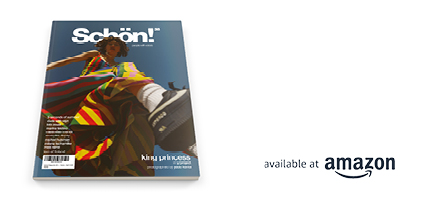 Discover the latest issue of Schön!. 
Now available in print, as an ebook, online and on any mobile device.