An athleisure boom took over day three of New York fashion week. Casual, sporty silhouettes were injected with urban oomph at both Romeo Hunte and Dion Lee in the form of inflated outerwear and revitalized track suits. This season sportswear is a huge trend, but political beliefs (or lack thereof) is even bigger. Taoray Wang designed structurally robust garments for robust women; while Francesca Liberatore delivered a poetic, introspective journey, manipulating mixed materials to explore the truth behind human rights.
Chinese designer Taoray Wang designs for a specific kind of woman: a powerhouse. Wang worships leading ladies (not on the silver screen) but business moguls, lawyers, and government officials — ironically— while most designer's chose to express their outrage towards President Trump's reign, Wang chose to express hope. Tiffany Trump (who wore one of Wang's designs to her father's inauguration) sat front row and witnessed tailored overcoats and amethystine boxy blazers personify effeminate autonomy. Reinventing modern suiting, Wang teased fuchsia linings of topcoats that were partnered with fluid trousers, lace underpinnings, and towering over-the-knee leather boots.
Influenced by neoplasticism colour deviations, Romeo Hunte presented deconstructed organza tops and mix-matched buffalo plaid outerwear. The Brooklyn-born designer imbued an urban blend of gender-defying silhouettes, employing a masculine aesthetic to narrate feminine forms. Highlights included a canary blazer-dress with a broad black zipper running through its centre and an inflated, virile-looking topcoat accented with creme fleece. Hunte also unveiled menswear in the form of layered bomber jackets trimmed in fur and anchored in camouflage patterning for a modern Mondrian exhibit of unisex streetwear.
The opening look at Son Jung Wang revealed a multidimensional verdant-blue fox bolero, attached to a patterned coat draped in the back like a wintry waterfall. This was only the beginning of Wang's snowflake stained oeuvre where metallic diamond printed tops met silvery floret jumpsuits under creme fur. Sporty velveteen silhouettes were juxtaposed beside an elegant strapless gown that unravelled like a spherical rose petal. Menswear, was sparse, perhaps to hint that in Wang's world, women prevail, and men are optional accessories. Delicate and detailed, outerwear adrenalized by testosterone was made from the women's wear patterns but tops were broader and boxier — men's trousers — however — were a little more taut than that of the ladies.
It's easy to imagine young glitterati bopping around town in Dion Lee's slinky velvet negligées. Lee knows what the cool kids like. His au courant streetwear collection felt authentically urban—and like Lee's clientele, his fiery shearling toppers and structured khaki tunics weren't trying too hard to be outlandish or avant-garde. The athleisure movement is dominating the market, but Lee found a way to standout from the masses. The American designer developed unstructured plush tracksuits that manifested the "Bella Hadid" supermodel tomboyishness that the world can't get enough of.
It's always odd to see an angel at a fashion show. There is a sacrilegious sensuality that takes over the room — it lingers — and lingers, until it explodes. Jonathan Simkhai's celestial front row was invaded by Victoria's Secret models and rightly so; Simkhai knows his client. The New York based creator delivered sultry red carpet looks that were both wearable yet over-the-top. Taking us on a voyage to 19th century Spain, Simkhai masterfully diverted our attention from the angels to his gaudy, Gaudi runway. 
Heliotrope hooded outerwear and champagne lace dresses bridged together sportswear and glamour at Francesca Liberatore in a whimsical collection that referenced past and present. Experimenting with fabric and texture, the Italian créatrice wielded iridescent ski jackets with translucent organza bottoms, speckled with pale coral flecks to achieve opaque pellucidity. Panelled skirts were slit in the front and accented with velvet and harlequin tights to augment Liberatore's quest for freedom.
"People are People" may be the most earnest and relevant campaign slogan for a presidential candidate, but for Christian Siriano, this affirmation, stamped on a black tee, was was not a direct message to the White House, nor was it an induction into politics. Instead, Siriano's womenswear show was an all-encompassing communiqué of rosy peplum gowns and silken ochre frocks that advocated diversity and unity. Models of varying backgrounds and physiques wore slinky velveteen and metallic origami-like above the knee dresses. A deep burgundy fringed sheath with bell sleeves proved Siriano has the know-how and technique to design for all women. 
Words / Chloe Montana Rash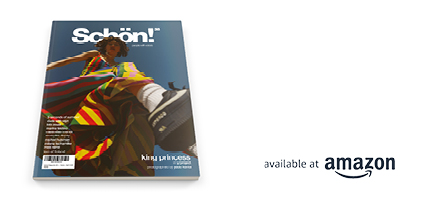 Discover the latest issue of Schön!. 
Now available in print, as an ebook, online and on any mobile device.